Risingbd stands by that starving children
Published: 10:35, 20 July 2020 Update: 15:18, 26 July 2020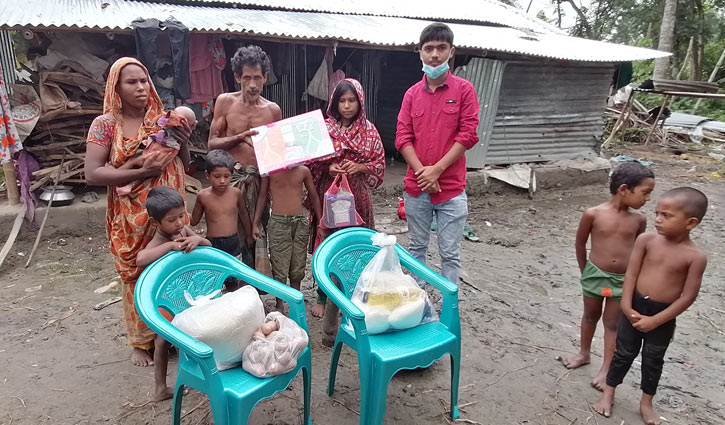 Country's popular online news portal 'risingbd' has stood by that children who were passing these days starving at Chandipur village under Jhenidah sadar upazila.
Titumir college student Mamun sohag, also campus correspondent of risingbd, on Monday noon handed over food stuff and cash money to the family on behalf of the news portal. They became emotional after getting the relief in this crisis moment.
The foodstuff includes rice, pulse, edible oil, semai, sugar, soap and milk. In addition, baby cloths and cash money were also given to the family.
Children's mother Rabeya Khatun said, 'I could not believe that you would bring so much food stuff for us. I feel so happy now. I pray a lot to the almighty Allah for those who gave us the relief.'
Alamgir Hossain, who revealed the starving situation of the family said, 'Actually there are many people in our village like them who are passing their days in extreme misery. I personally thanked risingbd and Uday Hakim. Hope, we will get risingbd by us in such crisis moment.'
Mentionable, risingbd published a report on July 19 with title 'Six children at home, infant in-arms starved'. Noticing the heart-shaking news, advisory editor of risingbd and executive director of Walton Group Uday Hakim stood by the family with his own initiative.
Jhenidah/Mamun Sohag/AKA

risingbd.com