Demo still on even after SUST closed, provost resigns
News Desk || risingbd.com
Published: 13:40, 17 January 2022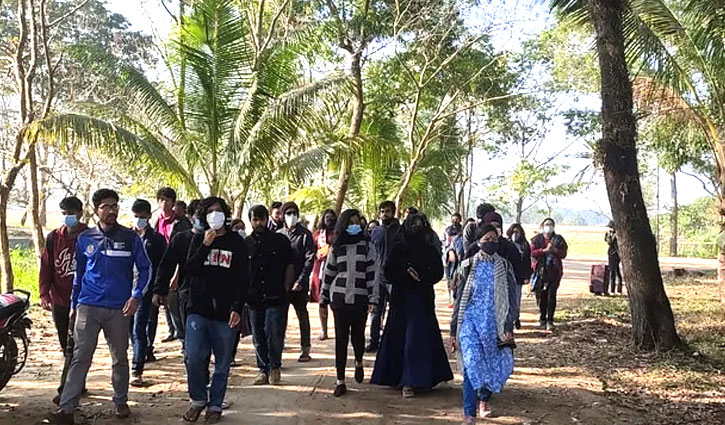 Students of Shahjalal University of Science and Technology (SUST) are carrying out their movement even after the announcement of closure of the university for an indefinite period.
The demonstrating students started gathering at the university's Golchattor and surrounding areas and holding processions and meetings in phases on the campus since the morning. On the other hand, students were seen leaving the halls as per the instruction of the university administration. Currently, an eerie calm is prevailing on the campus.
Students were demanding the vice-chancellor's resignation for ordering police action against them last night. They were demanding accountability of all concerned persons including the vice-chancellor in the incident of police action on the students demonstrating.
They were chanting slogans calling for the vice-chancellor to resign.
All classes and examinations at the university were suspended until further notice after an emergency syndicate meeting was called earlier last night.
In the meeting, students were also ordered to leave halls by noon today.
The meeting was called after a clash between police and students in front of the IICT building on campus.
Students have been protesting since Thursday, calling for the provost of Begum Sirajunnesa Chowdhury Hall to resign after the provost allegedly 'misbehaved' with a resident.
Yesterday noon, three days since the protest begins, the students confined the vice-chancellor at the IICT building.
In order to free the VC, police charged truncheons on students. Police also shot rubber bullets and sound grenades.
In the face of strong movement staged by agitating students, provost of Begum Sirajunnesa Chowdhury Hall Zafrin Ahmed Liza resigned on Sunday night on health grounds.
Nur Ahmed/AI