Rival candidate of Abdus Sattar's constituency goes 'missing'
Published: 18:30, 29 January 2023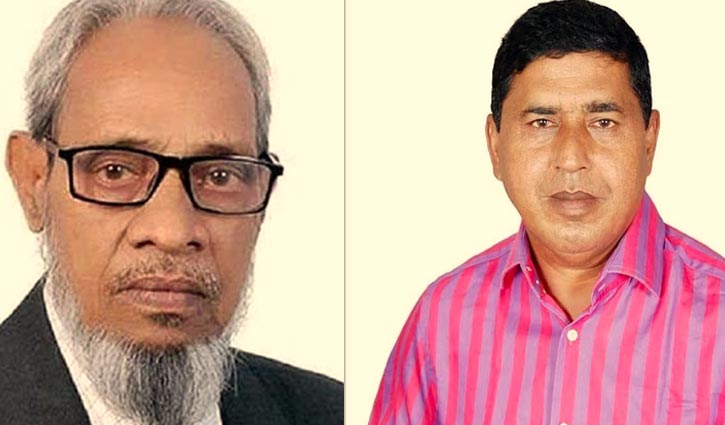 Abdus Sattar Bhuiyan (left) and Abu Asif Ahmed (File photo)
After the arrest of chief election agent and the disappearance of brother-in-law, rival independent candidate Abu Asif Ahmed, who is contesting in the by-polls of Brahmanbaria-2 (Sarail-Ashuganj) constituency, could not be traced in the area. Family members alleged that he has been missing since Friday last.
The family members said people in plain clothes are staying in front of Abu Asif's house through day and night. The house was searched on Friday and Saturday. In this situation, the family members are spending their days in fear.
Abu Asif Ahmed is former president of Ashuganj Upazila BNP and former chairman of upazila parishad.
Abu Asif is rival candidate of former BNP leader, also five-time MP Abdus Sattar Bhuiyan in the by-polls to be held on February 1.
Earlier on last Wednesday, an elderly man named Musa Mia (80), who was in charge of Abu Asif's election campaign, was arrested and sent to jail in a case of assault and clash. Besides, Abu Asif's election coordinator and his brother-in-law Safayet Suman has already gone in hiding.
In the by-polls of Brahmanbaria-2 (Sarail and Ashuganj) constituency, five-time former MP Abdus Sattar Bhuiyan, expelled from BNP, Jatiya Party candidate Abdul Hamid, former MP Ziaul Haque Mridha, Zaker Party's Zahirul Islam Jewel and independent candidate Abu Asif Ahmed are contesting. Among them, Ziaul Haque withdrew from the election by making a statement after allotting the symbol.
Although the ruling party Awami League did not participate in the election, the central leaders, MPs, district and upazila leaders of Awami League are campaigning under the banner of advocate Abdus Sattar Bhuiyan supporters group.
Abu Asif's wife Meherun Nisa Mehreen said, "I'm finding any trace of my husband. People in plain clothes are standing in front of my house. My house has been searched several times. I am in panic."
Yusuf, gateman of Abu Asif's Ashuganj bazar house, said, "Last Friday night, some people came and identified themselves as police and searched the whole house. They came again the next day. People in plain clothes are standing in front of the house. Those people are taking pictures of whoever comes here."
Ashuganj Police Station Officer-in-Charge (OC) Azad Rahman said no complaint has yet been received from the family regarding whether Abu Asif Ahmed went missing or not. He also said that he did not know whether someone in plain clothes is standing in front of the house.
Mainuddin/AKA