Bauls living on selling name of Lalon: Saidur Rahman Boyati
Augustin Sujan || risingbd.com
Published: 16:36, 9 September 2014 Update: 15:18, 26 July 2020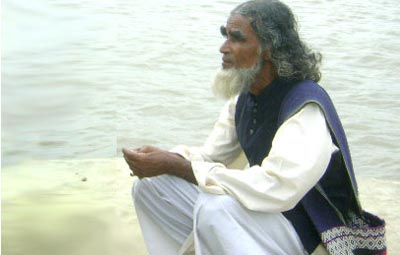 Saidur Rahman Boyati
Saidur Rahman Boyati is the name of prominent Palakar (history based folk dramatist), director and actor of Bangladesh. Beside these identities, he is almost a pious saint.

During his school years he joined in the local `Basudev opera' (a local drama group). During his boyhood, he played drama as a female character. He used his female character as 'Chhobi Rani'. He changed his name into a female name due to get popularity and perfect female acting. He enthralled Bengali viewer's mind by his religion based songs like Jari, Sari, Baul, Marfati, Nabitatta, Kabigaan, Murshidi, Gagirgaan, Sakhi Sampat, Dam Tatta, Sristy Tatta, Jib Tatta, Paramtatta and 50 more pattern of music.

On the other hand, he has shown good performance in film direction, acting and script writing of ` Imam Jatra' based on the Mir Mosarraf Hossain's Bisad Shindhu. Saidur Rahman Boyati was born in village Hasli under Manikganj district near Dhaka in Bangla Sal 1338. He also performed in Bangla film. His acting was praised in popular films of Nadir Naam Modhumoti, Lalsalu, Lalon, Liliputra Boro Hobe and Rabeya.

He was given Jatiya Chalachhitra Puruskar (National Film award) for his outstanding acting in the Nadir Naam Modhumoti. The eminent Baul artist was awarded Bangla Academy Padak in 2012. He was interviewed by Jabbar Al Nayeem. In the interview his life, philosophy, music life, Baul song and other parts were discussed. Major part of the interview has been given here for the valued readers of Risingbd.

Jabbar Al Nayeem: Furut Kore Ure Jabe ei Khachar Pakhi/ Ei Deho Khacha Notun Chilo, puran holo re, you sang the song; would you please explain the inner meaning of the song?

Saidur Rahman Boyati: At any time I can die, it is normal. So I gave lyric. Again targeting human life- By reading u learned the world news by reading newspaper/ but noon know the news of himself.

This type of music re based on theology and religion based songs. People reads news of newspaper and comes to know different news of world but he does not know the news of own life. The meaning of that song is such type.

Jabbar Al Nayeem: Please tell about Saidur Rahman and Boyati Saidur Rahman, his birth, grown up and other.

Saidur Rahman Boyati: Difference between Saidur Rahman and Saidur Rahman Boyati is far and far. As for example, a body belongs to Saidur Rahman. According to Sufism, men are divided into two kinds. First, is outside and second is inner. When outsider enters into inside the body after expert, it takes a name when he bears many virtues.
In this way, Saidur Rahman was born when outer virtues enter inside me. Today's Sadur Rahman Boyati was made by my parents. Specially, my father was my first teacher of music. He used to play Sarinda, Dotara (local music player). He used to read out different myths, stories, and religious stories to me. From that period, my passion went into those matters. From that time I started my journey in this path. Father handed me over the Dotara and told tune it. I tuned. Father used to start music and started tuning music. Father used to play Puthi, Kasasul Ambia, stories from Nabab Serajodoulla, Puthi of Sonavan, Jaigun Bibir Pala etc. Time spends very fast in these songs. I could not remember to go to school due to love of music.
Most of time was spent on the way school for music. I could not able to pass in the test examination before final ssc examination. I become sleepy on the examination center as I done music whole night before examination.

Jabbar Al Nayeem: Can you remember any memorable memory of your school life?

Saidur Rahman Boyati: So far I remember, I was read in class iii, I heard that Mr. Jinnah will come in Dhaka. I came to Dhaka to see Jinnah. He shouted in his address and said, Urdu cholbo, Bangle cholbo na (Urdu will be prime language, not Bangla). Afterward, countrywide language movement had started. What I will say (wiping tears), our Rafik was killed. His dead body could not found. From that time I started singing – Amar Bhasai Bolbo kotha, Keno Matha betha/ Ai Bhasate Jurai Pran/Toder ki ate Jai re man…

At that time I will be 8/9 years old. In 1954 I sang in the meeting of Sher-E Bangla AK Fazlul Haque. I have seen Maolana Bhasani in Manikganj. He wore the cap of palm tree, white color Lunghi, torn shirt in his body. According to me he was a total good person. By his invitation we poured into the street for movement. I also sung in his public meeting too. National election is knocking at the door. In that election Sheikh Sab (Banga Bandhu Sheikh Mujibur Rahman) won in the election, but power not given to him. Later, the liberation war started.

Jabbar Al Nayeem: I have heard that you have joined with the Jatra Dal (local folk drama grouo) at that time.

Saidur Rahman Boyati: During my school years I have heard that a Jatra group of Rakhal Mandal wants to take me with their group as a female dancer. I accepted their proposal and started dancing in that Jatra. Due to singing well in the 'Danabir Harischanda Raja' I could perform well side by side I played role of queen of the role Shavvar. The viewers took the Jatra nicely and praised me. Later my name was changed as Chhobi Rani. Though I am male I used to perform as female, everybody knows that I was a female. I had long heirs. I was abducted by a number of prostitutes as I performed as female. That was another chapter of my life. Village people complained to my father over my playing role as female in the Jatra. But my performance could not be stopped. The village leaders announced us Ekghore (totoally de-touched from social activity). I left my house and spent 19 years outside my house. Afterwards the liberation war started.

Jabbar Al Nayeem: You have seen freedom fighting. What was your feeling?

Saidur Rahman Boyati: Local Arshad chairman asked me to train up parade the local youth people for preparing in the liberation war. We trained up parade in seven nights. Many Freedom fighters took shelter with us. Eminent leader Quader Siddiqui also sent many freedom fighters to us for safe shelter.

Many times I have faced Pakistani army. Due to Urdu knowing Urdu language and knowledge I could be escaped. In the war on of my brother was killed. Many people told to take freedom fighting certificate, I did not receive it.

Jabbar Al Nayeem: Would you please tell something over your young age?

Saidur Rahman Boyati: After failing in the SSC test examination. I could not live in my home due to anger. A person told me to join as police department. I get opportunity in the preliminary test and joined in police service but could not continue there more than two months. Captain Abdul Halim Chowdhury loved me much. He gave me a job as peon in the cooperative bank. I used to continue job and composing song simultaneously. One day, I lost my job due to performing music. Later, my new profession was only composing music. I spent whatever I earn from it.

Jabbar Al Nayeem: How you like to explain the body, mind, world and creator in line with philosophical window?

Saidur Rahman Boyati: Body is a doll as it can be visible. Beside water, fire, earth, air is composition of body. If you believe at least one of those, you are a believer of creator. The mind is composed by Jibatma, Paramatma, Bodhatma, Pretatma and Atmaramesshar.

Jabbar Al Nayeem: You are a singer. Pease tell about song something.

Saidur Rahman Boyati: I cannot remember from when I started composing song. I have written different items of songs and it would be more than 50 items. I have composed more than 3,000 songs. I like songs of Nazrul and Nazrul Islam. I met with Nazrul in Shahbagh in Dhaka. I still see Nazrul in front of mine. Nazrul is man of higher stage. Lalon is Mohakabi. He used to find creator inside him. It is taught to catch Lalon. It is hard to find performer like Lalon. Now a day, Lalon is being sold by local saints.

Jabbar Al Nayeem: I have heard that Bangla Academy has ben launching publish book on you?

Saidur Rahman Boyati: Saimon Jakaria has first started to collect my write ups. In those writings it was found philosophical songs, songs of creation, live song, NabiTatta, Param Tatta, Murshidi. Dhuiya. Jari, Sari, Gajari gaan, Kabigaan, Tappa, Pachali and many other formats. I am hoping that the book will be going in press soon. Saimon Jakaria gave much effort on my book. After end of publishing the book, I could be sleep with profound breath.

Risingbd/DHAKA/ September 9, 2014/ Taposh Roy/ SM Humayun Kabir
risingbd.com