Country needs strong higher education system
Published: 06:47, 28 October 2019 Update: 15:18, 26 July 2020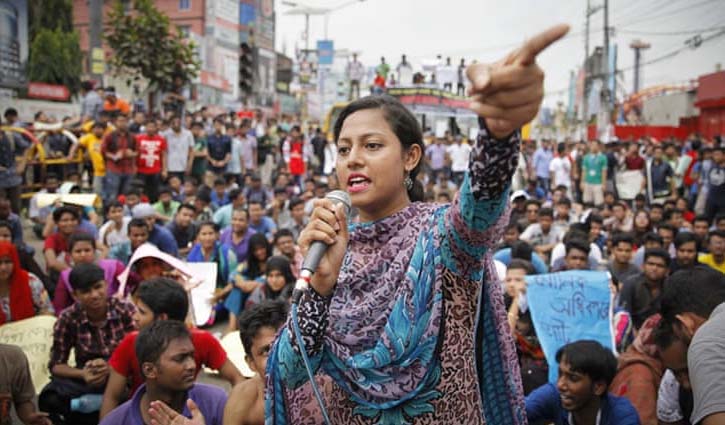 Manzurul Alam Mukul: The government should mull over setting up more universities on PPP (public-private-partnership) basis across the country against the backdrop of limited seats at the public universities.
According to University Grants Commission (UGC) report, students are being enrolled in 47 public and 105 private universities (govt approved). The recognized public universities have a capacity of enrolling some 50,000 students a year in the honors courses, whereas a total of 9,88,172 candidates passed in the HSC and its equivalent examinations this year.
The rate of passing in the HSC and its equivalent examinations this year is 73.93. This year's pass rate is 7.29 per cent higher than last year's when the overall pass rate in the examinations was 66.64 per cent. A total of 9,88,172 candidates among 13,36,629 students passed the exams.
This year, 47,286 students achieved highest grade GPA 5 against last year's 29,262. The overall pass rate of the eight general education board is 71.85 percent. For the Madrasa Board, the rate is 88.56 percent. Meanwhile, 82.62 per cent vocational board candidates passed the exams.
Among the successful students, 41,807 achieved the highest grade GPA 5 under eight general education boards while 2,243 under the Madrassah Education Board and 3,236 under the Technical and Vocational Education Board.
Education Minister Dr Dipu Moni said, "The percentage of successful students has been increased this year, the students of districts and upazila headquarters also showed good results. All these are positive signs for the education system."
She urged the parents not to push their children towards unhealthy competition and grow them as self-centered.
The UGC in its 40th annual report recommended setting up of universities in Bhola, Munshiganj, Joypurhat and Bogura, as those districts lack scope of higher education. UGC considers that the setting up of universities in those districts will help students from nearby areas to pursue higher education and will also help develop infrastructure and reduce pressure on the capital city and divisional towns.
The setting up of private universities in Mymensingh, Rajshahi, Sylhet, Khulna, Bogura, Munshiganj, Bhola, Magura and Jessore will give a boost to underdeveloped parts of the country, said a member of University Grants Commission.
The government encourages private sector to set up universities in district level. Against this backdrop, Private University Act 2010 was passed. Under this act, about 105 private universities (govt approved) have been set up in Bangladesh.
According to UGC, some private universities have been set up on their own campuses in Dhaka and Chittagong. The universities are North South University and Independent University at Basundhara, University of Science and Technology in Chittagong, International University of Business, Agriculture and Technology at Uttara, Ahsanullah Science and Technology University at Tejgaon, East West University at Rampura, BRAC University at Savar, Premier University at Pachlaish, Chittagong, City University at Ashulia, Bangladesh University of Business and Technology at Mirpur and Stamford University with some conditions at Siddheswary.
The government's education spending should be at least 4 per cent of the GDP or 15 per cent of the total government expenditure. In Bangladesh, however, it is still below 2 per cent of the GDP and 15 per cent of the total government expenditure, a recent report reveals.
At least 33 countries, including Bangladesh, India, Pakistan, Sri Lanka and Japan, did not meet the public expenditure in education as a share of the GDP and the total public expenditure in 2015 or the most recent years, according to a report.
The report was based on the data on education gathered from 205 countries worldwide.
Bangladesh has a complex higher education system, which has four types of institutions: Many public and private universities, many colleges affiliated with National University, private religious institutions affiliated with Islamic University, and various types of professional colleges.
There has been no recognised quality assurance body like an accreditation council, which will be responsible for establishing quality in tertiary level education.
"We're still lagging behind when it comes to spending a certain proportion of the GDP for education. This also holds true for the share of total national expenditure to education. Though the percentage has not increased, the volume of money has certainly increased in the education sector," said former Education Minister Nurul Islam Nahid said.
"The most important matter is that the allocated money needs to be properly utilised. For that, we have to stop corruption. Besides, we need to stop wastage and misuse of money. Only then will we get the full benefit of the funds in education," he added.
Meanwhile, University Grants Commission (UGC) of Bangladesh has urged the Ministry of Education (MoE) to take immediate steps for appointing Vice Chancellors, Pro Vice Chancellors and treasurers against the vacant key posts of country's universities.
In this regard, the statutory apex body issued a letter to Senior Secretary of Secondary and Higher Education Division, MoE on 22 October 2019. Vice-Chancellors, Pro Vice-Chancellors and Treasurers play vital roles in carrying out their academic and administrative activities in universities.
In the letter, UGC mentioned that posts of Vice-Chancellors, Pro Vice-Chancellors and Treasurers have been lying vacant in a number of universities of the country. Consequently, academic and administrative activities of these universities are being seriously hampered. Students of these universities are also facing academic and other problems.
The government is committed to producing skilled and accomplished manpower by establishing at least one university in every district of the country in public-private initiatives for making the higher education time-befitting and accessible. The government has already established one university in most of the districts of the country and the process is ongoing to establish university in other districts where there is no university.
Prime Minister Sheikh Hasina recently directed the University Grants Commission (UGC) not to go beyond the rules in case of overseeing both public and private universities.
University Grants Com-mission (UGC) in its annual report has suggested to examine the introduction of double-shift in public universities against backdrop of acute admission crisis in the higher education institutions.
University Grants Commission in its latest annual report expressed concern at the growing expenditure of higher education in private universities. Country's private universities had over 320,000 seats in 2015.
However, only 120,000 students got themselves admitted to private universities as cost of the education in that educational institutions is extremely high and more than 50 per cent of the private universities lack skilled, experienced, qualified teachers, proper environment and academic atmosphere.
The cost of higher education can be reduced if these universities are set up in major divisional towns and outside Dhaka city. The government should mull over shifting all private universities outside Dhaka city in the next 20 years to ease pressure on mega-city and expand wings of higher education at district levels, opined educationists, planners and environmentalists. The governments in the last 25 years without considering the environment allowed setting up in the Dhaka city creating various crises.
Some leading industrialists of the country are establishing international standard boarding schools like one at Jaflong, Sylhet. This model of boarding institution can ease crisis in the Dhaka city. The government should urge the owners of private universities to shift up their universities outside Dhaka, presumably in Tangail, Sylhet, Rajshahi, Rangpur, Chittagong, Rangamati, Jessore and Mymensingh.
The number of students in public and private universities has been increasing over the years putting pressure on Dhaka city. Many public and private universities have been set up in Dhaka city and surrounding areas that are regionally discriminatory and a barrier to sound and healthy expansion of higher education, said 40th annual report of UGC.
UGC in its latest report also proposed to rationalize the tuition fess of private universities in accordance with country's socio-economic conditions.
Tuition fees at most private universities are exceptionally higher and beyond means of middle class families.
The government can give lands to entrepreneurs outside Dhaka City and at divisional cities to set up universities on PPP (public-private-partnership) basis to groom skilled manpower required in the country, experts opined.
Dhaka/Mukul
risingbd.com