'Once aim realized, I will announce I am the number one'
Published: 12:32, 4 July 2020 Update: 15:18, 26 July 2020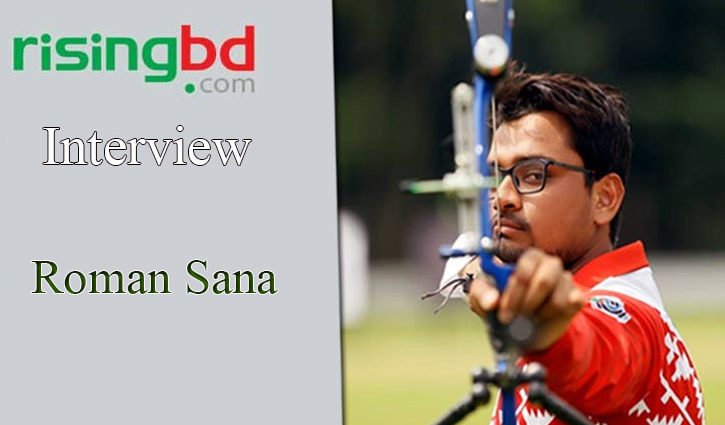 Mohammad Ruman Sana not only loves to dream high but also loves to remain adamant on fulfilling his dream. To fulfill his dream, he is struggling hard to prepare himself for the big podium. He is now dreaming of waving his beloved red and green flag in the world's biggest sports event Olympics. His dream for waving the red and green flag in Olympics cannot be an exaggerating one.
Bangladesh's champion archer Ruman Sana was named the breakthrough athlete of the year by the World Archery Federation. He has got a direct opportunity in the Olympics as the second Bangladeshi. He has already been blessed with many achievements. He will certainly remain on top in securing bronze medal in World Archery.
Besides, Ruman Sana won the gold medal in the First Asian Grand Prix 2014 in Bangkok, Thailand. He won another gold medal in the International Archery Tournament 2017, Bishkek, Kyrgyzstan. In 2019, he won three international medal with first one- a silver medal- came in the ISSF International Solidarity Archery Championships. After that, he won a bronze in the 2019 World Archery Championships, and later, Roman won a gold medal in the Asia Cup ranking tournament. Ultimately, he introduced a new horizon in archery.
Ruman Sana shared many things including his travels and aims in an interview with Yeasin Hasan, a reporter of the country's leading and popular online news portal risingbd.
Risingbd: You have won many gold medals in archery. Can you remember the moment when you won the first gold medal?
Ruman Sana: Yes, of course. I won first gold medal in Asia Cup in 2014. At first, it was named Grand Prix which was later named Asia Express 1. I cannot explain that moment even I cannot express it in my words. Winning of first gold medal still remains memorable in my life.
Risingbd: You have got a direct chance in Tokyo Olympics for making a good performance in world cup archery. If you get gold medal in the Olympics…
Ruman Sana: (Laughing) Allah knows well. No one can say about one's own future. But I will try my level best. Certainly, I dream of winning Olympics. It depends on my fate and Almighty Allah.
Risingbd: Certainly, it is not impossible?
Ruman Sana: It will be a foolery if I dream of winning a medal after participating in the first Olympics. Yet, I have not achieved the eligibility to perform in this big podium. I have to achieve this eligibility. If I am able to achieve this eligibility, I can certainly say it with confidence that I will win a medal.
Another thing I would like to mention here that if you have your eye on the legends, you will see that no one won medal participating in their first Olympics. Olympic athlete Usain Bolt stood sixth in 2006. Later, he bagged gold medal in China Olympics. He also won gold medal in London and Rio Olympics. It should not be right to expect more in terms of me. I can certainly do if Almighty Allah wants.
Risingbd: Bangladesh won 10 medals in archery in SA Games last year. You were in the lead. You won three gold medals. Do you think that if you participated in 2016 games, the success would come to you more earlier?
Ruman Sana: It is true that we have made an unimaginable performance in 2019. But it cannot be said clearly what would happen four years ago. I had an injury although in form. I had a problem with bone in my right hand. I could not participate in the game for this reason. I did well after getting an opportunity to take part in the game after four years. I won three gold medals which is a great achievement to me. We have created a history by winning ten gold medals.
Risingbd: You have been in lockdown for long. Prior to this, you have worked for fitness. What are you doing at present? How do you spend your time?
Ruman Sana: Federation has sent bow to the athletes in their respective homes through courier service. Now, I am practicing with the bow. I am doing my physical movements with the help of bow in order to retain strength and physical activities.
Risingbd: You have got your best companion after long time. Certainly, you are feeling good?
Ruman Sana: When I got it first at hand, it seems that I am an apprentice. It feels like I felt in the beginning. Now, I feel good again. I am spending my whole time with the bow for last several days.
Risingbd: You talked about your strength at the beginning. How is your practice with the bow?
Ruman Sana: Our game is different from others. Suppose, you are practicing all the year but stopped practicing one or two months, then a great damage happens. There is a process. Basic things are required to retain in cricket or football. But in archery, a deficit of strength is found if practice is not done properly. It needs much time to get back that strength. Again, it takes time to return to the scores we have. As I have a bow with me, work to retain strength is underway.
Risingbd: There is no value of gun without bullet. Just like that bow without arrow is meaningless. Practicing at home is completely different, right?
Ruman Sana: We used to practice for seven hours when we were in field. But that chance is not at home because it feels like boring without throwing arrow. There is an enjoyment when we all throw arrows in the field. For this, it feels nothing despite practicing for hours in the field. You will find no enjoyment if you practice alone at your home. It becomes very tough to concentrate on the practice while at home.
Risingbd: How long do you practice at home?
Ruman Sana: One and a half hours in the morning and one hour in the afternoon.
Risingbd: Are you appearing at for online class?
Ruman Sana: We have a session online almost every day. The number of players we have is around 25. We are doing our practice after being split into groups. Different groups start doing practice in different time. One group starts practicing at 8:30 am while another at 9:30 am. There will be a session lasting for at least 30 minutes. Previously, we did the practice this way. Besides, there is another group in WhatsApp where everybody has been given an instruction. Everybody is working following the instruction.
Risingbd: You stood third in World Archery. You bagged a bronze medal after beating world's six number Italian archer Mauro Nespoli convincingly by 7-1 sets during the recurve men bronze final in Netherlands. What do you feel while playing with the star players like them? Is there any nervousness?
Ruman Sana: My thinking remains the same always, be the match is small or big. The one thing that I remember is that I have come here to win, I have to win. Before starting the match with Nespoli, I thought that why I cannot win if Nespoli can. My opponent can be better than me but I think we start from the same point in the match. I try to deliver my best. I never lose my morale despite defeat in the game. I try to learn from that defeat. I become attentive to the area where I lost my point.
Risingbd: You were named the breakthrough athlete of the year by the World Archery Federation in 2019. Was it not one of the best successes of Bangladesh?
Ruman Sana: It can be said. I don't know whether it should be the best success for Bangladesh. But it was a great achievement for me. It was the output of hard work of long nine years, according to me.
Risingbd: Do you believe that you are 'Shakib Al Hasan' of Bangladesh in archery?
Ruman Sana: (Laughing) I don't know…(laughing). But those who know me can tell about me well. I think there are many things left to achieve. I have an aim. When I will realize the aim, I will come up with an announcement that I am the number one archer of Bangladesh.
Risingbd: What will be your advice if someone wants to come to archery?
Ruman Sana: We have come to this stage striding through tough path although there are many advantages now. There are archeries in several districts. There is archery in our BKSP (Bangladesh Krira Shikkha Protisthan). There are good archery facilities in many big clubs. Besides, there are archery facilities in almost all places such as Ansar, BGP, Army, Air Force. I believe more than half of populations of 64 districts have knowledge about archery. Most welcome to those who like to come to archery as there is a future here.
Dhaka/Yeasin/AI
risingbd.com