"The biggest hurdle for women in sports is dress-up"
Published: 04:57, 12 July 2020 Update: 00:36, 30 July 2020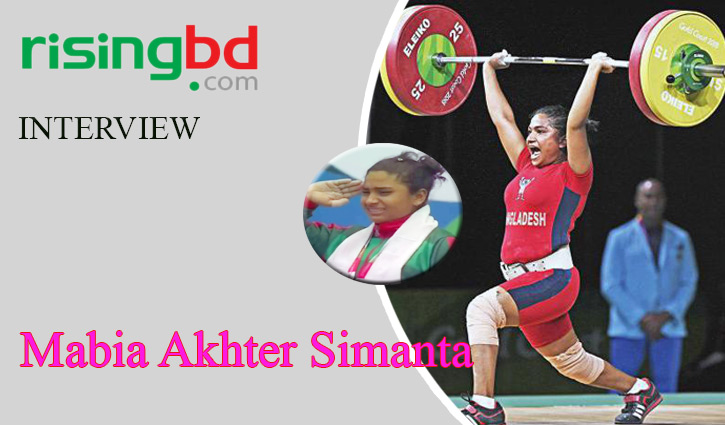 The pictures of Mabia Akter went viral after she won the gold medal in women's South Asian Games in 2016. Weightlifter Mabia Akter Simanta cried tears of joy winning the gold medal. She was awarded in 2019 too.
The Bangladeshi weightlifter was taking preparation again to take part in Greatest Show on Earth' Olympic. But, Coronavirus pandemic created a bar on the way to Mabia. She visited gymnasium on March 17 last. Almost four months have been gone but she has nothing to do. This four months pause sent her to two years back. Now she will have to start again from zero point.
Mabia talked with risingbd regarding her tour, crisis moments, aim and other issues. Sports correspondent Yeasin Hasan took the interview. Here is the part-1 for readers.
Risingbd: Did you ever spend such long time without practice?
Mabia Akter: Nope, I didn't remain out of practice like the last four months. We would do practice two or three days if we had no event. But, almost four months have been gone without practice. Actually, we have no control over the nature. It's a big shock to me. I think my performance, training dropped down in zero level. I have to start again from zero. I went back two years in my career.
Risingbd: Suppose, you got a scope to return to stage in next week. What will be your main challenge then?
Mabia Akter: If there any games in front of me- then it will be a huge challenge for me. The first challenge is- fitness. It's a matter of concern. Matches, completions, everything will go on. This is sports. But, I have to prove myself first. I can't say anything regarding my fitness as I don't know when I will get back my fitness.
Risingbd: Do you want to work first with your weight gaining?
Mabia Akter: I will have to start from apprentice level. I have to begin as new one. From then, I will have to go forward step by step. Otherwise, it is not possible to carry the weight again.
Risingbd: In 2016, won got in SA games. The image of your tears went viral. Innumerable people put your photos in their Facebook profile and cover photos. You became headlines of media. Can you recall the times?
Mabia Akter: I also had success before the SA Games. I had won gold medal in other competitions too. But, representing Bangladesh in big stage took place in 2016. I didn't get familiarity before that. That's why the day is special to me. It has been a memorable day in my life. I understood first the love of general people on that day. I could not imagine that people will love the weightlifting event in that way. I am grateful to all of them.
Risingbd: After winning in 2016, you have won same award in 2019. What would you say if you were asked to find the difference between these two medals?
Mabia Akter: I will provide importance to the SA games of 2016. People started to know my identity from that event. Besides, I will not neglect the achievement of 2019. I proved myself in 2019. Many people thought that I would not do it again but I proved them wrong. If I can win the next even then I will be able to say that I am the best.
Risingbd: How did you grow interest in sports?
Mabia Akter: In early stage, I had not knowledge about the huge area of sports. I had no idea regarding weightlifting. Even, I didn't know anything about handball, volleyball. Actually, my world was so small. I used to pass my times playing marble, sticks games.
Risingbd: When you start, cricket, football games are booming. But, you choose weightlifting. Why?
Mabia Akter: Actually I don't have any interest on sports. My maternal uncle Golam Faruk Ahmed Sarkar was boxer. He played in national championship. He introduced me first with sport. He took me to gymnasium of weightlifting one day. He told me to watch the game. Later, he told to visit the place regularly and learn the sports.
Risingbd: Then…
Mabia Akter: I the early states, this game seemed very annoying to me. When I did weightlifting it made me annoyed. Once I thought that I should tell my uncle about my boringness. But, I could not tell him about it. At one stage, I learnt weightlifting forcefully.
Risingbd: Did you face any kind of crisis on the way to achieve success?
Mabia Akter: Actually, my career was not normal. The seniors were very much popular when I started weightlifting. Many of them didn't take my success positively. At that time, I didn't expect that kind of behaviour from my seniors. I don't know why they did that. But, I will say, I was very stubborn in this case.
Risingbd: Have you faced any major obstacles?
Mabia Akter: The biggest hurdle for women in sports is dress-up. The same dress of male and female sportsmen is a big problem. We could not take it easily. It's important issue. Besides, we all have a society, family. We face question from them why women will do sports in that way.
Risingbd: What's your suggestions, if anyone new wants to join weightlifting?
Mabia Akter: If anyone wants to join weightlifting then he/she needs passion on this sports. The person needs to challenges themselves. He/she has to keep a stimulus that I'll be in weightlifting till the end. If anyone came to this field with this kind of self-confidence then he/she will achieve success. That's how I came here.


Dhaka/Yeasin/Nasim
risingbd.com