Ordinary Salma turns into skipper of Bangladesh team
News Desk || risingbd.com
Published: 14:41, 8 March 2021 Update: 14:59, 8 March 2021
I don't see any difference
Between a man and a woman
Whatever great or benevolent
That is in this world achievements
Half of that was by women
The other half by men
These lines were written by national poet Kazi Nazrul Islam in 1926. Around hundred years ago, the revolutionary poet of Bengali literature recognized the equal role of men and women. Through his writing skills, he depicted the contribution of males and females in human civilization.
Compared to that era of Nazrul, much modernization of the world has taken place. Women achieved top positions in many remarkable sectors. However, a large number of male sections in society consider the women's role in a negative manner. As a result, women face troubles in many ways. They face pressure from family as well as social barriers.
On the occasion of international women's day (March 8), risingbd is going to take interviews of established women in the country. The news portal got a scope to chit-chat with Bangladesh Women's T20 cricket team skipper Salma Khatun.
Salma Khatun (born 1 October 1990, Khulna, Bangladesh) is an all-rounder cricketer who plays for the Bangladesh cricket team. She is a right-handed batsman and right-arm off-break bowler. Salma was the captain of the Bangladesh Women's cricket team and also one of the best players among other women cricketers.
She started her cricket career in 2011. Salma played 34 ODI and 74 T20 matches. The all-rounder also played women's IPL. The sensible cricketer led Bangladesh team in 18 ODI matches (2011 to 2015). Now she is the skipper of T20 team.
How was her early cricket journey? Salma shares her story today. Let's hear from herself…
Of course, there was social barrier on the way to cricket career. When I was a young kid, I used to join boys to play cricket. Usually, no families want girls to play with boys. Not only cricket but also other sports have similar problem. Later, when my family find out that there is a women's cricket department in Bangladesh, then my family sent there to play. Till now, the support is going on.
Is the cricket game of boys?
We used to watch boys play cricket. Now all of us watch women's cricket when women players started playing. May be the number of audience in women's cricket is fewer comparing to male's cricket. The reason behind this would be - mass media rarely promotes our games.
The reason behind choosing cricket
Actually, I select it myself as I like it most. From my early age, I learnt cricket. No one helped me to learn the game. I have learned it from myself. Cricket is my most favorite sports. That's why I chose it and learnt it.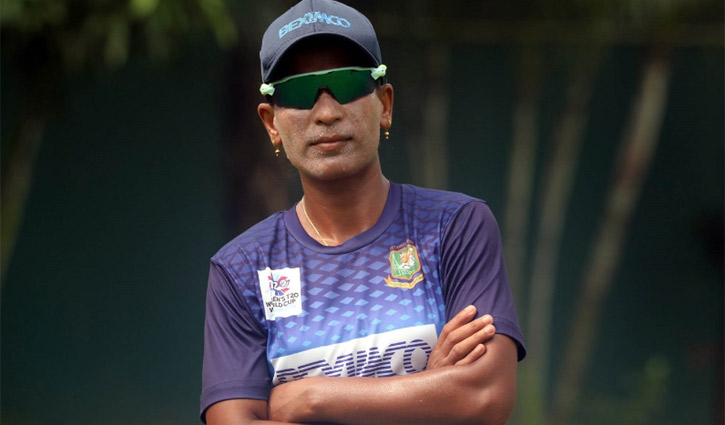 Have you heard any bitter words on the way of cricket career?
I didn't hear any bitter words like that. I hope I would not hear such moments in next couple of cricket career of mine.
Do you feel proud to represent the nation?
I have been playing cricket for a long time and serving the Bangladesh team. We are in a good level now. My opinion is – we will do better in the upcoming matches and will be able to lead the country successfully. I feel better getting the scope to lead Bangladesh. Yes, I am proud of it.
Message to women
We should try to go in better positions. No matter where we work.
Dhaka/Fahim/Nasim