Humaira Snigdha shares her journey to be a film-maker
Siam Sarower Jamil || risingbd.com
Published: 20:35, 31 July 2021 Update: 20:36, 31 July 2021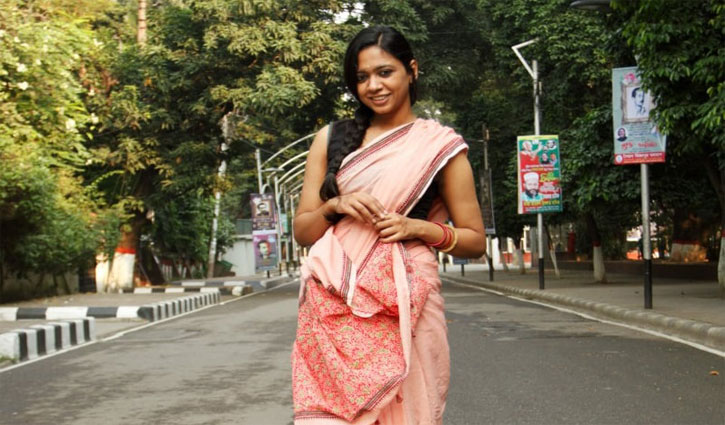 From a fairly young age, Humaria Snigdha had a long-cherished dream to be a storyteller. After passing out from college, she was enrolled at the Department of Film and Media at Jatiya Kabi Kazi Nazrul Islam University to build a solid educational background to materialize her dream.
Her first short film "Shukrobar," was screened on private television Deepto TV on July 22, this year. "I always love to tell stories," she said. "Since my childhood, I realized filmmaking was the sole thing I wanted to pursue as my career."
In a recent interview, the young filmmaker shared what drives her to be a filmmaker and how challenging the short film "Shukrobar" was for her.
From her early age, Humaira was involved in song and dance and got several prizes thanks to her performances. She was unsteady then, but her vision was clear.
When she got the opportunity from acclaimed Actor Manoj Pramanik, also a faculty of her university, to make her first debut at 'Patang Shikari Phul' drama directed by Nurul Alam Atik, she took the offer as blessings.
Monoj was the co-actor in the drama. After airing the drama on June 2020, Humaira accrued praise for her casting.
Monoj for the second time offered his 14 students to work as directors in a TV series named "Sat Dugune Chouddo" where Humaira was the only woman among the students.
Apart from these, Humaira got appreciation from critics for her short film 'Shukrobar' which aired on Deepto TV on the second day of Eid-ul-Adha. Sabila Noor, Marjia Akhter, Sagar Huda along with many others have acted in the short film, produced by Shahriar Shakil with the help of Manoj's production house 'Monpachitra'.
The family drama depicts how a young woman lives with her parents defying their typical mentality. Her mom, like other typical mothers, wants to make her daughter getting married. But she does not. She wants to be an independent woman. This is how the story progressed.
"The film is actually an emotional life story. It is a story of all the young women who belong to middle-class families," she said.
Asked about the response of 'Shukrobar', Humaira said, "After watching the film, none could say I am an amateur in this sector. Everyone appreciates our teamwork. I received an overwhelming response from media connoisseurs. Friends and relatives applaud us over phone calls".
Talking about the challenges she faced during her first direction, she said, "It was very challenging for us to shoot during the evolving Covid-19 situation. Due to the pressure, I suddenly felt sick. But with the support of my teammates and Manoj Pramanik Sir, I was able to quell from the crisis."
Expressing gratitude to her team, artists, and the crews of shooting, she said, "Everyone was very sincere. None considered me afresh or a woman. I realized being a woman is not an obstacle here."
Humaira's parents, who live in Sirajganj with her brothers, gave her mental support when she started the work.
Without the mental support of her family, she would not have dared to take such a challenge, she said.
"My mother was against my choice first, but she later realized that I am doing something good and started supporting me," she said.
Desiring to continue acting as well as direction altogether, she is hopeful that she would be able to make a place in the media before finishing her study.
Siam Sarower Jamil/Nasim