My dream is activism: Anarya Murshid
News Desk || risingbd.com
Published: 17:58, 2 October 2021 Update: 17:58, 2 October 2021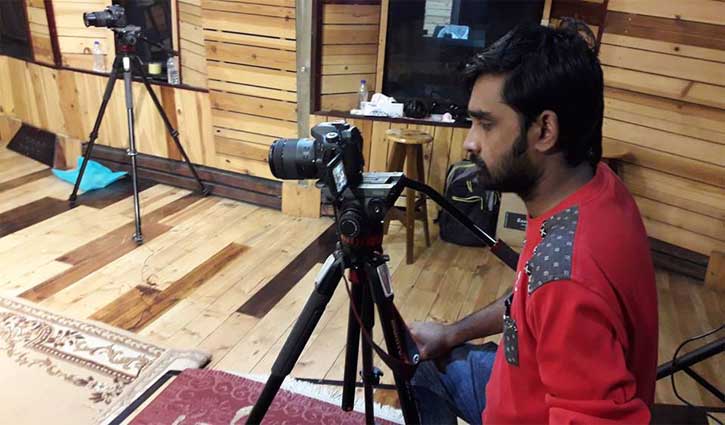 Anarya Murshid is a young filmmaker and screenwriters of Bangladesh. He has recently made a documentary film "Qasida of Dhaka". He also won the best documentary award at Indus Valley International Film Festival, Delhi & participated in many festivals of the world.
Now he is going to make the film 'BTS Girl' and 'Bedey'. Recently the young film maker talked with Risingbd, written by Shadat Hossain Towhid.
Shadat Hossain: What are you doing now?
Anarya Murshid: I am busy with my new film 'BTS Girl'.
Shadat Hossain: What about BTS Girl?
Anarya Murshid: Maybe you know that BTS is a K-POP Band. This story is about a teen girl who is a fan of BTS. It's about multi-cultural conflict. I think it's enough for your reader, rest of the things should be kept silent for the on screen.
Shadat Hossain: Please tell me about Qasida?
Anarya Murshid: You know that Qasida is one of the folk music of Dhaka. For the urbanizing and domination of multiculturalism it is losing. This film is a trilogy of Dhaka's music. Another 2 researches of the trilogy are almost ready for screenplay, now I am looking for a producer. Maybe, this Trilogy would be a milestone of Dhaka's Music, I hope.
Shadat Hossain: How did you engage in film?
Anarya Murshid: I started my career in the field of journalism & then I was writing art criticism, short stories in newspapers. After 2 years of Journalism career I started screenwriting for TVC & OVC side by side a private job. Also I made some talk show programs for an e-book company. These works have inspired me to make films.
Shadat Hossain: I understand that you have a lot of experience of works. But why are you in the film industry & why not in other industries?
Anarya Murshid: Actually film is not my fashion, hobby, dream or earning tool. My dream is activism. A lot of people can be reached through films, so I work in films. If I see more people getting involved in any other medium tomorrow, I will go through that. I don't want to make films just to make art. I want to make films from a place of responsibility in society.
Shadat Hossain: What about the story Bedey?
Anarya Murshid: Also this story about cultural conflict. This story is under development. So I cannot tell you about it in detail. I wrote the final screenplay after the making of BTS Girl.
Shadat Hossain: When will it finish?
Anarya Murshid: I am trying to complete it within January 2022 & then Bedey. Also a diploma film in my pipeline. Hope that it will be finished in November.
Dhaka/Shadat Hossain/Nasim