'Poets murder people`s hearts'
Published: 16:33, 5 October 2022 Update: 17:02, 5 October 2022
Iraz Ahmed, born on March 25, 1964, started his writing career in early 80s. After completing his graduation and post-graduation from Dhaka University in Bangla Literature, he got involved with journalism. During his 30-years long journalism career he wrote numerous books. His published books include- Fele Asha Rumal (Poetry book), Eishob Andhakar (Novel), Purte Thako Biggaponer Agune, Jekhan Theke Akash Dekha Jay Na, Koyekti Mrito Jonaki (Story Book), Britter Bhetore Eka Novel), Shite Bhabaghure (Poetry), Abbhuthan (Novel), Choitrer Din (Novel), Mohakaler Ghora (Novel), Che Guevarar Africar Diary (Translation).
The writer has shared his thoughts with risingbd recently. Rudraksha Rahman on behalf of risingbd took the interview. Here are the key points of the discussion:
Rudraksha Rahman: Ever you wanted to kill anyone?
In a smiley face, showing without reaction to the question Iraz Ahmed replied, "I want to kill daily. Poets want to be murderers. Poets kill people's hearts."
Rudraksha Rahman: Ever wanted to be a revolutionary?
Hearing such query, a little movement was seen at the face of the writer. Keeping eye on the shining ray through window curtain, Iraz Ahmed responded, "After reading Navarun Bhattacharya's poetry, once I really wanted to become a revolutionary."
Rudraksha Rahman: Then why you choose poetry over those killing and revolution?
This time in a mysterious smile, Iraz Ahmed replied, "Because poets can kill and do revolution too. Sometimes I want to kill myself because I'm tired of this city. My desire to revolutionize the human world will never end. Again, we united under a new banner."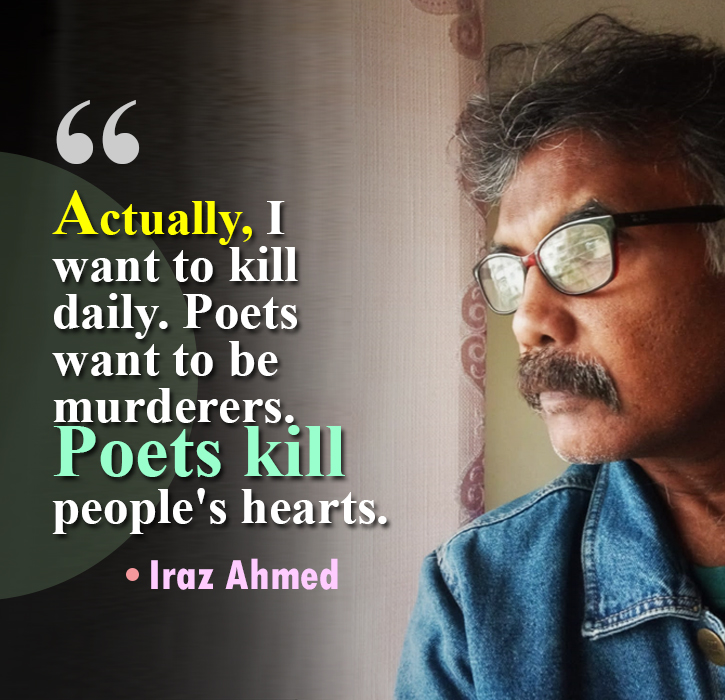 Rudraksha Rahman: You were a student of Bangla Literature. You are living in local and international literature and poems daily. Tell us which one inspire you most to become a poet?
Iraz Ahmed: Nirendranath Chakrabarty's book 'Nakkhatra Joyer Jonno' was the reason behind that. The year was 80s.
Rudraksha Rahman: When your poems were printed first?
Iraz Ahmed: It was 1981 or 1982. A local media named Protipokkho. Poet Jahid Haydar, Storyteller Abu Saeed Juberi, Manik Chowdhury and couple of other people published that. My first printed poem was published there.
Rudraksha Rahman: Then?
Iraz Ahmed: From then the writing is still going on.
Rudraksha Rahman: What would be the loss of Bengali literature if you don't write poetry?
Iraz Ahmed: I don't know that. But my readers would face loss. Many Bangla readers read my poems. They want to read my poems. Those readers inform me in various way that they wait for my poems. Considering my readers demand, I post poems at Facebook regularly side by poetry books. I think Facebook is now biggest platform in the globe. I can reach my readers through it. Now I feel actually I had no option to avoid writing poems.
Rudraksha Rahman: As far I know 'Fele Asha Rumal' was your first poetry book. Then, Purte Thako Biggaponer Agine came. Later, you took a long break. It is also true that you took an exile willingly after doing 30 years long journalism. Along with poetry, you have novels, stories, translation books. But you started your second innings through the poetry book 'Shite Bhabaghure' and then picked Facebook as writing platform. Is it true?
Iraz Ahmed: Yep. You are almost correct. There is truth behind the truth. Similarly, story remains hidden behind stories. Journalism profession was the reason behind the gap in my writing poems. Poetry actually can make a poet a refugee. May be that was contradictory to my profession.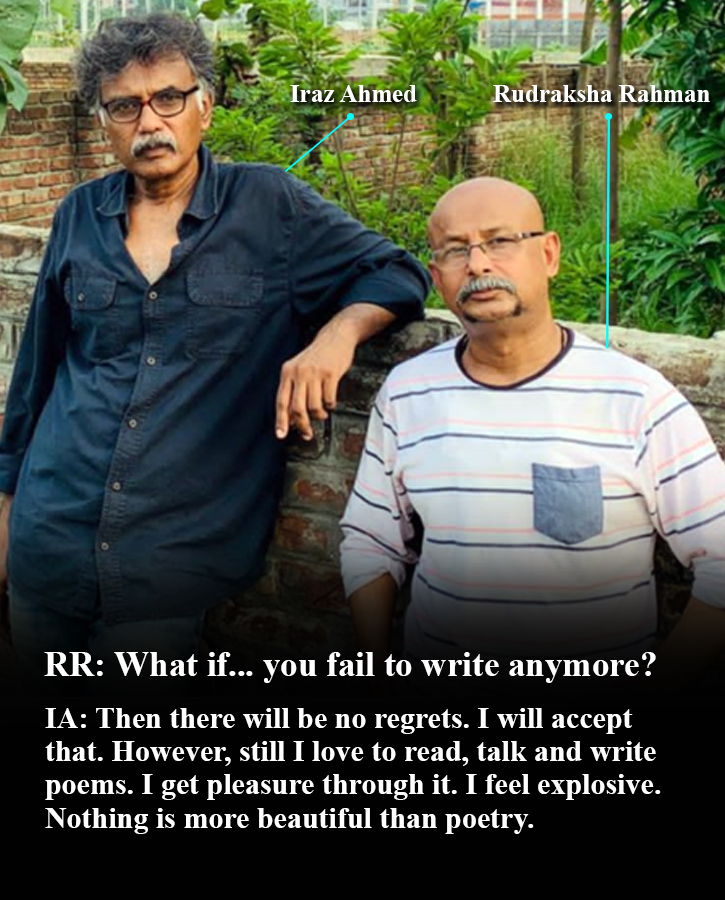 Rudraksha Rahman: Your last printed books - 'Laundry Maliker Boro Sele', 'Juwari and Jalanta Rumal', 'Apurba Dance Schooler Meyera', 'Bristi Amake Neyni Antara', 'Attohottar Samagri', Doroza Kholo Afimer Dokan' are extremely popular. Although you are not a so-called 'popular' poet but you are popular among readers. You are influenced by Abul Hasan, the magical poet of Bengali literature.
Iraz Ahmed: Consciously and subconsciously I admit that I am influenced by Abul Hasan. I like Abul Hasan though I have never met him. His poetry gives me immense pleasure. My three favorite poets are – Jibananda Das, Binay Majumdar and Utpal Kumar Bashu. But I tried to express myself in my poems. I think we all poets are trying to write a single poem. Throughout the ages, poets across the globe have written a poem together. I am also a part of that.
Rudraksha Rahman: As far I know New York is also your favorite city. Did you find any poem there?
Iraz Ahmed: Poem can arise from anywhere. But New York is a brutal city. That town give space to all. But that town don't take anyone as a beloved one. When, I visited New York for second time I gathered a different sense from there.
Rudraksha Rahman: How do you pass your life?
Iraz Ahmed: I write poems and enjoy the life.
Rudraksha Rahman: Tell us about your financial life.
Iraz Ahmed: Listen, I assumed myself as a rented gun. You can call me shooter too. I don't do any specific job. So, I do many things to survive. I write script for dramas, translations and others. But that I write poems too.
Rudraksha Rahman: What if... you fail to write anymore?
Iraz Ahmed: Then there will be no regrets. I will accept that. However, still I love to read, talk and write poems. I get pleasure through it. I feel explosive. Nothing is more beautiful than poetry.
MM Kayser/Nasim