PM seeks Japan cooperation to continue preferential facilities
Desk Report || risingbd.com
Published: 21:53, 27 May 2022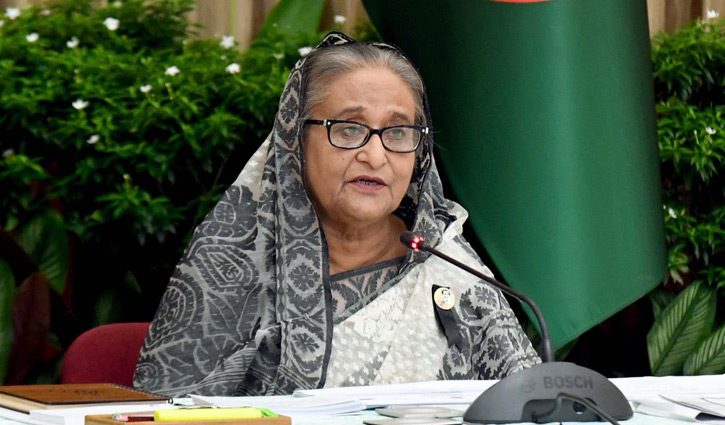 Prime Minister Sheikh Hasina (File Photo)
Prime Minister Sheikh Hasina on Friday (May 27) urged Japan and Organisation for Economic Co-operation and Development (OECD) to continue preferential facilities at least till 2029 for Bangladesh's smooth graduation from least developed country to developing nation and achieve Sustainable Development Goals (SDGs) by 2030.
"We would deeply appreciate if Japan and other OECD countries do it (to extend preferential facilities) at least till 2029 to help us attain the overarching goals of sustainable development by 2030," she said.
The Prime Minister said this in a video statement aired in the 27th International Nikkei Conference on the Future of Asia.
The two-day conference titled "Redefining Asia's role in a divided world" is being held in the Japanese capital Tokyo in a hybrid format with both streaming and on-site attendance.
The Prime Minister said Bangladesh has attained the United Nations recognition for graduating from a Least Developed Country to a developing nation in 2026.
"We are already taking various measures for a smooth graduation," she added.
She said Bangladesh has urged its friends and partners through the UN mechanism to consider extending preferential facilities to Bangladesh for an extended period beyond 2026.
"Bangladesh is at different stages of negotiations on FTA with several countries, and opens to negotiating FTA and CEPA with other countries, including Japan," she said.
The Prime Minister reminded the conference that Bangladesh is hosting 1.1 million forcibly displaced Rohingyas from Myanmar and they must be sent back to their homeland in the Rakhine State of Myanmar in safety, security, and dignity.
"We request you all to contribute and help us find an amicable settlement of this crisis," she said.
Describing Asia as the largest and the most populous continent of the world hosting about 60 percent of the world's population, she said that it is also the home of most of the poor people of the world.
"Therefore, it is imperative to ensure peace among conflicting countries by resolving differences through discussion. Only by creating an environment of peace and stability, the countries of Asia can improve the socio-economic condition of the people," she opined.
In this connection, she said Bangladesh follows the Father of the Nation Bangabandhu Sheikh Mujibur Rahman's foreign policy "Friendship to all and malice towards none".
It has been acknowledged by a United Nations resolution, "Culture of Peace" adopted in 1999, and thereon every year, she said.
As governments of Asian countries, she said they have gathered here to share their perspectives in addressing the theme of this year's "Future of Asia" conference.
The Prime Minister shared five ideas in the conference for building future Asia, saying, "Let me conclude by sharing some ideas with you for your reflection."
Sheikh Hasina in her first proposal said that the Asian countries need to extend the hands of friendship, understanding and cooperation to each other, and promote solidarity to address division.
In the second and third proposals, she said they may explore how the soft power of ICT can be best used as a powerful tool to bridge the gaps between our countries and the Asian countries' need to safeguard fairness, respect, justice, inclusiveness, and equality in actions and deeds.
The Premier opined while spelling out her fourth and fifth ideas that Asia's future will depend on sustainable and balanced development, improving international order and establishing win-win international relations and the Asian countries have common development challenges and should face them unitedly and collectively.
In the Asia-Pacific region, she said, "we must combine our forces to share good practices, knowledge and technologies to help address our common challenges".
Bangladesh would always strive to work with all friends and partners to ensure a peaceful, sustainable world and more importantly a peaceful, sustainable and prosperous Asia for future generations, she continued._BSS.
Dhaka/Nasim