The last ordeal
Published: 17:44, 6 June 2023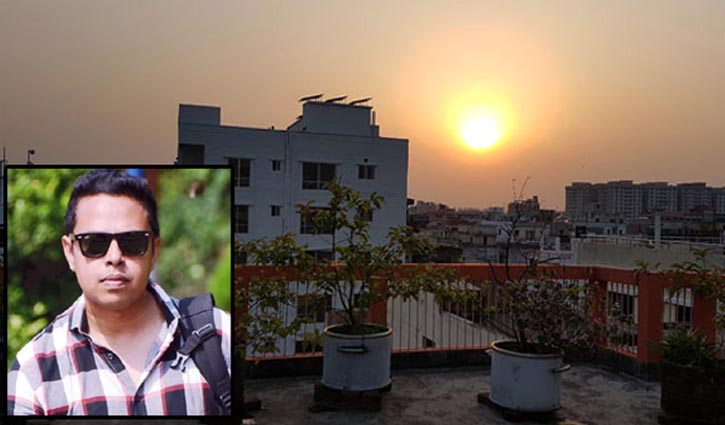 'Train to Busan' is a famous Korean movie. I watched the movie some years ago. The film mostly takes place on a high-speed train from Seoul to Busan. From the beginning to the end, there are many terror and excitement incidents in the movie. Some people infected with an unknown virus are biting and taking blood of others. A healthy person is also infected after the bite. Later, he or she again attacks other healthy people to take blood. At one stage, almost all the people of the train are infected one after one. In the movie, all the terrified passengers struggle and scream to survive that make me stupefied.
We are all now passengers of such a train. We don't know where the train will stop, and how many of us will reach our destinations. We fear our time is going to end, and will not get any opportunity to meet family members and relatives? Some days ago, when I stood on the balcony at midnight, I enjoyed a bloom and bright shiny moon. In that moonlight, I thought I would hear some good news in the next days. Less number of people will be infected with Covid-19, and no one will die. But it unfortunate, every day we are to hear the opposite news. The number of infected people is increasing every day. Everyone is living at home. We are passing our days with unknown fear.
I live in Dhaka. My mother and brother live elsewhere. They are worried about their family. On April 16, the Directorate General of Health Services declares the entire Bangladesh at risk of the coronavirus pandemic as the infection spreads to various parts of the country. The government takes all possible measures. Without carefulness, it is not possible for us to defeat Covid-19. I watch television and see a lot of people at markets and roads every day. People are to go out to buy their essentials, and some have continued their normal movement. But it is the truth that how many of us are able to realize the fact what will happen if we gather in such ways.
It seems life has been stuck between the time of sunrise and sunset. Every day time is being passed in the square room. Watching movies and reading books are regular work. About one year ago, I read a novel Prodoshe Prakritojon written by Shawkat Ali. The novel is widely read. As soon as I remembered the novel, I wanted to title this article 'Prodoshe'. The Sena dynasty ruling is going to end in Bengal. A Turkish invasion is imminent. However, the oppression of land lords and their associates continues. Some youths and Buddhists are trying to resist that tyranny. They are angry with the rulers. One of them raises questions- is this human life? No happiness, no relief. All we try to survive. Where does it end? How long will it last?
We have the same question-How long will it last? I live in Mohammadpur. Standing on the balcony of the seventh floor, I feel hopeless. It seems there is no human in anywhere. Just like 'Train to Busan' or any other horror movie.
As soon as we go out of the houses, we feel fear. At one or two times, I am to come down to buy vegetables or other small things. We are to exchange money, which is a source of spreading virus. All daylong we are to remain busy to become germ free. The difference between the day and night is now only light and darkness. We used to play badminton or table tennis at the end of the office, but now there is opportunity to play. There is no scope for physical work. As a result, it seemed that my weight is increasing.
BCB trainer Ifti Bhai gave some advices, and we are doing something on our roof. Every afternoon is spent on the roofs. Some take care of the trees with their families, some play carrom and some fly kites. The blue sky becomes colorful with red, blue, yellow and purple kites. The sun slowly sets behind the buildings, spreading a multi-colored hue in the western sky.
Dhaka/Mukul