I got married to Tamima in accordance with Shariah: Nasir
News Desk || risingbd.com
Published: 22:34, 24 February 2021 Update: 22:44, 24 February 2021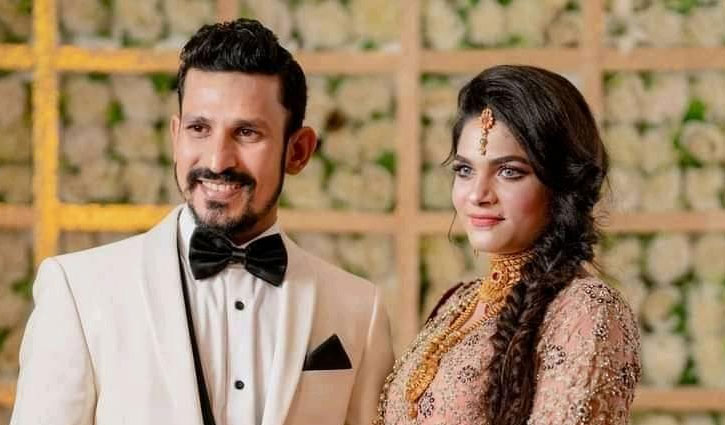 Cricketer Nasir Hossain came up with his newlywed wife in a press conference on Wednesday (February 24). The national team all-rounder managed several press conferences before, but this is the first time he experienced such a thing. While giving a press conference at a restaurant in Banani, he looked devastated. There was also inertia in wife Tamima Sultana.
The couple is now in the headlines less than a week after the wedding. It was alleged that Nasir's wife Tamima got married without divorcing her ex-husband. So, they arranged the press conference to explain their position.
Nasir claimed that all the issues that came up on media and social media were lies, "I have known Tamima for four and a half years. She was a very good friend of mine. Then we fell in love and married each other. We are now legally married in accordance with Islamic Sharia. If we had anything in mind, we would not get married like this. We got married with pomp and circumstance. Tamima was married before, has child and divorced. I married her knowing everything. I got married after seeing the divorce papers."
Nasir has not been with the national team for a long time. Injuries, dropping out of the team, uncontrolled life, criticism about fitness - all these are intertwined with him. When everything was going against him at 22 yards, he decided to tidy the innings of his life. Cricketer Nasir got married his girlfriend Tamima. But there was no leisure. Nasir's wife has been accused of remarrying without divorcing her ex-husband. The allegations have led to lawsuits. The court on Wednesday directed the Police Bureau of Investigation (PBI) to investigate into the case.
Nasir claimed that he knew anything over the case. But he made comment about his wife, "Yes, she loved someone in her childhood, married him and can do it. So has she no right to be happy now? Of course there is. I know her very well. I have accepted her knowing everything."
He also threatened for action in case of any bad comment against his wife. Nasir said, "What Mr. Rakib has said is not correct. Tamima was his wife earlier, now she is mine. I will not spare anyone if he/she makes bad remarks about my wife and that would be by law."
Nasir and Tamima got married on Valentine's Day (February 14). The wedding ceremony was held at Uttara in the capital. Confirming the news on Facebook, Nasir wrote, "Alhamdulillah! Pray for our new journey!"
Nasir's wife Tamima is a cabin crew of Saudi Airlines.
Cricketer Nasir has been out of the national team for a long time. He was last seen in the national team jersey in 2018. Since, the spin all-rounder got lost due to injury. Nasir could not pass the fitness test when he was on the cricket field after the corona epidemic. He did not play in the BCB President's Cup as he was not in the list of 80 cricketers. However, he played in the T-10 league in the United Arab Emirates a few days ago. There he led the Pune Daredevils.

Dhaka/Yeasin/AKA