It was early July 2014 and one of my sisters and her son persuaded the rest of my immediate family and me to accede to their request of an early internet booking for an affordable holiday in August in Granada in Spain.
So, the seven of us, including my daughter, my other half and my mother in her wheelchair and also, this time, my sister's husband, who had flown in from Dhaka to celebrate Eid-ul-Fitr in London, became mentally attuned for an excursion to Andalusia, Southern Spain.
If you explored the various genuine travel websites on the internet, you could strike economical bargains, which would encompass both flight and hotel packages, as long as you made your bookings well ahead. We would invariably, also, book our taxis online to take us to our hotel.
It was an early morning flight from London City Airport, which is about twenty miles from our home. Driving our respective cars through the City of London's congested and unpredictable traffic and parking in a Long Stay car park would not have been a palatable proposition. So, we summoned a Mini Cab service for a ten seater MPV (multi purpose vehicle), and were transported along with our trolley-luggage and mother's wheelchair to the airport.
The duration of the flight was approximately two hours and forty minutes before we touched down at Granada airport in Spain. The airliner had served a reasonably filling breakfast, which nullified any burning desire to refill our stomachs sooner.
Granada airport was bathed in warm glaring sunshine, with semi-arid landscape and distant hills in the background. A taxi ride, to our hotel in the city centre in the heart of Granada, allowed us to catch a glimpse, on the way, of highway sign boards, displaying such names as Sierra Nevada and Santa Fe. It, suddenly, dawned on us how Spain's sovereignty over parts (e.g. California) of United States, had a direct influence over the latter's early history. Even the weather was uncannily similar.
Hotel accommodation was impeccable and the city infrastructure was reasonably compliant with wheelchair users. A self-service full continental breakfast in the hotel restaurant was incorporated in our accommodation package.
After refreshing ourselves, we went for a stroll in the city in search of an ample meal. Most of the eateries in downtown Granada, additionally, provide dining facilities on the pavement to function as Pavement Cafes – an increasingly trendy feature in Europe. You can relish both the cuisine and the ambience at the same time. Well, we ended up in one, though I would hesitate to call it a gourmet meal.
The next morning, we were pleasantly surprised with the extent of the menu of the continental breakfast that was on offer, for unlimited consumption. Breads, which could be toasted on site, croissants, buns, cereals, milk, scrambled and boiled eggs, fruit juices, a wide variety of fruits, custards, yoghurts, cakes, muffins, tea, different types of cheese – I could go on – were presented. It was an absolute feast!
As noon approached, I began feeling quite uncomfortable with the intense brightness (glare) of the sunlight and so my family and I succumbed to an early siesta. However, the enthusiasm of my sister's family propelled them for an exploratory survey of what was available for sightseeing. They even had a tour of the city on a so called train and returned, promptly enough, to tell the tale!
The "train" (or tren as in Spanish) or "Tren Touristico" is but a number of interconnected coaches pulled by a leading driven car. It is run by "Granada CITY TOUR". It travels past Granada's iconic monuments and historic edifices and is fitted with an audio guide, which provides a running commentary (you can select the language) of the history of Granada and its medieval architecture.
After devouring tuna-fish-in-salad inside a baguette, as a late lunch, and with soft drinks to wash it down, in a local cafe, we (I mean, both our families) decided to drift in the direction of the nearest "train" stop.
We purchased full-day tickets for multiple journeys whereby to include a night ride, too, through the city and the valley. Unfortunately, the first "train" was sardine-packed and, upon my nephew's wise advice, we walked briskly to an upstream "train" stop. We managed to board ourselves, including mother in her wheelchair, comfortably with time to spare.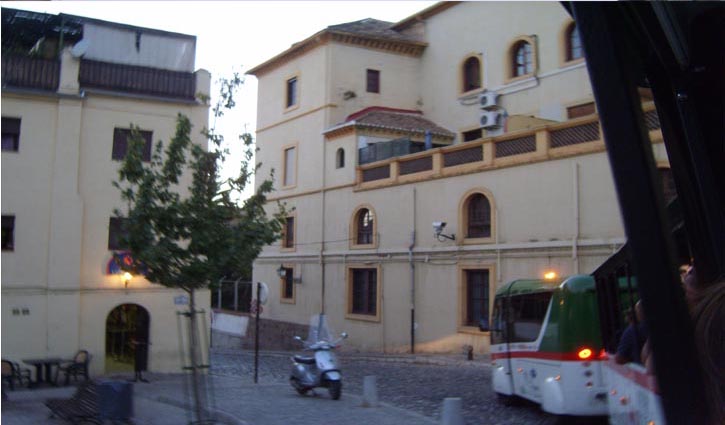 A view from the Train as it bends to enter a street in Granada city
The "train" was driven through the city centre, Al-Bayzin, Alhambra and other contiguous heritage sites of Granada city. Believe you me, some of the roads in the old city, which date back to somewhere between 711 and 1492 CE of the Muslim (Moorish) rule of Spain, are so narrow (imagine the alleyways in Purono Dhaka) and meandering that the pedestrians had to lean back against the walls of shops to allow our train through. You can also have a panoramic picturesque view over the valley from an elevated point in the journey.
The Muslim architectural relics – blended with later Christian artefacts – are truly awe-inspiring and harmonious and have stood the test of time. The Spanish government has undertaken a remarkable painstaking job in preserving the Muslim heritage sites.
After our joy ride, we wandered back to our headquarters – I mean our hotel – as the clock was inching towards midnight, to wash up, before making our way to a downtown restaurant. The waiter, there, was acquiescent to our wishes and served us Spinach Risotto and cold soft drinks even at the late hours. He, initially, treated us with a delicious, spicy, viscous and chilled Mediterranean soup served in tiny glasses, as a starter appetizer.
The following day was Friday and that means attending Jumu'ah prayers. I had already utilised WiFi access – available in most modern hotels – to search for a mosque, through my mobile telephone. La Mezquita De Granada (The Mosque of Granada) stood out as the hub of Islamic religious practice.
Following a heavy breakfast, we prepared ourselves for the congregational Friday prayers. A couple of taxis carried us up the hill to our destination.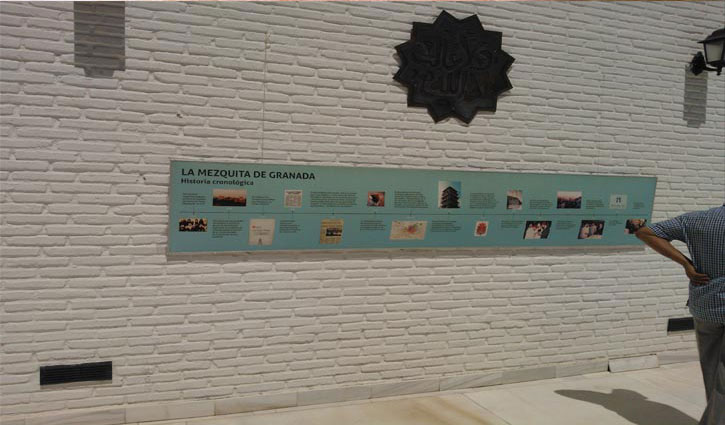 Plaques and Decorations ornate a wall of the mosque extension
The Mosque was opened in 2003 and is said to mark a reunion, after a divorce that had lasted for about five hundred years, between Spain and Islam. The Mosque's strategic location up on the mountain facilitates a scenic bird's-eye view of the historical Alhambra and other salient features of the region. As is customary in most modern mosques in the western world, an area designated for female worshippers is annexed. There is a library and a shop as ancillary features of the mosque.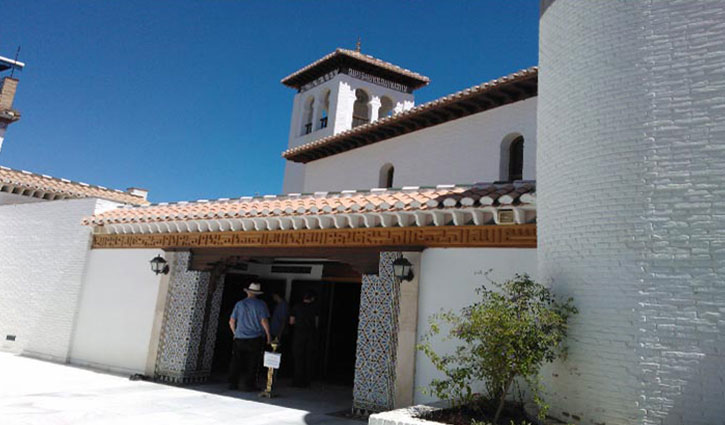 An entrance to the Mosque with the minaret in the background
A photo session ensued, upon our egress from the mosque interior. You can easily lose the sense of time as you become absorbed in the scenery. However, we did not want to prolong our stay, in case we encountered difficulties in finding taxis. So, I requested the caretaker of the Mosque – before he disappeared – to call for a couple of taxis. A little later, we were winding down the streets in our taxis en route to our hotel. In anticipation of a heavy late evening meal in a restaurant, we decided to temporarily fill our stomachs, in the meantime, with pizzas as a light late lunch in a nearby cafe.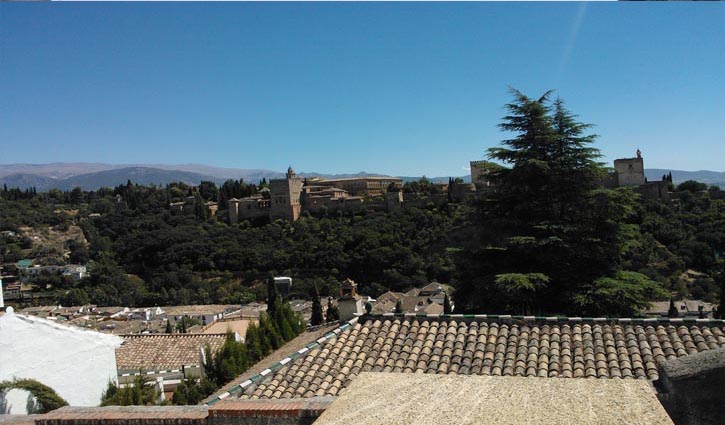 A view overlooking Alhambra from the mosque precinct
Platefuls of doner kebab (a Turkish menu) served with vegetables and potato chips (not to be confused with the term "potato chips" used in the South Asian subcontinent to describe "potato crisps"), similar to French fries but much thicker and soggier, and soft drinks were the items of our dinner, in a sidewalk cafe. The open-air seating arrangement turned out to be more entertaining than the Turkish gastronomy.
The following day was destined to be the focal point of our vacation – yes, a trip to the enchanting palace-cum-fortress multiplex Alhambra (Arabic: Al-Hamrah)! After a nourishing breakfast, we were driven in our taxis to our journey's end.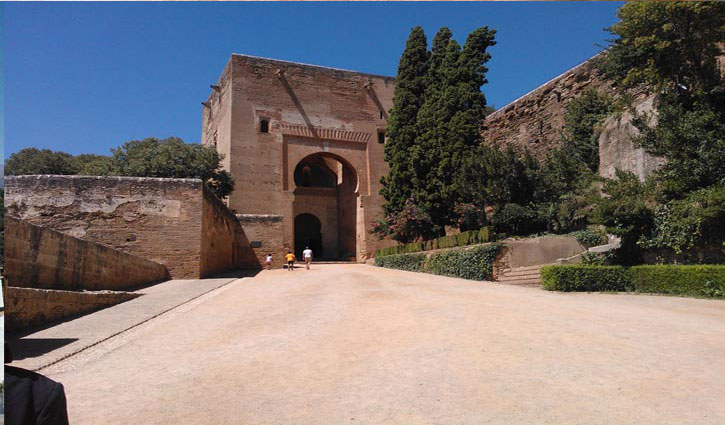 Justice Gate (Puerta de la Justicia) for ingress into Madinat al-Hamra
Amongst Alhambra's prominent features are the Nasrid palaces, for which you require entry tickets – booked in advance. Luckily, my nephew had made online bookings from London in response to my daughter's prompting. That notwithstanding, we had to stand in the queue.
The complex was built in the 9th century and then reconstructed in the 11th century by the Amir of Granada, Mohammad Bin Al-Ahmar.
Arabic Inscriptions are above the arch of the Gate with a Virgin Mary statue carved thereabove – evidently after the Christian conquest in 1492 CE. The Date of Erection of the Justice Gate is given as June 1348 CE. Arabic Inscriptions on the gate interior are said to read "May Allah allow the justice of Islam to prevail within"
There are, maybe thousands of, extremely artistic Arabic inscriptions beautifully, intricately and meticulously carved or engraved in the walls. Some are passages from the Holy Qur'an and others include poetry and personal observations of the calligrapher etc. A slogan, "There is no conqueror but Allah", has been repeated again and again. The artistry, the artisanship and the enduring effort that had gone on behind these inscriptions are mesmerising to say the least. We were, simply, dumbfounded and awe-struck.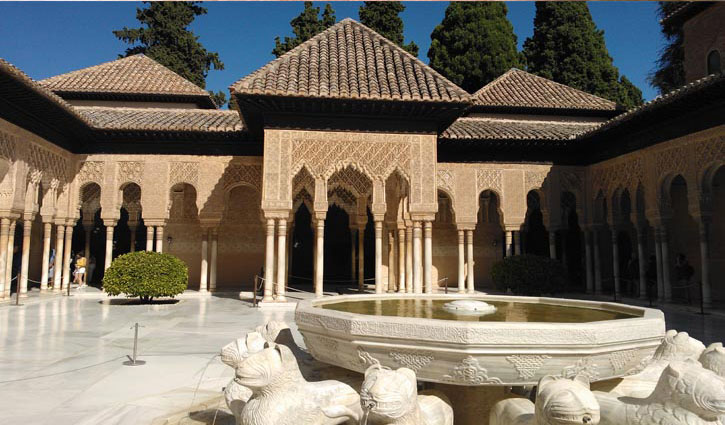 Inside the Nasrid Palaces with the Sultan's personal residences and with designated areas for ladies. Estimated date of construction is post 1362 CE.
As the day drew to a close and no taxis were in sight, we made our way to the bus stop for a ride to our place of abode – I mean, to our hotel.
This was the penultimate day of our trip and so we could relax as much as we desired. We wandered down to the restaurant we had dined at on the second day. The same waiter was on duty and we ordered for paella, but suggested admixing with vegetables and prawns. It turned out to be an extremely delicious dish and was accompanied with the Mediterranean soup we had been delighted with before.
A Courtyard inside the Nasrid Palaces
As the final day of our break dawned, our first port of call was to the hotel restaurant for a hearty breakfast before our expedition in search of a shopping arcade. Well, what do you know: we rediscovered Dhaka's Ghausia market in Granada – I mean, a covered bazaar with narrow aisles between umpteen shops. They were mostly owned by North African Arabs and we ended up haggling over prices of souvenirs, as is only too familiar to South Asians.
Although our heart and soul longed for our romance with the alluring city to continue, the niggling knowledge of our late evening flight back to London kept reminding us to call it a day.
After surveying more of the antiquities of the middle ages, we dragged ourselves back to our hotel. We completed our packing and satisfied our hunger with sandwiches.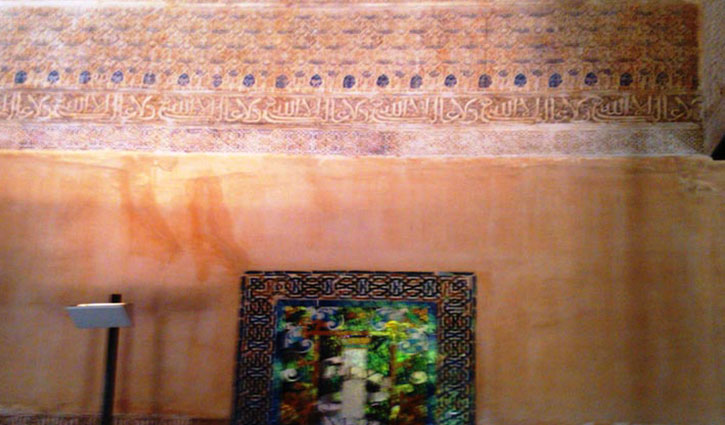 Arabic inscriptions on the walls glorifying Allah Almighty
Before long our two families ensconced ourselves in a couple of taxis until the vehicles arrived at Granada airport to bid farewell to Granada.
The entire episode of our journey was an eye opener and one that I would recommend to the Bangladesh Archaeological Department with a view to projecting the numerous heritage sites of Bangladesh on the international stage.
This article is written by Monty Siddique BSc (Hons) in Industrial Chemistry from a UK University, who took early retirement from the United Kingdom Civil Service, after having served as a Senior Patent Examiner (above Principal Level) in the United Kingdom Intellectual Property Office, which is the operating name of the United Kingdom Patent Office. He has also trained and managed UK patent examiners.

Dhaka/Mukul