Small investors are breath in stock market: BSEC chief
Uday Hakim, from Washington DC || risingbd.com
Published: 12:17, 30 July 2021 Update: 12:22, 30 July 2021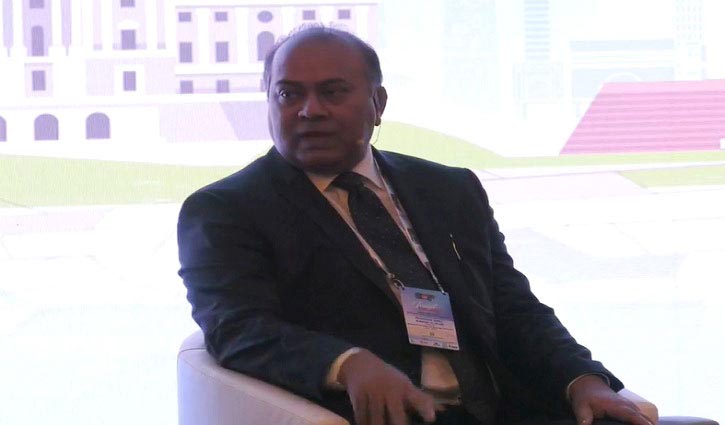 Professor Shibli Rubayat-Ul-Islam
Bangladesh Securities and Exchange Commission (BSEC) Chairman Professor Shibli Rubayat-Ul-Islam on Wednesday said, 'The small investors are the souls in the share market. Institutional investors are needed for the large-level investments in the stock market but we want small investors to invest in the market simultaneously.'
'We have many small investors in the country and abroad. They now can easily invest in the stock market as the necessary initiatives have been taken to open the BO accounts online. Expatriates living in any country can easily deposit remittance as BO. From that BO account, they will be able to manage online transactions from anywhere in the world,' he adds.
Prof Shibli Rubayat, and also a former Dhaka University teacher and researcher, made the comment in a question-answer session at the second phase of the ongoing roadshow in the USA.
The second phase of the USA roadshow was held at Ritz-Carlton Hotel ballroom, Washington DC at 10am local time (8pm in Bangladesh Time) on Wednesday (28 July 2021).
BSEC chairman also said that there is no need to go to the digital booth now as everything is being gone online in the share market. Investors can also use mobile apps for transactions processes in the stock market.
Prime Minister Sheikh Hasina's private sector adviser Salman F Rahman, Senior Finance Secretary of the Ministry of Finance Abdur Rouf Talukder, Commerce Secretary Tapan Kanti Ghosh, BIDA Executive Chairman Md Sirazul Islam, BEPZA Executive Chairman Major General Md Nazrul Islam, BSEC Commissioner Prof Dr Mizanur Rahman, Vice Chairman of Shanta Asset Management Limited Arif khan and BRAC Bank Managing Director Selim RF Hussain were present among others at that time.
The main title of the weeklong roadshow is- 'THE RISE OF BENGAL TIGER: Potentials of Trade and Investment in Bangladesh.' The roadshow will run until August 2 in four cities across the United States.
Earlier, the week-long roadshow, an initiative of BSEC, to showcase the strength and opportunities of business and investment in Bangladesh for the investors abroad, was started from Manhattan, New York on July 26, 2021.
Bangladeshi multinational electronics giant Walton is the center of attention and attraction of expatriate Bangladeshis in this roadshow as it is one of sponsors of this mega international event. Walton's ten-member high-level delegation joined the mega event as Walton is emphasizing this roadshow in order to make its place among the top giants in the global market soon.
The third phase of the roadshow is scheduled to be held on July 30 at the Inter Continental Los Angeles Downtown, Los Angeles. Developing international trade and investment through both portfolio investment and FDI by the expatriates and foreign investors is the key target of this roadshow, and the distinguished delegates are going to demonstrate the strength and opportunities of rising Bangladesh for investors from abroad.
The final roadshow will be held on August 2 at the Hyatt Regency Santa Clara, Silicon Valley. To demonstrate the scenario and the opportunities to the investors, the distinguished delegates will join in a US-Bangladesh Tech Investment Summit along with tech industry conglomerates and investors at this roadshow.
Mahfuz/Mukul