Huge rush at Shimulia-Bangla Bazar route
Published: 16:35, 15 May 2021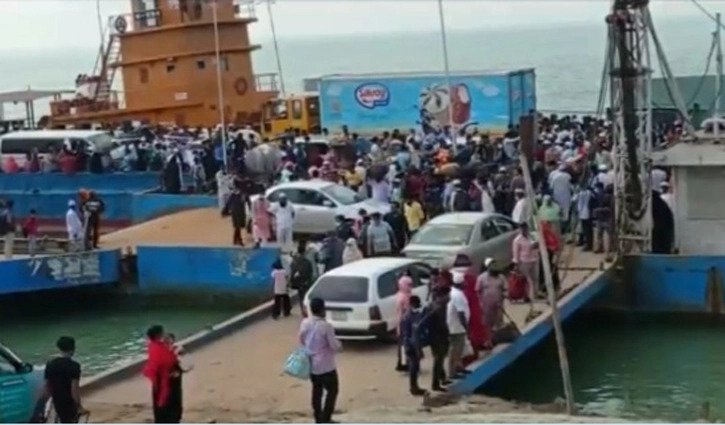 Though Eid-ul-Fitr was celebrated on Friday (May 14), scores of people have been rushing to the Shimulia Ferry Terminal to go village home from Dhaka. Alongside, many people started to return their workplaces in Dhaka after enjoying the Eid with nears and dears at home. As a result, rush of passengers and vehicles has increased on both sides of the Shimulia-Bangla Bazar route.
By the noon on Saturday (May 15), at least 10 ferries left Shimulia Ghat for Bangla Bazar with only passengers. Besides, 5 ferries came from the opposite side. At present 15 ferries are plying on this route.
Bangladesh Inland Water Transport Corporation (BIWTC) Shimulia Ghat Manager (Commerce) Prafulla Chauhan confirmed the information at the noon.
He said 15 ferries have been plying since the morning. Each ferry is crossing with a huge number of passengers and vehicles. Passenger and vehicle pressure continues on both sides of the route.
According to the traffic police at Shimulia Ferry Ghat, there are now more than four hundred vehicles waiting at the ghat area for crossing the river.

Munshiganj/Ratan/AKA