Mahbubul Khalid's heart touching songs create fire awareness
News Desk || risingbd.com
Published: 08:32, 4 May 2021 Update: 16:08, 4 May 2021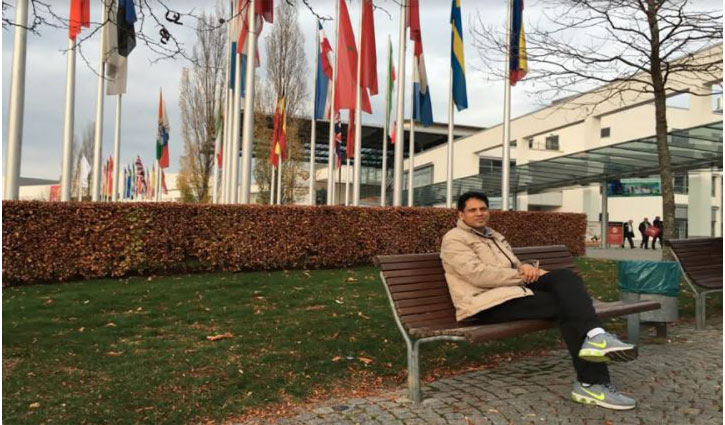 Today (May 4) is being observed as the International Firefighters' Day. The observance was instituted after a proposal was emailed out across the world on January 4, 1999 due to the deaths of five firefighters in tragic circumstances in a bushfire in Australia.
Fire incidents are common in Bangladesh. Devastating fire in garment factories, building collapse and others accidents claim innumerable lives. Most of the fire incidents occur due to the lack of awareness. However, they cost innumerable lives.
Promising Bangladeshi poet, lyricist and composer Mahbubul Khalid has penned various songs on the issue of fire incidents to create awareness.
Among his songs, the music of 'Eto Lash Rakhbo Kothay' (Where will we keep so many dead bodies) was composed by himself. The song has two versions. Nandita rendered her voice in one version while the other is sung by Sangeeta.
Late Ahmed Imtiaz Bulbul composed the music of the other song titled 'Ar Noy Agni Shikha' (No More Fire). Young singers Sabbir and Tina Mostary rendered their voices to it which has been published on www.khalidsangeet.com, a website that contains the songs and poems of Mahbubul Khalid.
Beside, a music video of 'Eto Lash Rakhbo Kothay' has been released in YouTube's Khalid Sangeet channel.
The song was mainly written after the tragic fire incident of Haji Wahed Mansion, a building in Chawkbazar's Churihatta, where a chemical-fed fire left 71 people burnt to death on February 20, 2019. Just after a month, on March 28, another fire broke out at the 22-storey FR Tower in Dhaka's Banani area leaving 26 people dead. The fire incidents deeply shocked Mahbubul Khalid. He portrayed the pathetic picture of the fire and its consequences in the song. With very touchy words and heartfelt music, the song has become an emblem of human fate and suffering.
Mentionable, poet, lyricist and composer Mahbubul Khalid has penned and tuned a vast number of songs including various days or observance, popular and renowned personalities, social awareness etc. His recent song on Covid-19 pandemic has been widely appreciated and created awareness on the deadly virus.
All his songs and poems are published on his website 'khalidsangeet.com'. Besides, music videos of his songs are also released on YouTube channel 'Khalid Sangeet'.
Dhaka/Augustin Sujan/AI