Babu's new song 'Dukher Feriwala' penned and tuned by Shamim
News Desk || risingbd.com
Published: 13:30, 1 December 2021 Update: 13:35, 1 December 2021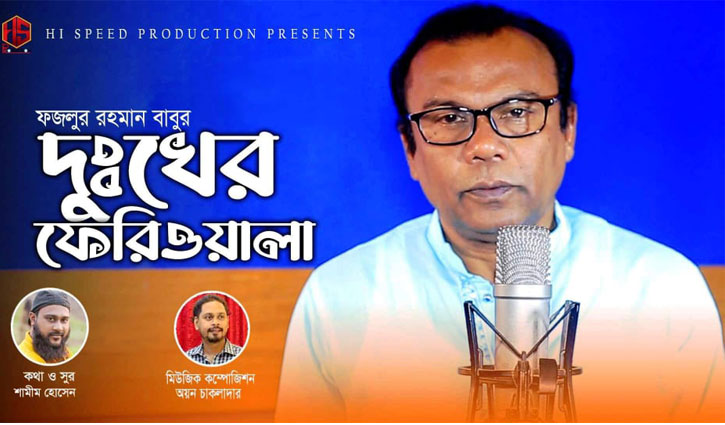 Popular actor Fazlur Rahman Babu regularly sings along with acting. The magic of his tender voice has taken place in the minds of the listeners. Although acting is his profession, he sings with love. The actor sang a new song titled 'Dukher Feriwala'. The song was written and tuned by sports journalist Shamim Hossen. Talented singer-songwriter Ayon Chaklader composed the song. The promo of the song has already been published. The song, produced by Milon Khan, will soon be released on the 'High Speed Production' YouTube channel.
Regarding the new song, Fazlur Rahman Babu said, "My first acquaintance is I am a professional actor. Singing out of love. I did a new song titled 'Dukher Feriwala' with Shamim's words and tunes. The lyrics are very nice. There is a different kind of compassion in the melody. Hope everybody will enjoy it. Everyone will be with Bangla songs and dramas."
Reacting, Ayon Chaklader said, "New songs mean new challenges. I have worked with a dream man like Fazlur Rahman Babu Bhai. Feels good. I tried to do my job properly. A very good job. I hope everyone will like the song."
Regarding his first song, Shamim Hossen said, "I am very lucky that as a lyricist and composer, my start was like a dream. Legendary actor Fazlur Rahman Babu Bhai has sung my song, what could be happier than this. The listeners are getting a good song through the joint efforts of Babu Bhai and Ayon Chaklader. I firmly believe that no one will be disappointed. Everyone will pray for me. I want to give you more good songs in the future."
Besides journalism, Shamim Hossen regularly wrote and directed drama and short films. His first short film 'Jodi Thake Nasibe' was released in 2019. Since then, he has written and directed three dramas and more than 20 short films. Among his notable works are- Jodi Thake Nasibe, Nawab Alam, Preem Shamrat, Kathgaray Mayer Somman, and Jadur Box. He has also acted in several short films including Drama Tafaling Jamai and Village Mem.
Dhaka/AI