Eid congregations held in mosques, churches and fields in USA
Staff Reporter, USA || risingbd.com
Published: 09:30, 15 May 2021 Update: 11:05, 15 May 2021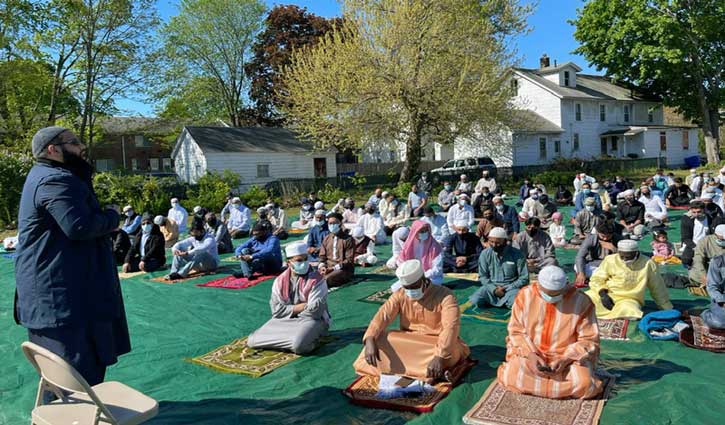 Bangladeshi expatriates in the United States have celebrated Eid-ul-Fitr, the biggest religious festival of Muslims, in a joyous atmosphere.
Hundreds of thousands of devout Muslims took part in Eid prayers at Bangladeshi-run mosques, adjacent grounds, park grounds and church halls in different states on Thursday (May 14) morning. In areas where there are no mosques for a long time.
Friday Juma prayers and Eid congregations were held in the main hall of the church.
Eid congregations at more than two hundred Bangladeshi-run mosques or adjoining grounds across the United States began at 7:00am. Besides, Eid Jamaat is held in the mosques run by the citizens of other countries till 10:00am. The local administration took special measures for the security of Eid Jamaat. The big Eid Jamaat in New York is held at the Jamaica Muslim Center. Several Eid congregations were held there in the morning at the school grounds adjacent to the Muslim Center.
In addition, other mosques in Jamaica, Jackson Heights, the Bronx, Brooklyn, Ozon Park, Astoria, Manhattan and almost all areas of the mosque held multiple Eid congregations.
Other cities in New York, such as New Jersey, Pennsylvania, Washington, D.C., Virginia, Massachusetts, Connecticut, California, Texas, Florida, Ohio, Illinois, Colorado, Delaware, Georgia, Kansas, Maryland, Michigan, California, Washington and Kentucky also held Eid congregations in various mosques and Islamic centers, and in more than 150 open fields.
At the end of the congregation, special prayers were offered seeking the salvation of all people from the Coronavirus pandemic including the peace for the Muslim Ummah. Bangladeshi community leaders and representatives of the Bangladesh government in the United States also took part in the Eid congregations held at various places.
Chhabed Sathee/AI