A consummate gentleman and world class Editor
Sir Frank Peters || risingbd.com
Published: 09:32, 7 June 2022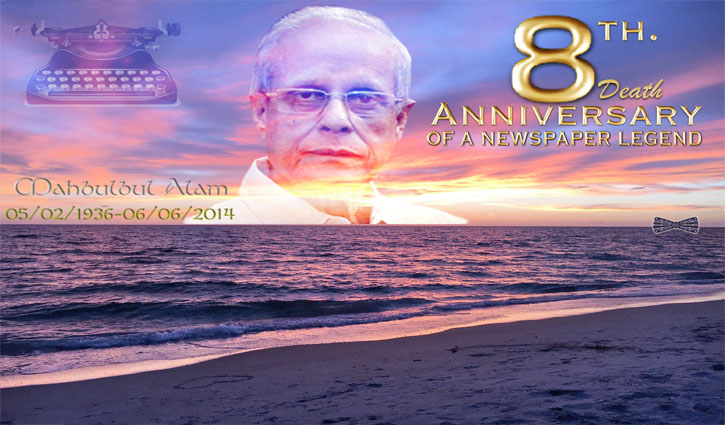 Dear God,
I must be older than I had imagined and forgetful, as well.
I'm finding it difficult to believe it's been eight years since former Editor of the Independent newspaper Mahbubul Alam died. No doubt he now occupies a work-station beside the Almighty in heaven, complete with a super computer and the latest in mobile phone gadgetry.
One of my memories was sipping green tea with him in his Bel Tower office in Dhanmondi and having our conversation continuously interrupted (annoyingly) with loud pings from his two mobile phones that rested on his desk and announced news updates.
Mahbubul was a hands-on guy who didn't allow a photo or news item to be published on his watch without his okay. There was a daily ritual each evening in which he selected the photos to be published. The Editor is ultimately responsible for all that is published and subsequently the lawsuit missile target, should readdress by law become necessary.
Supreme master
Mahbubul bhai was a Jack-of-all-trades and a supreme master of many. He held the post as Editor of The Independent for 18 years, was doyen of the Bangladesh newspaper industry and a gentleman to boot!
He also worked as minister (press) at the Bangladesh missions in Washington DC and London, and as the Bangladesh Ambassador to Bhutan. His career in journalism had surpassed its Golden Anniversary of fifty years and he was also the managing director and the chief editor of state-run news agency Bangladesh Sangbad Sangstha (BSS).
His calling in life, manifested in 1953 when he began his successful and eventful career in journalism.
Editor of The New Nation and the weekly Dialogue were additional colourful feathers added to his cap. And in 2007 he was appointed the information affairs adviser to the caretaker government.
Right up to his death he led the Newspaper Owners' Association of Bangladesh (NOAB) as its president.
The veteran journalist was 79 when he died at Birdem Hospital on June 6 in 2014. He had been suffering from multiple health complications, and had been on life support for three days prior to his death. Sadly, the Independent newspaper ended its life on January 30 this year.
Mahbubul, no doubt, was a consummate gentleman and instantly liked. I have yet to hear a bad word said about him. He was also, possibly, the most approachable newspaper Editor in Bangladesh. He made a lasting good impression on all he met, staff and otherwise. The fact it's been eight years since he died and people fondly remember him as if it were yesterday, attests to this. May he rest in the joyfulness of Paradise eternally.
(Sir Frank Peters is a former newspaper and magazine publisher and editor, a humanitarian, a royal Goodwill Ambassador and a foreign friend of Bangladesh.)

Dhaka/Mukul