Why Bangladesh so formidable in ODIs and weak in T20s?
Azad Majumder || risingbd.com
Published: 14:53, 15 July 2022 Update: 12:27, 28 July 2022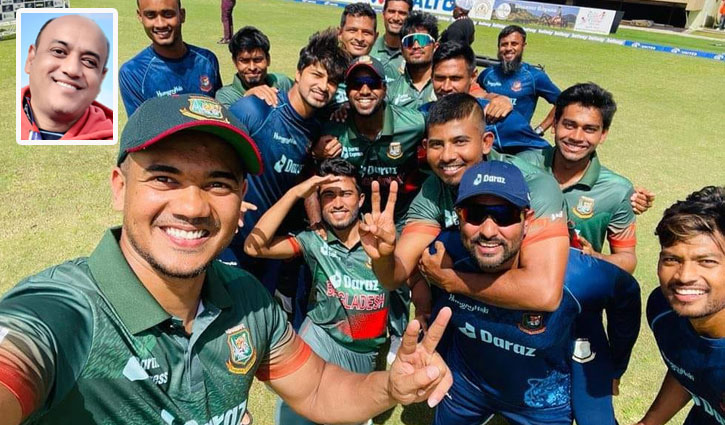 The same colour of ball and sightscreen, same opponents and why there is a gulf of difference between Bangladesh's one-day international and Twenty20 international performances? Ask any wise man in Dhaka's cricketing circle, you will find two common replies. Dhaka League is played in the ODI format and it is more competitive than any other league here. It makes Bangladesh feel comfortable in ODIs. Others will say Bangladesh's cricket culture is actually ODI culture, so they play this format better.
You can't really disagree with this kind of observation. But they cannot alone make Bangladesh formidable in ODIs and embarrassing in other formats. There must be something else. Personally, I think it is related to players' mental strength.
In the T20s, a batsman needs to attack from ball one. But with a defensive mentally, no Bangladesh batsman can do it. They take their time to settle down and waste much time in the process. If a wicket or two fell on the other side, they become more defensive. It allows the opponents to assert more authority and Bangladesh collapsed almost inevitably.
Mushfiqur Rahim demonstrates the Bangladeshi mentality best. He waits for the final two or three overs to charge. If he gets the chance that's fine but he does not get the chance most of the time. With the ball, Bangladeshi bowlers most of the time lose their steam in the face of attack from opponents. They do not know how to come back.
In the recent T20s, West Indies applied a strategy very well against Bangladesh. Most of the time they tried to attack the bowler in the first ball of the over and they succeeded. Bangladesh batsmen on the other hand defended the first few balls to invite pressure. They tried to hit a boundary or over-boundary in the fifth or sixth ball to maintain a certain run rate but they failed mostly. This created a big difference with opponents.
In one-day matches things are different. The batsman does not need to go for a charge from the ball one. It helps Bangladeshi batsmen buy their time and they can settle down easily to build a partnership or two.
Bangladeshi bowlers also enjoy a certain advantage in ODIs. They don't get a hit on the first ball because opponents do not want to take the risk of losing an early wicket in a 50-over game. So, Bangladeshi bowlers can bowl without pressure and bowl some dot balls to put the opponents rather under pressure.
Faced with quality opponents they, however, cannot do it always and still lose. In World Cup 2019 it was seen how teams like England, India, and Australia asserted early pressure and took the game beyond Bangladesh's reach.
Against India, the first wicket fell for 180 runs. Australia's first wicket fell on 121 and the second wicket on 313. Against Pakistan, though the first wicket fell for 23 runs, the second wicket pair added 157 runs. Against England first wicket fell for 128 runs and the second wicket for 205 runs.
These teams could put Bangladesh under pressure early and won the game easily. South Africa, West Indies and Afghanistan could not do it and lost. Unable to do it early, New Zealand also struggled against Bangladesh.
World Cup is cited here as an example because it is the tournament where Bangladesh played against every opponent and mostly on a different ground. It is the tournament that more often brings the best and worst of a side.
Bangladesh showed in England that they can be very good when not put under pressure and they were showing it continuously. They often invite trouble in T20s with weak mind setup and play the ODIs in a bit relaxed mood that, despite their weakness in mental strength, allows them to show some qualities.
The writer is joint news editor at New Age and Bangladesh correspondent of Spanish news agency Agecia EFE
Dhaka/Mukul