We don't want terrorism: PM
News Desk || risingbd.com
Published: 19:15, 26 November 2022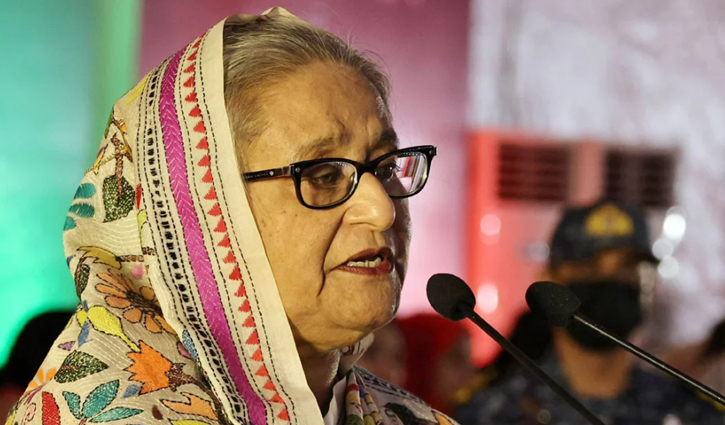 Photo: Collected
Awami League President and Prime Minister Sheikh Hasina said we do not want terrorism. We are working for welfare of the people and the country. That's our goal. We are working that way.
The Premier said this at the 6th National Conference of Women's Awami League at the historical Suhrawardi Udyan on Saturday (November 26) afternoon.
Highlighting the various developments of the government, the Prime Minister said our aim is to develop the people. However, what has BNP done? There is no place in the country where they did not torture. At the same time women were raped. People could not live in peace because of BNP's tyranny and terror. BNP-Jamaat came to power and continued to persecute the people of the country in the same way as the Pakistani occupation forces perpetrated. They made August 21 grenade attack and killed our leaders, activists and women Awami League leaders. BNP-Jamaat could do such heinous acts, which was unimaginable.
She said, Ziaur Rahman, Khaleda Zia and Tarique Rahman- they are all murderers. What right do they have to do politics in the country? Still we believe in democracy. Khaleda Zia and Tarique Zia are convicted accused, it is proved. The FBI provided witnesses against Tarique. What will they do for the welfare of people?
PM said that Khaleda Zia had stolen people's votes. But the people did not accept it. They did many atrocities on our women. We are not torturing their daughters. They are chanting slogans on the streets, taking to the fields. We are not stopping them. But how to forget the one who oppressed us? They burned people alive. Is it job of human?
She also said that working women's hostels will be created at the district and upazila levels. Every field has special provision for women. In every family, houses are allotted to men as well as women. Women are advancing in all fields.
Before this, the leaders and activists gathered at the conference venue from different parts of the country with a procession. Banners, placards and festoons of women leaders covered Suhrawardi Udyan and the surrounding area.
After the inaugural session, the top two leaders of the organization were elected in the council session. The councilors entrusted the power of selecting the leadership to Awami League President Sheikh Hasina. The new leadership of Mahila Awami League has elected Meher Afroz Chumki as president and Shabnam Jahan Shila as general secretary.
Mahila Awami League was founded on February 27, 1969. Women's Awami League is the largest organization of women in politics in Bangladesh. Those who have come to the leadership of this organization will have to deal with the situation during the next general elections.
Dhaka/AKA