Islami Andolan holds rally violating govt directives
News Desk || risingbd.com
Published: 22:28, 16 October 2020 Update: 22:29, 16 October 2020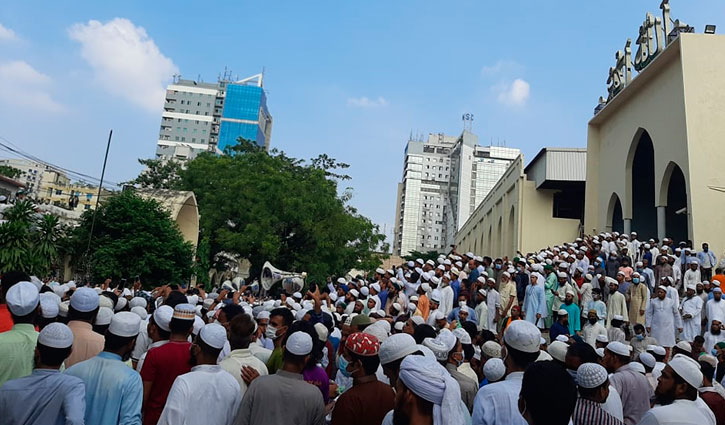 Islami Andolan Bangladesh holds rally at Baitul Mukarram violating health guidelines.
Islami Andolan Bangladesh on Friday (October 16) held a rally at Baitul Mukarram in the capital violating government directives. At that time, the leaders and workers of the party did not maintain social distance, even they disobeyed the health guidelines.
Leaders and activists of party's Dhaka Metropolitan unit held the programme at the north gate of Baitul Mukarram National Mosque after Juma prayers.
It was seen that the party leaders were speaking standing on the staircase of the mosque. At that time, they occupied all the gates of the north gate of the mosque. As a result, the devotees were attended Juma prayers stranded after the prayers ended. The worshipers were forced to go out through the east gate. At one stage of the protest, the leaders and activists blocked the traffic outside the south gate and occupied the road from Paltan interjection to Dainik Bangla. At the end of the rally, they marched around the paltan and ended the procession.
The party's Naib Amir Mufti Faizul Karim announced a programme of protest rally and mass procession on October 23 in the capital Dhaka on various issues including demand to stop violence against women.
He said, "The movement against rape is going on and the law has been amended. But the question is, is rape stopping? We have to find out the reason why it is not being stopped."
When asked about the rally held violating health guidelines, Ahmed Abdul Qayyum, Islami Andolan Bangladesh's central publicity secretary, said, "We have carried out the programme with permission of the police." The gathering of leaders and workers makes it a bit difficult to maintain so many hygiene rules. However, we will be careful in this connection in the future."
When contacted, Officer-in-Charge (OC) of Paltan Police Station Abu Bakar Siddiqui said on Friday (October 16) night, "Three more organisations including Islami Andolan Bangladesh, have gathered there. They had prior permission. However, many members of police were deployed in and around the mosque to prevent any untoward incident. Senior officials were also present at the scene."
Dhaka/Naymuddin/Maksud/AKA