Assurance increases only sigh
Rafiqul Islam Montu || risingbd.com
Published: 17:49, 12 August 2020 Update: 18:20, 12 August 2020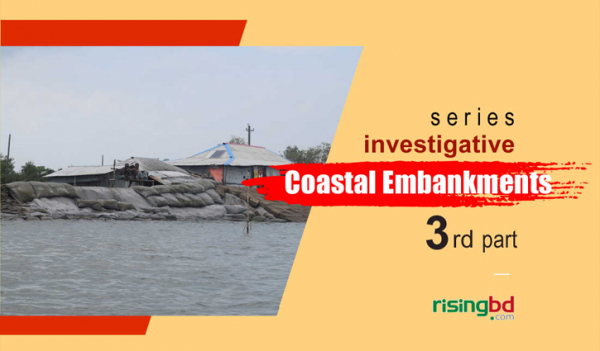 After a cyclone and tidal surge, about 4.5 crore people in 19 districts of the coastal region of Bangladesh are to face a cycle of sufferings. At first a tidal surge submerged them, and then ministers, MPs and officials came to them from the capital. During their visits, they give a lot of assurances. The victims begin to dream. On the other hand, the officials become very busy in the project-game.
What is important for the victims often goes under the pile of files, and interests of the dishonest persons get top priority. The interests of the victims remain in the darkness. Even after that a small portion of a project reaches the people but it does not bring any fruitful result due to huge competition of corruption and irregularities. Thus another disaster comes and the cycle of sufferings begins again.
In last June, the correspondent conducted an investigation to find out different promises and projects and reasons behind the cycle of sufferings.
Promises after cyclone Fani
On May 3, 2019, extremely severe cyclonic storm Fani hit the costal belt, and island union Gabura fell into a great risk. Hearing the news, State Minister for Disaster Management and Relief Dr. Enamur Rahman and Deputy Minister for Water Resources AKM Enamul Haque Shamim rushed to the area. During the visit, both of them assured the locals of providing all kinds of supports. At a gathering, State Minister Dr. Enamur Rahman announced a sustainable embankment will be built within two weeks in a bid to protect the lives and property of the people and 40 more cyclone shelters will be built in Gabura union.
At the same place, Deputy Minister for Water Resources AKM Enamul Haque Shamim said "We have visited an embankment and its renovation work will begin within next few days. The problem spots will be repaired and the height of the embankment will be increased".
Following the assurance of two ministers, senior government officials visited the area several times and collected various types of information. The year passed but the promises were not implemented. Another year came and cyclone Amphan hit the area.
Promises after cyclone Amphan
State Minister for Water Resources Md Zahid Farooq visited the Ampan-hit area after three days of the storm. He spoke to the locals in Gabura after inspecting an embankment by a speed boat. At this time, he promised that seven coastal polders will be renovated before the coming monsoon season. Sustainable embankments will be built in a planned manner. Some embankments will be built as well as renovations will continue.
He said the present government has undertaken a project worth Tk 12,009 crore to build embankments under seven polders of Water Development Board in Shyamnagar, Ashashuni, Koyra, Paikgachha and Dacope upazilas.
Meanwhile, Deputy Minister for Water Resources AKM Enamul Haque Shamim at a programme in Dhaka said "To prevent erosion, height of embankments will be increased and trees will be planted. At the same time, hidden islands will be dredged so that embankments become sustainable and flow of water continues".
This correspondent talked to AKM Enamul Haque Shamim and remembered him about the promises of State Minister for Disaster Management and Relief.
In responding to the question, AKM Enamul Haque Shamim said "He is State Minister for Disaster Management and Relief, where he said, it does not matter. There is now no opportunity to build a new embankment. We will strengthen embankments that we have. We will increase height and widen those".
Frustration is all around
'It will happen, it will happen - I have heard so much wards. But nothing happened! We floated and drowned in many times. We faced Sidr-Aila and many more storms, last of all Amphan washed away all things of us. No one did anything!" said Tahmina Begum at Chandipur village.
65-year old Tahmina Begum also said after Aila, one of the advisors of then caretaker government came to the area. Advisor's ship was anchored at Patakhali Ghat. Tahmina got a chance to go there and talk to him. Following this, she got an opportunity to attend a programme in Dhaka.
Talking to the locals, they said "When anything happens, officials rush to the area, collect data and give various promises, but none is implemented". Gabura UP Chairman GM Masudul Alam said "If you don't do anything, why come here at the expense of oil? Why do you promise people?" Bhabatosh Kumar Mandal, chairman of Burigoalini Union, said the same.
Prime Minister's promise
Prime Minister Sheikh Hasina went to Shyamnagar and Koyra on July 23 in 2010, 14 months after cyclone Aila hit the area. After visiting the area, she addressed a public meeting at Shyamnagar Nakipur Haricharan Pilot High School ground and talked about various problems of the area and problem of embankments.
The Prime Minister assured that the embankments of the Water Development Board (WDB) would be strengthened. Besides, she made many promises including setting up a modern medical college in Satkhira.
After that visit of the Prime Minister, the concerned authorities of the government became very active, and almost all the promises including a medical college in Satkhira have been fulfilled. Only the issue of strongest and most durable embankments is still hanging.
Project after project but there is no news of implementation
Many projects were taken after cyclone Sidr or cyclone Aila hit the west coast, but no project was implemented to build strong embankments. In May of 2019, after the cyclone Fani hit the area, 'Polder No. 3, 5, 15 Rehabilitation Project' was submitted by Satkhira WDB (Division-1). At the same time, another separate project was also submitted by Satkhira WDB (Division-II).
After submission of separate two projects, the high officials ordered to compile the two projects and make a project for Stakhira district. After that the project was submitted and its budget stood at around Tk 11,000 crore.
After the submission of this project, the area was inspected by the officials of the Ministry of Water Resources. Then the decision was changed again and it was said that if Tk 11,000 crore is paid at a time it will need different types of studies including feasibility study. As a result, it will need another 2-3 years that will be harmful for locals. That's why a project was submitted only for Gabura as the people of the union faced more sufferings. For this, 'Polder 15 Rehabilitation Project' was submitted again and its budget stood Tk 997 crore. After that, Polder- 5 Rehabilitation Project was submitted recently with a budget of Tk 3,674 crore.
Water Development Board officials claim that though the projects were submitted in time, the approval process took a long time. Satkhira WDB (Division-1) Executive Engineer Abul Khaer said cyclone Fani hit the area in May and we submitted the project on June 19th. The above decision is to be revised a lot. It is a different matter if donors come to help. But donors do not want to come in this sector. As a result, it is difficult for WDB to implement big projects.
To responding a question about the implementation of submitted projects, Abul Khaer said "Hopefully, the Polder-15 Gabura Project may be passed within a month and Polder-5 Project may be passed within two to three months".
Since the government knows that the district is at risk, it should not take long time to get approval, he also said.
Asked about the progress of projects in the flood-hit areas, on July 22, Planning Minister MA Mannan said "I have a lot of projects. 30-40 projects are in the process at a time. We omit nothing. We will approve those after scrutinizing. Many projects of the Water Development Board have been passed at different times. More projects will be passed in coming days. We will definitely do what is needed for the country".
Uncertainty grips over approved projects
The Executive Committee of the National Economic Council (Ecnec) on June 2 approved a project worth Tk 475 for Satkhira regions battered by cyclone Amphan. The project is related to water management development in Satkhira. Under this project, sewerage system of polder 1, 2, 6-8 and 6-8 (Extension) in the district will be developed. The project was placed in 2014 to resolve waterlogging in Satkhira town and its adjacent areas. The project got approval six years later.
Soon after the approval of the project, it got circulated that the project was approved to overcome the damage caused by the cyclone Amphan. During talks with officials of Water Development Board (WDB) and local representatives, they said the project, in real sense, is not taken for the Amphan-hit regions. Basically, the project was proposed in 2014 to resolve waterlogging in Satkhira town and its adjacent areas.
In reply to a question about the plan of the government taken ultimately to protect the coastal people from the disaster, Planning Minister MA Mannan said, "We are to think of the entire country. We are working for all the areas. Despite this, Delta Plan-2100 has been adopted putting importance on the special regions. This mega plan includes coastal areas. Under the Delta Plan-2100, the coastal regions will see many development works. We are working relentlessly."
** Coastal life trapped in embankment
** Shrimp cultivation completes all of ruins
Dhaka/TR/Mukul/AI