'One who hankers after money cannot succeed in cricket'
News Desk || risingbd.com
Published: 13:32, 10 August 2020 Update: 20:06, 10 August 2020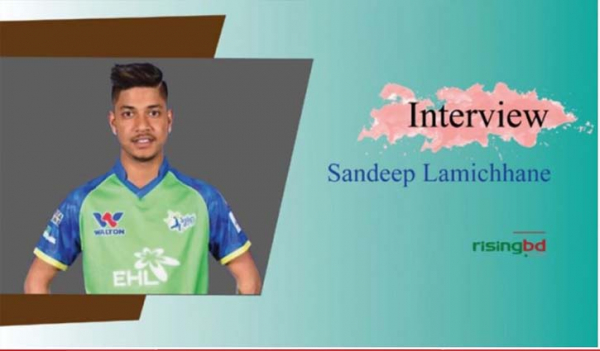 Sandeep Lamichhane is a Nepalese cricketer who plays for the Nepalese national team. A right-arm leg spin bowler, Lamichhane has played for Twenty20 franchise sides across the world, including the Delhi Capitals in the Indian Premier League (IPL), the Melbourne Stars in the Big Bash League (BBL), and the Lahore Qalandars in the Pakistan Super League (PSL).
He made his Twenty20 International (T20I) debut against the West Indies, where he represented a World XI side. He became the first cricketer to make a T20 international debut representing a combined team. He was one of the eleven cricketers to play in Nepal's first One Day International (ODI) match, against the Netherlands, in August 2018.
Lamichhane is currently in Trinidad to play in Caribbean Premier League (CPL). He reached his destination after travelling four countries. But he has to remain in 14-day isolation before taking to the field. At this leisure period, he shared many untold stories with Yeasin Hasan, sports correspondent of country's leading and popular online news portal risingbd.com, over phone. The second episode is here for readers today.
Risingbd: What is your thought about test cricket?
Sandeep Lamichhane: It's a kind of cricket that we all professional cricketers dream for. We all are eagerly waiting to play Test cricket for Nepal. We hope, one day we will get the Test status. We strongly believe that we will be able to play in white shirts if we make new success stories on and on. My thought is that if you play Test cricket, you can't ask anything more than that as a cricketer.
Risingbd: Is this your biggest dream to play Test cricket for Nepal?
Sandeep Lamichhane: Yes, of course. It's my big dream to represent Nepal in white shirts. Not only I, but also all of my dressing room members and the Nepalese, who are dreaming of becoming a cricketer, want Nepal to participate in Test. I believe that we are on course to achieve the Test status.
Risingbd: How long can it take to get test status?
Sandeep Lamichhane: I can't mention any particular time. Look, we are on the way. We are trying to get test status as soon as possible. We just need to perform at the field as a team. That's it.
Risingbd: We know there is an administrative suspension by the ICC on Cricket Association of Nepal. But your guys are always keen to play for Nepal, especially you. You never say no to play for Nepal. What type of dedication and influence do work for you?
Sandeep Lamichhane: When you go higher than your imagination, when you get an opportunity to play more tournaments and get more money than your teammates, you should keep one thing in your mind that you need to be humble with all when you are getting mixed with them. This is the country that brought me here. This country gives me identity and helps me to carry my passion forward. What I am today is only because of my beloved country. All of our team members play together and do hard work for the national team, retaining the same passion. You know the reward of hard work will come one day. The players who played for Nepal in the past and those who are playing right now never hanker after money. If one player hankers after for the money, he cannot succeed in life. I think this is one of the reasons for which people love Nepal cricket and follow us. I salute every player who are giving their 100 percent in the filed despite facing so many obstacles. It is who they are the true sportsmen.
Risingbd: Are you eager to play 2023 World Cup?
Sandeep Lamichhane: Yes. We are going ahead with a plan to play 2023 World Cup y. We are now just playing Super League-2. There are 32 games left. We want to see our team atop on completion of the tournament.
Risingbd: What has Nepal to do to achieve this?
Sandeep Lamichhane: Look, we are on the right track. We know what we have to do to secure a berth in the World Cup. Our main ambition is to play WC. We want to keep trust on our caliber and like to reach our goal doing the hard work and maintaining good spirit over cricket. Now, our main aim is to play only the World Cup.
Risingbd: Few years ago, there was a rumour that you want to play for Bangladesh. Was that true?
Sandeep Lamichhane: Actually, it was nothing but a rumour. I never said anything like that (laughing).
Risingbd: Do you admire any Bangladeshi player most?
Sandeep Lamichhane: Yes, I admire few players. There are lots of players who brought glory for Bangladesh. I would like to mention some players— Musfiqur Rahim, Mashrafe, Mahmudulla and Shakib whose contribution to Bangladesh is really praiseworthy. They are the iconic figures of Bangladesh cricket and everybody admires them due to not only for their cricket but also for their dedication towards the country.
Risingbd: In football, Nepal team gave a tough competition and finally beat Bangladesh. Do you believe Nepal can do the same in cricket?
Sandeep Lamichhane: Yes, exactly. I believe the same. Nepal cricket is doing better day by day. In cricket, you will lose one day and we will win another day. In Under-19 level, we gave a lot of tough competition to Bangladesh. Not only Bangladesh but also we gave a lot to international teams as well. If we can do that on age level, we can do that in the top level as well. We hope, in coming years Bangladesh Cricket Board will invite us to play some ODI games. And Nepal Cricket Association will do the same. We are ready to play anywhere.
Risingbd: How cricket culture is developing in Nepal?
Sandeep Lamichhane: Now, cricket culture in Nepal has more developed than before. People are more crazy about it. Now cricket association is also trying its level best to spread the game. We all are working together for its spreading. Hope, we can see Nepal on a top position.
Risingbd: What type of message do you give to young players to become a leg spinner?
Sandeep Lamichhane: Whoever wants to play cricket, not only a leg spinner, I would like to tell all that it should be wise to keep you as simple as you can. You have to try to be as much as honest at your work as well as try to be hard working. You know well that name and fame, money everything will be there for you. Cricket will give you a cherished identity every day, every year until your last breath. So, you have to be very prolific in your work. You must succeed and reach the top position if you give your 100 percent.
** Sandeep Lamichhane—the 'Gully Boy'
Dhaka/Yeasin/AI