High price of tobacco products can help reduce usages
Published: 07:54, 17 May 2019 Update: 15:18, 26 July 2020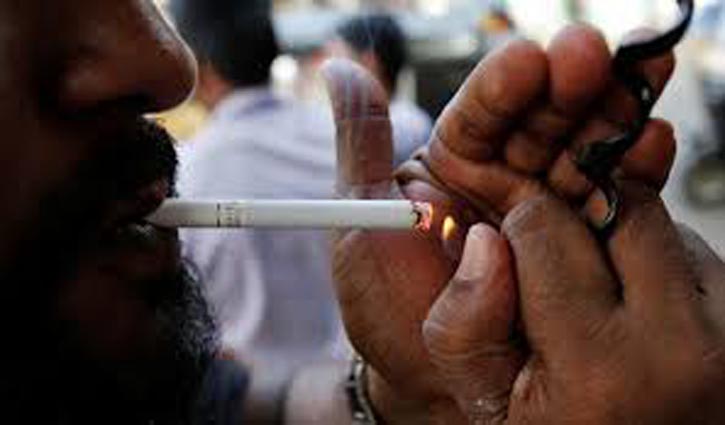 By Md. Alim Al Razi: Smoking and the usages of other tobacco products undoubtedly pushes a country and nation towards terrible consequences. It harms the smokers as well as indirectly pushing many of the victims into health risk through indirect smokes.

Due to availability of tobacco products, its usage is not decreasing to the desired level while the death of tobacco-related deaths and losses are increasing in chronological order.

Bangladesh is one of the important countries where price of tobacco products is cheaper according to the information of World Health Organisation (WHO).

If we analyze the data and information of Global Adults Tobacco Survey (GATS) 2009 and 2017, Bangladesh remains back in comparison with different developed and neighboring countries.

According to the analysis, challenges and recommendations of GATS 2017, the use of tobacco has been decreasing and in last 8 years, about 18.5 per cent relatively declined. GATS 2017 reveals that tobacco use prevalence significantly decreased from 43.3 per cent in 2009 to 35.3 per cent in 2017.

Exposure to secondhand smoke in homes declined from 54.9 per cent in 2009 to 39.0 per cent in 2017.

Also exposure in public places significantly declined from 79.7 per cent to 49.7 per cent in restaurants; from 62.2 per cent to 42.7 per cent in indoor areas of the workplace; from 53.6 per cent to 44.0 per cent in public transportation, and from 23.8 per cent to 12.7 per cent in health care facilities in 2009 and 2017 respectively. Above all, Bangladesh needs to undertake more efforts to establish Tobacco Free Bangladesh as declared by the Prime Minister.

However, 1 lakh 61 thousand people die by tobacco-related diseases every year according to the updated information of Tobacco Atlas Bangladesh. They also provide the information that about 1 lakh 72 thousand adolescent & children (10-14 years of age) and 2 crore 4 lakh 87 thousand people (15+) are using tobacco daily basis. More dangerous matter is that the death rate is increasing day by day using tobacco. And the major cause of different difficult diseases of lungs is relentlessly using tobacco. In addition, more than 92 thousand people of different ages are becoming victims by second-hand smoking.

The country faces increasing economic losses due to tobacco-related illnesses and premature death. In Bangladesh, the annual financial loss of tobacco consumption is about 30 thousand 570 billion taka. According to a recent study, at least one of the seven major diseases of tobacco is 57 per cent at the risk of the least disease and more than 109 per cent of the risk of cancer. Currently, more than 1.5 million women and men and more than 61,000 children in the country are affected due to indirect tobacco smoking due to tobacco use.

In this aggressive attack of tobacco, the country is going to be on the verge of an epidemic. People from all walks of life from different sectors of the country will have to come forward against all this tobacco aggression in order to get relieved from such terrible conditions of the country. Through united efforts, everyone will have to stand together against all tobacco production and marketing organizations in the country. Increasing the price of tobacco products by using higher taxes to deal with the situation, tobacco consumption will be reduced, and the revenue collection of the government will increase.

In this case, the Ministry of Finance and Health Ministry will have to work together through mutual communication and understanding. In addition to the effective involvement of various development organizations, citizen organizations and print and electronic media of the country, the government will have to continue to work on the campaign and implementation of comprehensive campaign and consultation simultaneously.

To eliminate tobacco, there is no alternative to raise voice from different professionals, student and youth altogether to make specific allegations against tobacco products. So let's stand against all kinds of tobacco and collectively raising voices to increase price of tobacco products.

Sushashoner Jonny Procharaviojan-SUPRO, an alliance of grassroots NGOs and civil society organizations is currently working in in the 45 districts in Bangladesh to establish good governance, economic fairness and inequality, including progressive tax reforms, forming a democratic society together with 600 non-government organizations and civil society organizations. So, SUPRO on behalf of anti-tobacco platform is demanding to increase price of tobacco products in the upcoming budget of 2019-2020 Bangladesh.

 Taxation of all tobacco products' on the basis of retail price;
 Increasing the supplementary duty regularly, in line with the increase in inflation and income to reduce the coherence;
 To disclose the different brands, types, shapes, functioning of tobacco products to the administration and the public;
 To bring any tobacco product manufacturer under the government's tax;
 Regarding weight-based tax assessments in case of cigarette and bidi, and on the basis of 45 per cent rate of supplementary duty;
 15 percent VAT on all types of tobacco products
 Increase health care surcharges on all types of tobacco products.
The writer is media manager of SUPRO
risingbd.com