DMP issues traffic instructions on National Mourning Day
News Desk || risingbd.com
Published: 20:02, 13 August 2022 Update: 20:31, 13 August 2022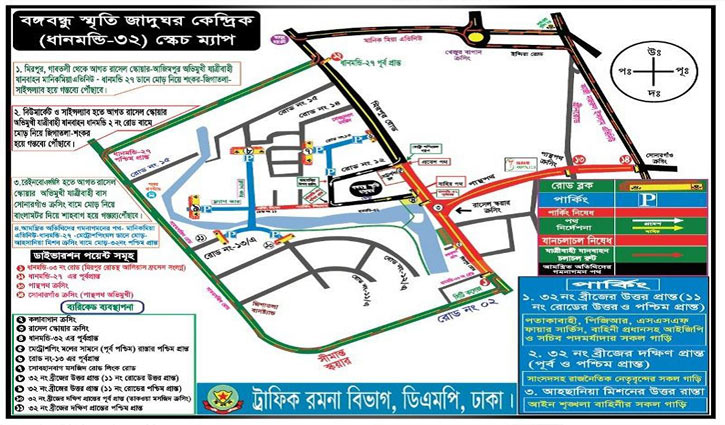 Dhaka Metropolitan Police (DMP) has issued traffic instructions on the occasion of National Mourning Day to be observed on Monday (August 15).
According to DMP instructions, the President and the Prime Minister will be present at Dhanmondi road no 32 in the capital to pay homage to Father of the Nation Bangabandhu Sheikh Mujibur Rahman on his 47th martyrdom anniversary and National Mourning Day.
Apart from the Cabinet members, people from different spheres of life will pay tribute to the portrait of Bangabandhu Sheikh Mujibur Rahman with flowers.
At this time, there will be the presence of the general public including numerous leaders and workers from Dhaka city and neighbouring areas.
On this occasion, traffic will be controlled on the surrounding roads of Dhanmondi 32.
After Dhanmondi 27, the road leading to Dhanmondi 32 will be closed. Dhanmondi 32 road from City College onwards and the road from Sonargaon crossing to Dhanmondi 32 will also be closed.
In order to avoid traffic jams, the drivers and users of the Father of the Nation Bangabandhu Sheikh Mujibur Rahman Memorial Museum area of Dhanmondi 32 are requested to follow the following route from Monday morning till the end of the event.
Passenger vehicles coming from Mirpur-Gabatoli towards Russell Square-Ajimpur will take a right turn at Manik Mia Avenue-Dhanmondi 27 and reach their destination via Shankar-Jigatla-Science Lab.
Passenger vehicles coming from Newmarket and Science Lab towards Russell Square will take a left turn from Dhanmondi road 2 and reach their destination via Jigatla-Shankar (Sat Masjid Road).
Passenger buses coming from FDC area towards Russell Square will take a left turn at Sonargaon crossing and reach their destination via Banglamator and Shahbagh.
Directions for invited guests
They will reach the event by crossing Manik Mia Avenue – Dhanmondi 27 – Metro Shopping Mall Right Turn – Ahsania Mission Crossing Left Turn – 32nd West End.
Where to Park vehicles
President Guard Regiment (PGR), Special Security Force (SSF), Chief of Bangladesh Fire Service and Civil Defence (BFSCD), Inspector General of Police (IGP), parliamentary secretaries and flag-bearing vehicles will park on road no. 11 (Northern and Western Part) situated on the north side of bridge no. 32.
Political leaders including the Members of the Parliament will park their vehicles on the Southern East and Southern West side of Bridge No. 32.
Vehicles of the law enforcement forces will be parked on the North side of Ahsania Mission.
DMP seeks full cooperation of the public to maintain order and avoid traffic jams during the programs of National Mourning Day.
Dhaka/Maksud/AKA