Dirty politics spoils my career: Taibu
Yeasin Hasan || risingbd.com
Published: 19:35, 19 September 2021 Update: 20:29, 19 September 2021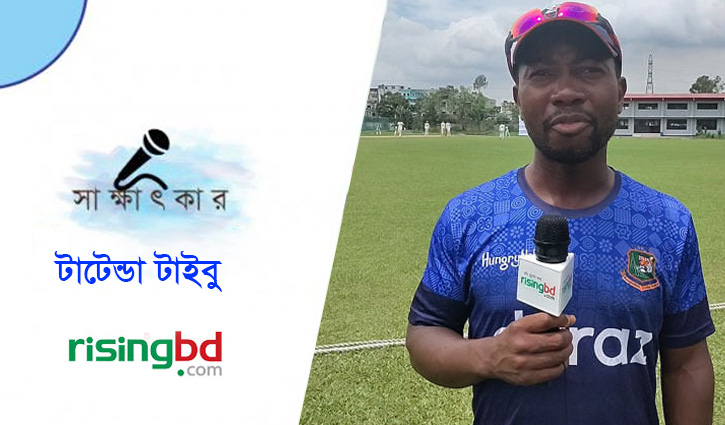 Coming out of the dressing room at field No. 4 of Bangladesh Krira Shikkha Protishtan (BKSP), Zimbabwean cricketer Tatenda Taibu asked, 'Were you supposed to come?' Yes, he replied with a smile, 'Now it's lunch break. We will engage in talks after I come back after 30 minutes.'
Coming back in time, he stood in front of camera with microphone at one of his hands and started answering questions asked by Yeasin Hasan, sports correspondent of the country's popular online news portal risingbd.com.
In the 29-minute interview, he talked about his career, Bangladesh cricket, BKSP coaching, his career that came to a halt due to dirty politics and various contemporary issues. The second episode of the two-episode interview is being published today:
Risingbd: There was political instability when you joined the national team. You were made captain at that time. What was the biggest challenge then to you?
Tatenda Taibu: You know getting into the team is always a challenge. There were few challenges after when I was made captain, the youngest captain in the history of the game (Cricket). And when it became political challenges that was probably the toughest challenge because my life was in danger. But… like I mentioned earlier…you have to over the challenges. So, I did overcome those. That's why probably I am respected still in the cricket today.
Risingbd: Who were your inspiration? In your autobiography you said that you didn't watch television that much.
Tatenda Taibu: Yeah, you heard right. I never used to watch a lot of cricket. Actually, I always tried to think of different ways. People don't do that usually. So, I thought that as I am not watching, I will have to make progress in different way. That's why I studied a lot, worked hard and gave concentration on my work.
Risingbd: Your first coach Bill flower, who encouraged you to become a cricketer. What's your opinion about him?
Tatenda Taibu: Faces of two people come to my mind when I think about my career. First one was Stephen Mangongo, who was my first coach. The second one is – Bill Flower, who became my coach later. I don't remember what they taught me at that time. But, I can certainly say that they boosted my confidence. That's what I try to do with my players now. They taught me a lot about batting. But, their technique to increase confidence helped me most.
Risingbd: What's the mystery of the name 'Tibli'?
Taibu: Oh Tibli… (laughing loudly).. I was given Tibli name in England in 2002. I was playing for a club named WestStar. They were facing trouble to pronounce my name. There was a Zimbabwe coach. He used to call me Tibli. Later, the name spread. From then, everyone started calling me Tibli. Though the name almost vanished. I am now familiar with the new name Titi.
Risingbd: What's your opinion about the current situation of Zimbabwe cricket?
Taibu: Unfortunately Zimbabwe cricket is not on the right track. Those who are in administrative task now, they should think about cricket. But, the problem is – those who are running Zimbabwe cricket, have less knowledge about cricket. As a result, I am not seeing any better chance. Suppose, if you start discussion on cricket it would not end before one hour. But, you will not find anyone in Zimbabwe cricket who can talk about cricket for one hour.
Risingbd: You scored three centuries. One in- Test, two in ODIs. What's your feelings about these centuries after such long years?
Taibu: Century is always a big achievement. But, getting runs was special to me. If I was told to say something about my century then, I will talk about century against South Africa. Their bowling attack hit my mind. The innings of Makhaya Ntini and Shaun Pollock, Dale Steyn… gave me pleasure.
Risingbd: Do you miss the international cricket?
Taibu: Yes, there are certain parts I miss and certain parts I don't miss. What I miss is competitiveness. Because of being a very competitive player, I miss it. What I don't miss is the game, especially now in the coronavirus situation, you know we are obviously in bio-bubble and away from family and everyone really. You have to be separated day after day. There is no normal movement and stuck in a room and except of a few tasks, you will be controlled by someone else ... It is difficult to continue cricket in such a situation.
Risingbd: You retired at just 29 years. Do you still have any regrets?
Taibu: The only regret is that people never saw me at my best. So, you I could have played for another 8 to10 years at my best. We never know really I could have achieved. That is the only regret. However, there are more positives in my retirement. The reason is I think I left when the Zimbabwe cricket was in due respect as team. Now-a-days, it is not at respect and I think I value being respected, I mean look at Brendan Taylor, for example, you know he has recently retired. I think he achieved a lot, but the respect he was given was not that he deserves. He deserves more respect.
Risingbd: You wrote an autobiography 'Keeper of Faith'. Why did you feel the need to write it?
Taibu: The reason was very simple. You know people who look for my story can only tell what got in media or what was covered. But there were many things that happened in my life were not covered by media. For this, I thought people may have questions about certain things of my life. I thought if I made them revealed that would be good. I wrote it from that thought.
Dhaka/Fahim/Nasim/AKA