IU abuzz with migratory birds
Humayun Kabir Jibon || risingbd.com
Published: 15:02, 30 November 2020 Update: 15:08, 30 November 2020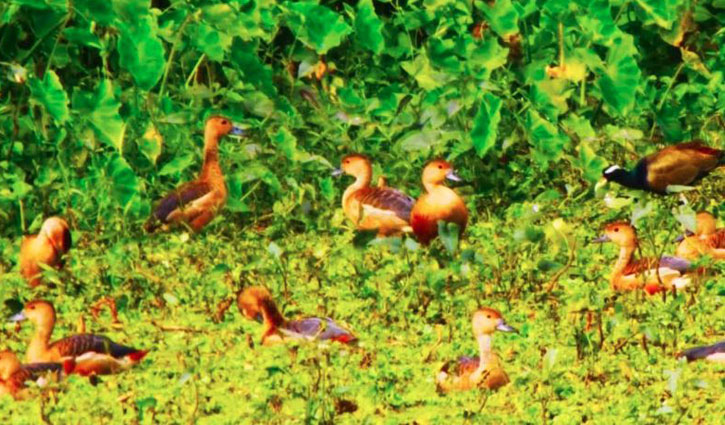 Thousands of migratory birds have taken shelter at the lake of Islamic University in Kushtia this year. The birds have started arriving at the lake with the advent of winter.
Bird viewers and environmentalists said that they never saw such a large number of migratory birds in the lake before.
The campus has become almost deserted following the closure of the university's academic programmes to check the spread of COVID-19. This situation may have encouraged the birds to land in the lake, they opined.
The lake has taken a blissful look with big and colourful water lilies and different species of migratory birds.
IU Environmental Science and Geography department lecturer Inzamul Haque Sazal said that various migratory birds come to Bangladesh from Siberia, China, Mongolia and other Himalayan regions seeking refuge in a relatively warmer climate.
IU campus is certainly one of the most eco-friendly areas for the birds to find some warmth and food, he adds.
Though the university authorities have not conducted any bird survey, Inzamul said that many species of birds had started flocking to the lake; however, most of those were lesser whistling duck or Pati Sarali and greater whistling duck or Bara Sarali.
Rayhan Badsha Ripon, a master's student of IU Arabic Language and Literature department, said, 'I am very excited to see such a huge number of birds on our campus.'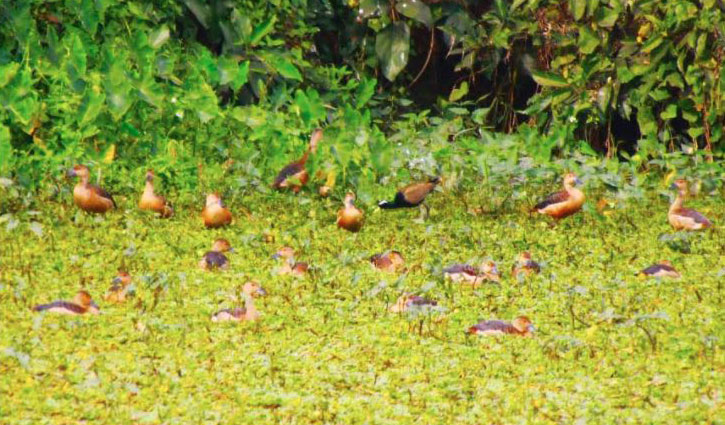 The birds are not able to roam in the campus freely due to the water hyacinths in the lake. The university authorities should take all possible measures to protect the birds and to ensure a safe environment so that they can roam around the lake comfortably, Rayhan said.
IU acting chief engineer Alimuzzaman Totul said that they would remove water hyacinths from the lake within two days so that the birds could enjoy their winter destination. They had a plan to make the place more attractive as well.
IU/Jibon/Mahfuz