Assignment in exchange of money: Action if proof found
News Desk || risingbd.com
Published: 20:42, 11 November 2020 Update: 20:45, 11 November 2020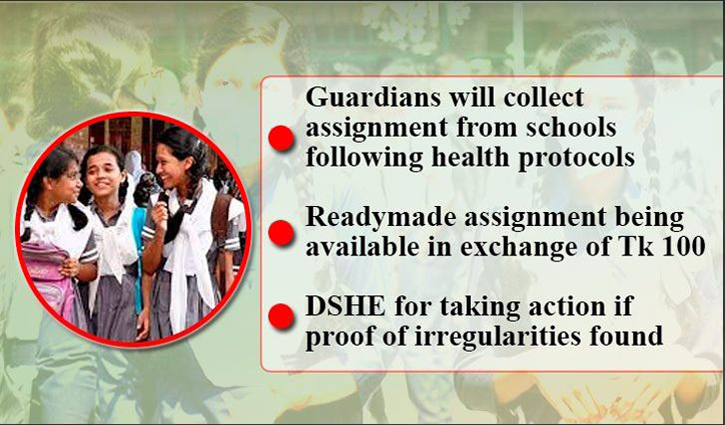 The Directorate of Secondary and Higher Education (DSHE) has recently issued a 30-day brief syllabus for students of secondary level. As per the revised syllabus, teaching lessons has started from November 1 last. The DSHE also issued an instruction for the promotion in the next class on the basis of weekly assignment.
But, an allegation of taking money from the students has been surfaced against a number of educational institutions during the submission of the assignment. Experts say few teachers are collecting money from the students illegally capitalsing the issue.
It is learnt that in terms of assignment submission, guardians will have to collect assignment from educational institutions any day in a week following health guidelines as per the DSHE instruction. But, it is found that many teachers of different institutions are making assignments for the students in exchange of money. Again, some teachers have asked students to collect assignment from a designated individual.
When asked, Tahmina Tabassum, a seventh grader, said, "Our teacher has said he will prepare our assignment in exchange of money. We will not have to come for this."
Khalid Muhammad, another student, said, "Our private teacher has prepared our assignment and my father has submitted it to the school."
A guardian said, "Children are preparing their assignments with hardship. But money is required when those assignments are being submitted to schools. How is the system?"
A private tutor said, "Tk 50 to Tk 100 can be got if an assignment is made prepared for a student. But the amount of money varies from class to class."
In reply to a question, Zobaida Nishat, assistant teacher of Chandona High School in Dhaka, said, "The government has issued an instruction in providing and submitting assignments. One must face punishment if the instruction is not followed.
Regarding the overall issue, Directorate of Secondary and Higher Education (DSHE) Director General Prof Syed Md Golam Faruk said, "It has been asked to take assignments in evaluating learning outcomes of sixth to nine graders. During this time, no one can collect money from students. If someone is seen to do the job, he/she must face action as per the rule. Besides, if any teacher resorts to such kind of irregularities, action will be taken against him/her."
Yeamin/AI