University teachers stage demo supporting SUST students' protest
Published: 18:54, 24 January 2022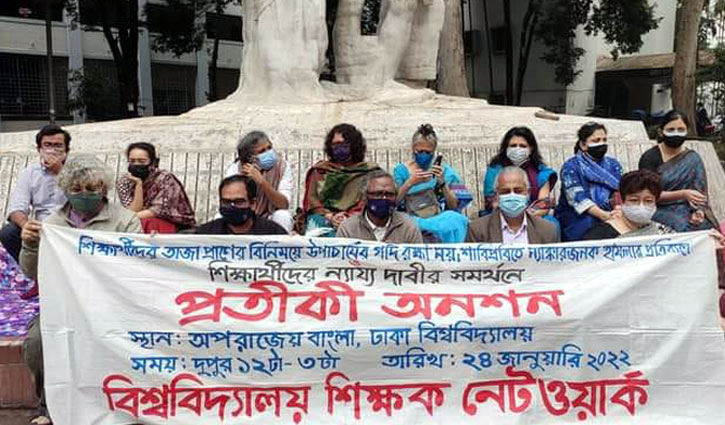 University Teachers' Network, a body of university teachers, has held a token hunger strike programme on Dhaka University campus supporting the protest of Shahjalal University of Science and Technology (SUST) students.
They held the token hunger strike programme at the base of Aparajeya Bangla on DU campus on Monday (January 24).
The participants include Dhaka University (DU) international relations department Professor Tanjimuddin Khan, DU physics department Professor Kamrul Hasan Mamun, former DU professor Rehnuma Ahmed, JU Professor Saeed Ferdous, DU accounting department Professor Moshahida Sultana, DU development studies department teacher Kazi Maruful Islam, DU English department Associate Professor Tasneem Siraj Mahbub, DU sociology department Associate Professor Samina Lutfa, DU mass communication and journalism department Associate Professor Kazalie Shehereen Islam, DU economics department Assistant Professor Rushad Faridi and Jahangirnagar University economics department Professor Anu Mohammad.
Students of the Shahjalal University of Science and Technology continued their protests for the 12th consecutive day on Monday demanding for the resignation of university vice-chancellor Farid Uddin Ahmed.

Dhaka/Yeamin/AKA