Mahbubul Khalid's song highlights Boishabi festival (video)
News Desk || risingbd.com
Published: 15:11, 13 April 2021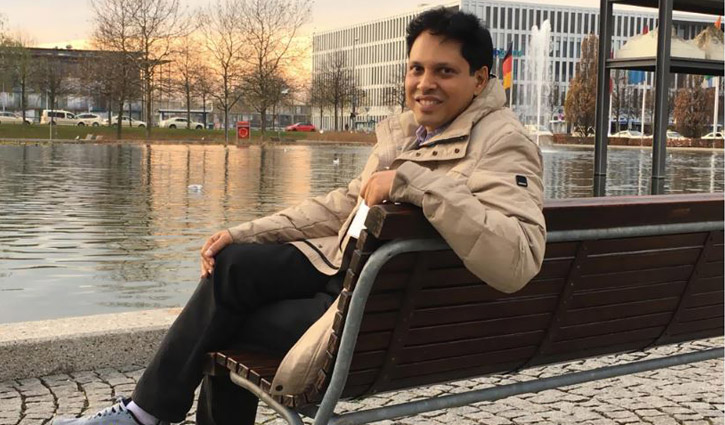 Mahbubul Khalid
Boishabi, the grandest carnival of various tribes who are residents of the Chittagong Hill Tracts, is being celebrated amid the Corona pandemic. The name Boishabi comes from the first few letters of three vernacular words: Boisukh (Tripura tribe's New Year), Shangail (Marma tribe's New Year), and Biju (Chakma tribe's New Year).
Boishabi is celebrated in three fractions, three separate activities on three consecutive days, and each festivity has its own religious or cultural significance. The last two days of Chaitra (the last month of the Bengali calendar) and the first day of Boishak (Bengali New Year's Day), makes the three day combined festivities of the Boishabi revelry by the adibasi tribes.
As of previous year, this year the festival is also celebrated in limited scale due to Coronavirus pandemic.
Noted Bangladeshi poet, lyricist and composer Mahbubul Khalid has penned a song that highlights various aspects and meaning of the festival. The song titled 'Boishabi (Tripura, Marma, Chakma) has two versions. Young singers Rajib and Sangeeta rendered their voices in one of the version while another is sung by Rajib and Nandita.
A fresh music video of the Rajib-Sangeeta version has been released on the YouTube's 'Khalid Sangeet' channel. The audio of the other version has been published on Mahbubul Khalid's musical website 'khalidsangeet.com'.
About the song, lyricist Mahbubul Khalid said: Boishabi is the festival of bidding farewell to the past year and welcoming the new, with a variety of colourful programs. At the same time hill tribes pray to God for the happiness and wealth of the future. The song Boishabi (Tripura, Marma, Chakma) highlights the significance of the festival. Hope the audience will like it. Through this song, they will be able to know about Boishabi.
Mahbubul Khalid also penned another song to raise awareness for the protection of the rights of the indigenous people. Late composer Ahmed Imtiaz Bulbul tuned the song titled 'Adibasi' (Indigenous Peoples). Three popular young singers Kishor Das, Rajib and Tina Mostary rendered their voices.
Mentionable, poet, lyricist and composer Mahbubul Khalid has penned and tuned a vast number of songs including various days or observance, popular and renowned personalities, social awareness etc. His recent song on Covid-19 pandemic has been widely appreciated and created awareness on the deadly virus.
All his songs and poems are published on his website 'khalidsangeet.com'. Besides, music videos of his songs are also released on YouTube channel 'Khalid Sangeet'.
The YouTube link of the song Boishabi: https://youtu.be/MUt07I26tmk
Dhaka/Augustin Sujan/AI