'Don't ever compare yourself to others'
Published: 05:41, 26 June 2020 Update: 15:18, 26 July 2020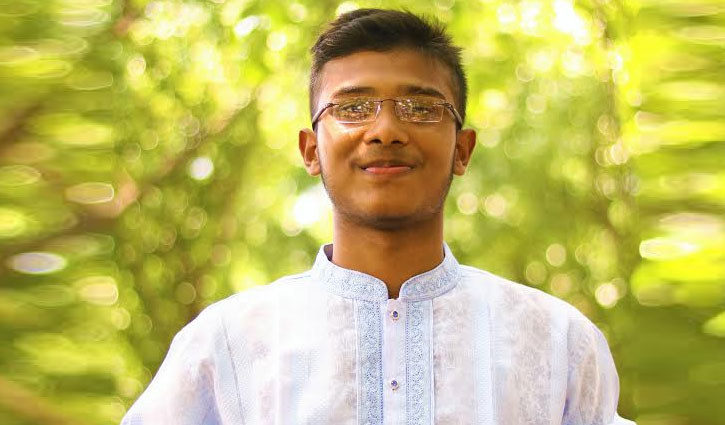 risingbd, country's leading and popular news portal, is publishing stories on persons who have shown success in various fields. As part of its efforts, Nabila Nowshin is writing stories under the banner 'In series #30days30souls'. Recently, she talked to Ishtiaq Ahmed Labib who is a student and a multitasker at the same time. In the candid chat, Labib talked about his sweet childhood, education life, achievements, future plans and more which are given below.
Hello, how are you?
Hello! Alhamdulillah, I am well. I hope you all are fine by the grace of almighty Allah.
What's your nickname?
I am Ishtiaq, Ishtiaq Ahmed.
From where you completed your S.S.C and H.S.C?
I completed my S.S.C from Bangladesh Air Force (BAF) Shaheen College, Kurmitola & now I am studying in Adamjee Cantonment College and waiting for my H.S.C Exam.
In which subject you want to study in future?
Although it is quite tough to see into the future accurately, I am really interested in making a difference in the world and so I want to study in Computer Science Engineering.
Where did you used to live during your childhood? Tell us one memorable story from your childhood!
As my father is a government service holder in Bangladesh Air Force and he has never transferred from Dhaka to anywhere so I always used to live in Dhaka Cantonment from my childhood. Taking a shower as a kid, I liked filling my mouth with water and pretending I was a fountain by spitting it out. I even assumed different "fountain" poses. Don't laugh!
Do you want to give any advice to a 16-year old-yourself?
You are at the most beautiful age of your life. You are capable of doing anything you want, what you just are to make a habit of it. Always family should be your priorities. Anger, jealousy, hate, love, affection, attraction all of them are part of human nature, be alert and careful while dealing with them. Dream! Believe in yourself and don't ever compare yourself to others because everyone is unique.
Is there anything that you wanted to achieve from your childhood and now you have got that? If yes, then what is that and how do you achieve that?
Like everyone there is something that I always wanted to achieve from my childhood but the time has not come!
In this moment we all know we have got some precious free time. So, what are you doing with this time? Are you doing something productive? Then share it with us! We would love to know your activities
This is the best time to spend time with our family and I am doing so. I am spending my time by doing some online courses, watching good movies, taking part in some online competitions such as quizzing, olympiads etc. I am also passing my times by reading something completely unrelated to my study and taking a virtual tour of many places.
What is your favorite subject?
Well, Science and Literature is my favorite subject.
In your school and college life, you were doing some great activities as we all see! As I know from club activities we can learn so many things and gain so much experience! Today we will love to listen to your experiences!
Ok, start from the beginning! In 2015 when I was in class 8, the school authority arranged an Intra School Science Festival. So, me and two of my friends Arifur and Ismail discussed with each other and finally decided to participate in the festival but sorry to say we had no idea about any project and what we made initially. We spent four or five days and hours after hours but we failed each time. Finally, the day of the festival came but we were not able to stand any project by which we could participate. Suddenly, at the morning of the day we got a plan and gathered at Arifur's residence. We knew that Graphite is a form of Carbon which is able to produce electricity. From that idea we were able to make a microphone by using only Graphite and wire. Though we did not get any prize, the judges, principal, teachers and the visitors praised us too much. That was the starting!
After that, I participated in a lot of science festivals, quiz competitions, olympiads, debate carnivals etc. and I attained a lot of prizes. Those really inspired me to go forward and to touch the peak of success. I also founded a science club in my school for the first time with some of my talented friends. Now, I am working as an Advisor of Symmetric BAFSK Science Club and Vice President of Neutrino ACC Science Club. I am also a Campus Ambassador of Bangladesh Scientific Intelligence Forum.
As I see you were a Divisional Champion and national competitor at Creative Talent Hunt. First of all congratulations to you for your greatest achievement! So, how do you feel when you get to know that, that one lucky person is you? Share some experience with us!
First of all thank you! It is really a matter of pride for me and I really feel very much fortunate when I get to know that I am the luckiest one.
I participated in the Creative Talent Hunt for the first time and so it was quite tough for me. But I was so confident because I had many past experiences. There were three rounds before the National level and only one who could qualify any round would be able to participate in the next round. So, after winning three rounds, I was selected for the National round and able to become a champion in Dhaka Division. I was totally new in this type of competition but my confidence and experiences really helped me a lot.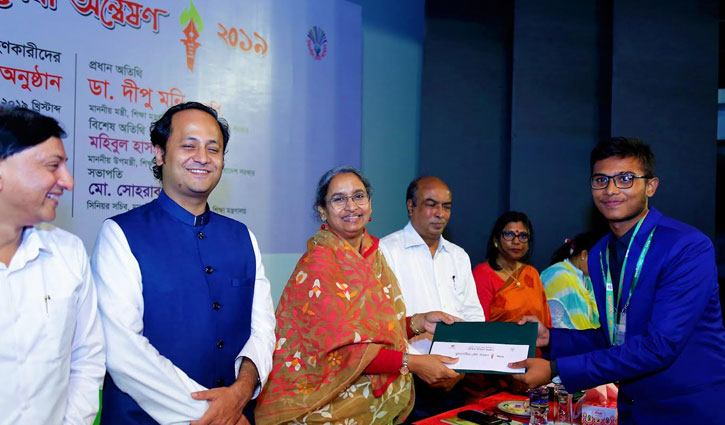 I see you are a class prefect. Also, you work in a college club, and you do practice Sudoku sometimes. So, I must say you are a multitasker. But the thing is that some junior audiences are curious about you. Like, everyone really wants to know about how do you really make a combination of those? And how do you manage your time with them?
I prefer to handle one project at a time. It allows me to focus on the task at hand. When a lot of things come at me at once, I create a checklist which helps me to prioritize and guides me to work on the most pressing needs first. And in the case of Sudoku, it is one of my favorite tasks. When I find any Sudoku in any magazine or paper, I keep busy with them, whether I should be.
I know it's hard to keep ourselves motivated all the time. What do you do when you feel unproductive?
At first I always try to get rid of emotions. Then I try multitasking and stop doing retrospectives. Try to do everything myself and keep everything equally important, spending time outside with friends.
Besides those, what do you like to do in your pastime?
Sports are like my cup of tea. So, when I get free time, I go to the field to play with my friends. By far I spend my pastime playing video games, listening to music, watching movies, reading books etc.
What was the happiest moment in your life?
My travel in Sythet, Bangladesh is too exciting and adventurous. I've gathered many good experiences while traveling with my family. For a few reasons my five days, Sylhet tour will always be a memorable one. One of the happiest moments in my life and I must say I felt incredibly happy when I was in Jaflong. Aside from the striking beauty of the Piyain River in Zero Point, it was Bisanakandi that contributed to this joyous travel experience. Neither words nor cameras could describe or capture the true beauty of nature. You have to see it by yourself, have a personal experience with it and you'll fall in love with nature. In the evening I enjoyed the sunset moment at Jaflong, the popular hill station in Bangladesh while coming back from Tamabil border. Endless tea gardens, the Manipuri & Khasia communities made my travel really interesting.
After 10 years where do you want to see yourself?
I don't know what I am going to do tomorrow. Forget about 10 years. But I want to work somewhere where I'll have the opportunities to develop my skills, take on interesting projects and work with people I can really learn from.
In your journey who were always beside you and whom you want to say thanks the most?
I want to say thank you to the rare few individuals in my life who have listened to me without any judgments, spoken without prejudice, helped without entitlement and understood me without any doubt. First and foremost, I have to thank my family for being super supportive and helping me. Then I give thanks to some of my teachers for their support, love, kindness and generosity. I also give thanks to some of my wonderful friends because when I was going through a rough time, they helped me get through the tough time.
So, In series #30days30souls you are one of those 30 people. How do feel to take part in this?
I really feel very much fortunate to take part in series #30days30souls because it gives me the opportunity to share my profile and work with others.
And also, there are 29 more people like you who are passionate about their work and doing great for the world. Do you want to give any message to them?
Be brave for yourself, be brave for your creator and be brave for the onlookers, the ones who will be inspired by you to inspire others. The world hopes for you. World can be better because of you.
*** 'Since childhood I was a very stylish kid'
*** 'I try to teach myself a new thing everyday'
*** 'Become a leader, not a boss'
*** 'I am in love with baking'
*** 'Work hard and consistency is the key'
*** 'I read about 50 books a year'
***'Exploring colours gives birth to a spark inside of me'
***'Every great dream begins with a dreamer'
Dhaka/Mukul
risingbd.com