'I wanted to rage and so I created a movement'
Published: 05:43, 28 June 2020 Update: 15:18, 26 July 2020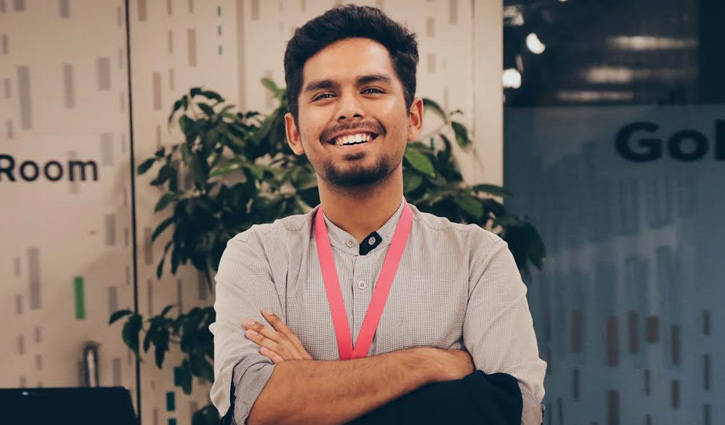 risingbd, country's leading and popular news portal, is publishing stories on persons who have shown success in various fields. As part of its efforts, Nabila Nowshin is writing stories under the banner 'In series #30days30souls'. Recently, she talked to Muhammad Abrar, who is a student, a young social entrepreneur, an artist and founder of a youth organization named 'ProjectDebi'. In the candid chat, Abrar talked about his sweet childhood, education life, poetry, art, gender sensitivity, future plans and more which are given below.
Hello, how are you?
Hello, I am good. I can't say great for how the pandemic has confined us and got the lights off for so many people. But I am grateful to be safe and sound.
From where did you complete your S.S.C and H.S.C exams?
I have completed my S.S.C boards from Scholars' School and College and have appeared for H.S.C exams from Adamjee Cantonment College.
Right now where and which subject you are studying in?
I am currently a student of Psychology at Memorial University of Newfoundland, Canada.
Where you used to live in your childhood? Tell us one memorable story from your childhood!
I was born and raised in Khulna, even though I shifted to Dhaka in 2009, when I was approximately 9 years old. I can't choose one memorable story from my childhood since it's like asking me to choose one chocolate from the box. But the best memory I had and it still comes back to me when I go silent is my grandmother reading me stories while I laid on the floor of my grandpa's balcony in the safety of her voice and beautiful sunsets.
Do you want to give any advice to a 16-year old yourself?
To my sixteen-year old self, I'd advise that it's okay to be vulnerable and it's okay to take an initiative when no one else is taking a step.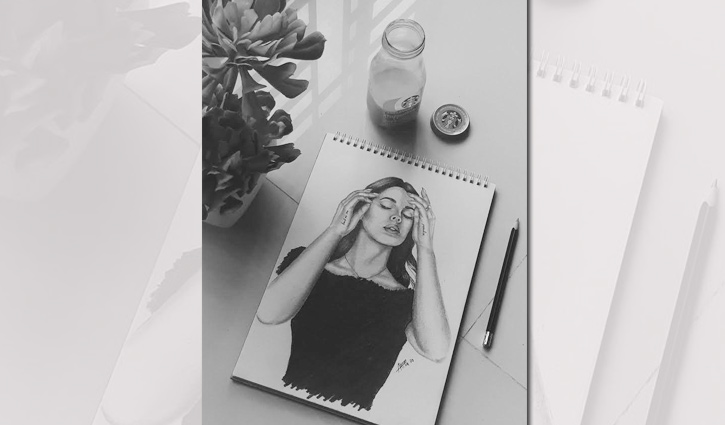 Sketch drawing done by Muhammad Abrar

Is there anything that you wanted to achieve from your childhood and now you have got it? If yes, then what is this and how do you achieve this?
As philosophical as it sounds, I wanted to have a voice. I wanted to speak up. I wanted to vocalize my concerns and I wanted to rage as I create a movement. Now, I am lucky to have the liberty to grasp that wish and turn it into a passion. Achieving it was not as easy as walking in the park. It was as tough as walking on knives. I was shamed, derided and threatened, but when you have that torch in you, no amount of darkness can gulp you down. I made sure the torch was lit till I achieved what I aspired.
In this moment we all know we have got some precious free time. So, what are you doing this time? Are you doing something productive? Then share it with us! We would love to know your activities.
I believe even if this quarantine is very monochromatic for most of us, yet it is the perfect time to meet your true self. I believe in the rush of our daily lives at work or schools we hardly could offer ourselves a cup of good moment to know who we truly are inside. The quarantine is actually giving us a restart button we always wanted.
As for I am writing a lot in this quarantine. I love poetry. So, I have been reading and writing poetry a lot. I have been painting a lot since I am into art. I am cooking a lot to excel at my culinary skills. Apart from all these, I have been working a lot on my organization. I am the founder of a youth organization called ProjectDebi which works for establishing gender sensitivity. So, I have been working from home with my team to continue our plans and move forward with the movement.
What is your dream job?
My dream job is to be a teacher. I want to pour all the lights that I carry upon people who are willing to glow. Apart from that I really aspire to be a poet. I believe poetry is what has grown flowers in me when I was stuck in thorns.
We all have noticed that you are really good at drawing, painting and sketching. When did you start and who taught you that in the first?
I love drawing. The first person to instill this interest into my mind was my sister. She stopped drawing at a sour age of fifteen. But I continued that even though I had to cross oceans to keep myself in practice. To me, painting is a form of therapy that lets the monsters in us turn into art.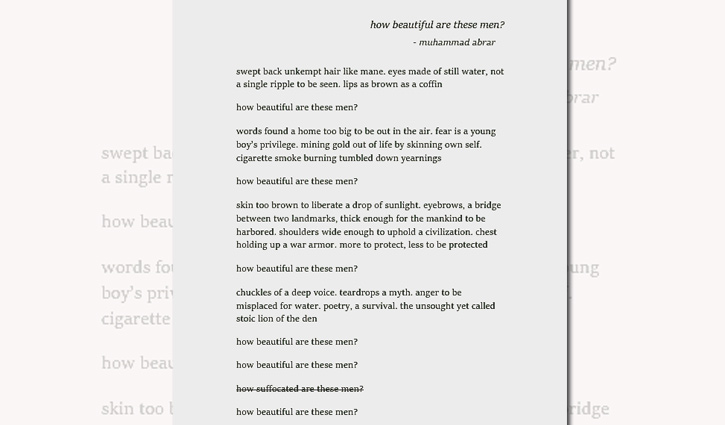 A poem from Muhammad Abrar's collection.

We also can see that you are really good at poetry too! As we all know that for writing a poem we need to take care of the words very deeply. How do you do that and what does inspire you the most about a poem?
Poetry has been the first dawn of spring as the winter breaks. I love writing and I am convinced that the day I will be out of poetry is the day I won't feel alive again. I do concur with the fact that you have to be very careful regarding the word selection in the poems, because you are explaining a mile long story into a few short lines. But honestly, poetry can vary. To me poetry is the reflection of the writer. So if every human is different, every form of poetry will have their own differences. A lot of depth can be conquered by very simple wordings in a poem. I believe the most important factor to me about writing a poem is use of metaphors and how much of your heart was spilled on the poem. And I have worked on that by practicing, reading and listening to a lot of poems at slams. The most inspiring factor of a poem to me is the metaphor and the title. Metaphors bring the flavor out in a poem but the title will burn your tongue. That's the beauty of poetry.
Besides that we can see sometimes you do photography too. Which object is your favourite to take pictures of?
I usually take artsy shots of whatever seems beautiful to me. But my favorite subject of photography is the sky and it's clouds.
If you have to leave one thing between drawing, poetry and photography which one will you select and why will you not let the other two options go?
I may leave photography. Because I feel I click photos to capture moments, but I paint or write to capture decades. Poetry and art have saved me from major breakdowns and have made me a free-flowing, understanding and thoughtful person. So, I owe this to these two forms of art. Whereas photography has been just another hobby on the shelf.
Besides these, what do you like to do in your pastime?
I do like cooking in my pastime. I watch YouTube videos. I like working out for fitness. And lastly I'd add that I love having spiritual conversation with my close ones.
As I can see, you opened a youth organisation called "ProjectDebi". What was your inspiration for that? Tell us the story behind it.
My concerns regarding my misogyny in the society started back when I was a 12-year-old. I was born in a family where I had the privilege to have the talk on menstruation and its cycle. But even in the family, leaving the hints of menstruation in front of an outsider was still considered shameful. And that's what caught my eyes. My concerns grew bigger when I saw this girl from my class staining her uniform with her period blood and everyone starting to gore our mostly. The female teachers didn't take it that seriously and her mother was called and she left. That is the time when I saw social misogyny in front of my eyes because I was concerned.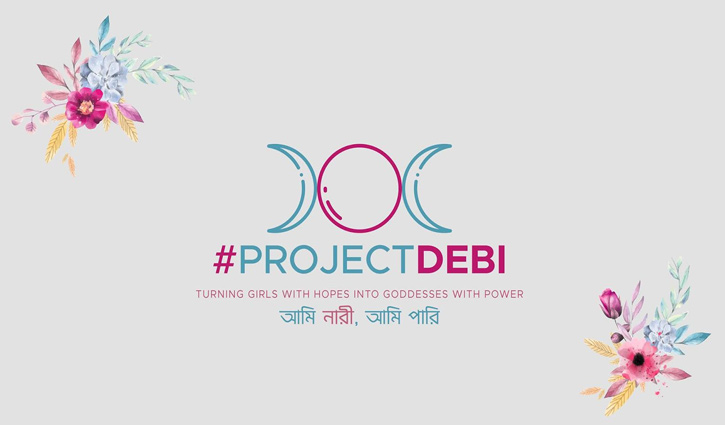 Later, I decided to speak up about it to my classmates. Literally no one took it seriously. Instead insulted me and shut me up. That's when I decided that if I ever work for something, I will work for breaking the social stigmas against women.
Time flew and every day with my breakfast I was starting to be served a new story of another woman getting raped. This kept anger in me until the story broke out of a six year old Pakistani girl being gang-raped and murdered. That night I called a few friends and said, "I am taking this to a social level. Will you guys support me?" Fortunately, they all agreed. On 26th August, 2018, we got into a group chat and that's when I coined the name ProjectDebi. We started off as a platform to offer women a safe space to speak up about their abuse and traumas to the public for the talk of abuse to get normalized. Soon after we started taking possible actions into helping the cause of gender sensitivity and now we're trying to reach beyond just female victims.
Why did you name it ProjectDebi?
In my sight, every woman has the power of a goddess they possess that has been suppressed by patriarchy and misogyny. With my organization, I wanted to revive that power into them and show them what they are capable of. In bangla, Goddess is called "Debi" and hence we named it ProjectDebi.
What Project Debi does? Have you done any exhibitions or workshops on it?
The organization ProjectDebi started off as a youth organization trying to offer women a platform to anonymously (or not) speak up and voice their traumas and abuses with three objectives-
1. For the victim to feel the weight she has been carrying for so long
2. For other people to learn how abuse can come from anywhere and we should be cautious
3. For raising as much awareness as possible and stop the shushing women down culture about their abuses
Later, we started addressing problems like toxic masculinity, harassment, feminism, the consequences of radicalism, menstruation etc. We started addressing actively on the social media platform acknowledging people about these topics since most of them are missing out on the talk as children. Our aspects consist of active and passive action to help the health, education and rights of the mistreated sexes or even the minority of the respective sexes. This is why we have started calling as an organization that works for gender sensitivity and not just women empowerment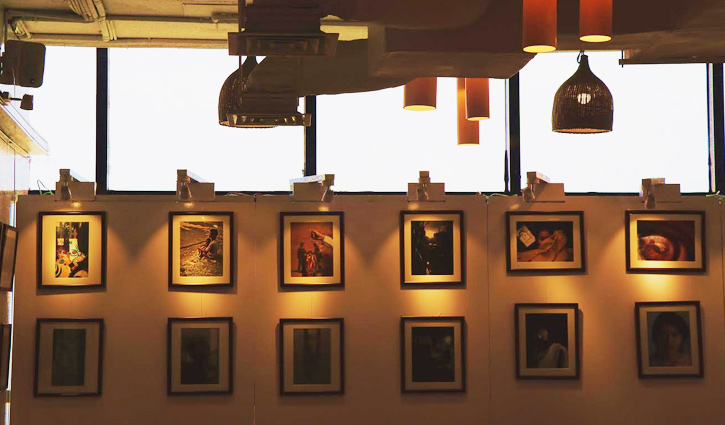 A picture of Revolutioনারী's event day.

Yes we have done an exhibition in 2019 named Project Debi: Revolutioনারী which was themed upon violence against women and women empowerment. Apart from that we have done multiple social campaigns addressing various gender-based issues. We have done a poetry session recently to raise funds for poor children. In this quarantine, we are hosting a series of webinar called ProjectDebi: কথা to address various gender based issues.
While doing those work do you face any difficulties? If yes, then what are those and how have you overcome them?
We face a lot of backlash through social ego. A majority of the population are latched onto the stereotypes embedded to the society and aren't willing to change their minds. And hence we get a lot of hate and obstacles to move further, but we the team know the power of youth and the power of resilience which keeps us going.
After 10 years where you want to see yourself?
I see myself in a windy neighborhood, in a small studio apartment with a big balcony where I am sipping on ginger-ale and writing poems. And if I am being ambitious, I see myself as a leading individual in the United Nations Organization.
In your journey who were always beside you and whom you want to say thanks the most?
I would like to say thanks to my parents for understanding my work and not putting any limits to it. I'd thank my sister for building me up as the man I am. I'd thank my friends and my team. And lastly I'd thank myself for never thinking I am not capable of what I wish to achieve.
So, In series #30days30souls you are one of those 30 people. How do feel to take part in this?
I feel truly honored. I have never thought I would grow as a tree strong enough to bloom stories to tell. I am very thankful and I feel extremely humble to be offered this opportunity.
And also, There are 29 more people like you who are passionate about their work and doing great for the world. Do you want to give any message to them?
I would tell them, "I am so proud you chose to give back the world the energy you grew in yourself. I know this is not at all easy. But you are so powerful, you are too much of a beam to be forgotten. Go ahead, make history. You revive my faith in humanity and artistry. I live because you give me the reasons to. Be powerful, be power, be you."
*** 'I envision, strategize and implement'
*** 'Since childhood I was a very stylish kid'
*** 'I try to teach myself a new thing everyday'
*** 'Become a leader, not a boss'
*** 'I am in love with baking'
*** 'Work hard and consistency is the key'
*** 'I read about 50 books a year'
***'Exploring colours gives birth to a spark inside of me'
***'Every great dream begins with a dreamer'
Dhaka/Mukul
risingbd.com