Decision implementation rate in cabinet decreases by 12%
News Desk || risingbd.com
Published: 18:47, 19 October 2020 Update: 18:53, 19 October 2020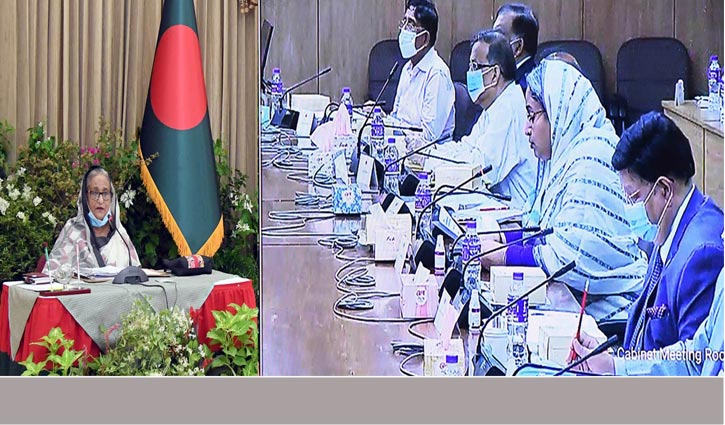 The rate of decision implementation in the cabinet has decreased by 12 percent this year (2020), compared to last year (2019).
A comparative report on the implementation of decisions taken in the cabinet from July to September this year was presented at the cabinet meeting with Prime Minister Sheikh Hasina in chair on Monday (October 19).
PM joined the cabinet meeting through video conference. Others ministers also joined the meeting virtually.
Cabinet secretary Khandker Anwarul Islam briefed media at the Secretariat after the meeting.
He said, "From July to September, 48 percent of the cabinet decisions has been implemented which was 58 percent from July to September last year."
He further said, "Though existing progress in implementing the cabinet decision due to coronavirus outbreak is somewhat slow, but promising compared to the same period last year. The Cabinet (with the quarterly report) expressed satisfaction. Although there is a little less (implementation) than that of last year. In that case, everyone has realized the real situation. It has been instructed that the backlog created because of Covid-19 should be recovered very soon by next December."
 
A total of 25 cabinet meetings were held from January 7 to December in 2019 while 23 meetings were held from last January to September this year.
In 2019, 258 decisions have been taken in the cabinet meeting. Of which, 238 have been implemented, the implementation rate is 92.25 percent.
Meanwhile, from last January to September this year, 169 decisions were taken in the cabinet meeting. Of which 116 decisions have been implemented, the implementation rate is 68.64 percent.
The cabinet secretary further said, "A total of 37 laws have been enacted from January of 2019 to September this year. Of which, 33 are under process. A total of 17 policies, strategies and action plans have been approved. At this time, 19 bilateral and international agreements, protocols or ratifications have been approved. Besides, 297 summaries were presented for the cabinet.
A total of 115 inter-ministerial meetings have been held from January 7, 2019 to September 30, 2020 at the initiative of the Cabinet Division over the implementation of the decisions of the Cabinet.
 
He said the number of cabinet meetings and decisions taken in the July-September quarter has increased comparatively since 2019.

Dhaka/Asad/AKA