Long tailback on Mawa expressway
Desk Report || risingbd.com
Published: 16:22, 1 July 2022 Update: 16:28, 1 July 2022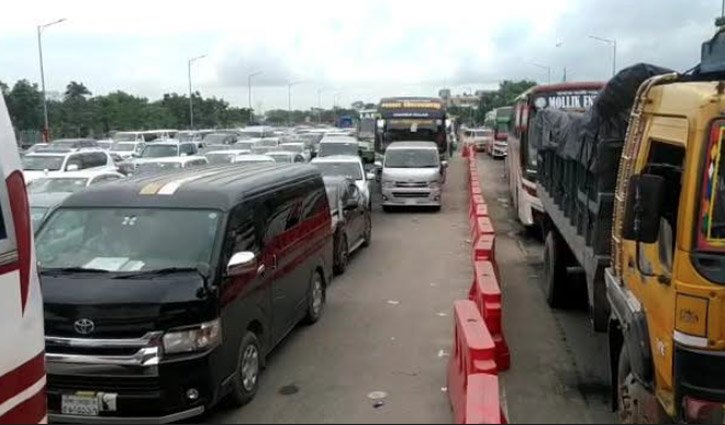 A long tailback has been created on the Father of the Nation Bangabandhu Sheikh Mujibur Rahman Expressway on the Dhaka-Mawa-Bhanga route on the first day of toll collection.
Sources said, the traffic jam was created due to the slow toll collection. Hundreds of vehicles were seen waiting to cross the toll plaza.
As Friday (July 1) is a holiday, students from many educational institutions have gone on educational tours. Besides, the city dwellers went to the route following Friday vacation that caused additional transport pressure on the expressway.
Slow-moving traffic was observed about kilometers away from the Dhaleshwari toll plaza in the early morning. Two toll plazas have been installed at Dhaleshwari and Bhanga. Six booths are used to collect tolls at the Dhaleshwari plaza instead of ten booths, which causes the long tailback.
Arfan Ali, Mawa-bound a motorcyclist said there are two to three kilometers long tailback on the route. The three-four-minute journey took 25 minutes.
Karim Mia, a passenger opined that a fast toll collection system was needed there. Eid is knocking at the door. If this situation continues, people will have to suffer then.
Roads and Highways Department (RHD) Executive Engineer (Munshiganj Zone) Nahyan Reza said, the traffic pressure in this route has increased due to the inauguration of Padma Bridge. 5,000 to 6,000 vehicles used to ply on this road every day on an average. But after the inauguration of Padma Bridge, the number has jumped to 20,000.
Ratan/Nasim