'I believe art is not a thing to judge or to compare'
Published: 06:15, 22 June 2020 Update: 15:18, 26 July 2020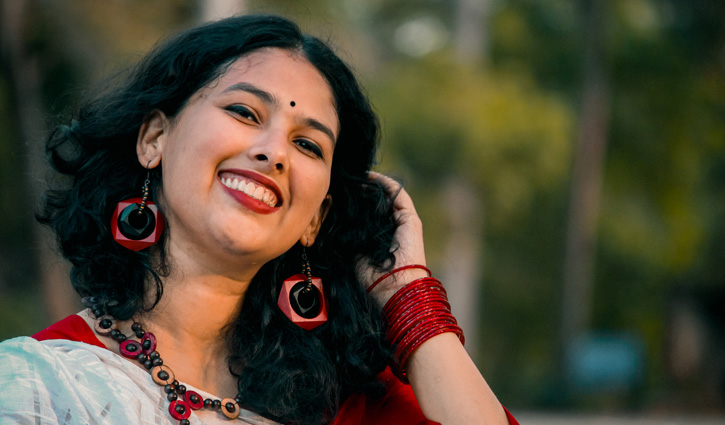 risingbd, country's leading and popular news portal, is publishing stories on persons who have shown success in various fields. As part of its efforts, Nabila Nowshin is writing stories under the banner 'In series #30days30souls'. Recently, she talked to Tarin Tasnuma, a student of Jahangirnagar University and an artist. In the candid chat, Tarin Tasnuma talked about her sweet childhood, education life, her unique painting skills, future plans and more which are given below.
Hello, how are you?
Hello! Alhamdulillah I'm great!
What's your nickname?
My name is Tasnuma. Yes only one word name. I also have a family name, Tarin. My nickname is Godi I guess, it has a long and embarrassing story.
From where you completed your S.S.C and H.S.C?
So, I completed my S.S.C and H.S.C from Jahangirnagar University School and College. I even went to kindergarten here. I was born and raised inside the campus walls.
Where and in which subject you are studying right now?
I wanted to study architecture. But Allah made better plans for me. I am now studying Urban and Regional Planning in Jahangirnagar University. I wanted to design buildings as a teen, now I'll get to design cities.
Where you used to live in your childhood? Tell us one memorable story from your childhood!
I spent my whole childhood in a small green campus, Jahangirnagar University. So I was raised amidst nature. I used to run around in the jungle with my two big brothers. They knew so many things about different types of birds, trees, animals. My mom used to take us exploring in nature early in the morning. I used to collect many colourful flowers and put in my little basket. I remember the excitement we felt when we saw a rare species bird. My brothers used to stay still in one position for a long time to watch those birds, though I had trouble doing that. I used to ride the swing so high, played pokemon cards, watch dragon ball Z. I guess to me these little moments are what my childhood was.
Do you want to give any advice to a 16-year old yourself?
Live life. Just live it. Live it gracefully, kindly, love more the people who are close to you cause you will lose them one day, and It's okay. That's life. Don't be afraid to love cause trust me "it's better to have loved and lost than never to have loved at all"
People will tell you friendships won't last, people won't stay, don't let them get you down, so what if it won't last. Enjoy it while you breathe, you never know where you'll be tomorrow.
Life is now. Live it now. Love now. Be kind now. Explore the world now. Break the rules now. Be stupid now. Be yourself now.
Is there anything that you wanted to achieve from your childhood and now you have got it? If yes, then what is this and how do you achieve this?
When I was 7 years old, I dreamed of doing an exhibition of my art works. Of course that time I didn't even know what an exhibition was, let alone pronounce it. I just wanted an open space where I could hang my works and people would come to see. Then 11 years later, my dream came true! I got the chance to showcase my art works in a combined exhibition in Zahir Raihan Auditorium organized by Rhythm. I guess if you stick to what you love doing, it will become something big even if it takes 11 years. Though to me that was just the beginning, I am now aiming for more and working hard every day to improve myself.
In this moment we all know we have got some precious free time. So, what are you doing this time? Are you doing something productive? Then share it with us! We would love to know your activities.
I have been very productive in this lockdown. I am making the best use of this time by doing new things, challenging myself, things that I was too afraid to do before. Because now I have the room to make many mistakes and learn from those. Like I was always afraid that I wasn't good at doing mandalas. But I pushed myself and for the first 14 days of the quarantine I drew 14 mandalas!
I'm also a craftsman. I had a lot of unfinished projects in my hand. I completed them all, I painted two vases for my Ammu.
I did a mural on my room too. Other than these I also started learning Adobe Illustrator, doing some career- oriented courses from Coursera.
What is your dream job?
My dream job is to be a teacher. My father is a teacher. I got the inspiration from there, but the main reason is that I think teachers are the most important people in the world. I want to share ideas. Even if I don't become a teacher I will be a teacher. I won't take my education for granted. I'm going to learn as much as I can and spread it however I can.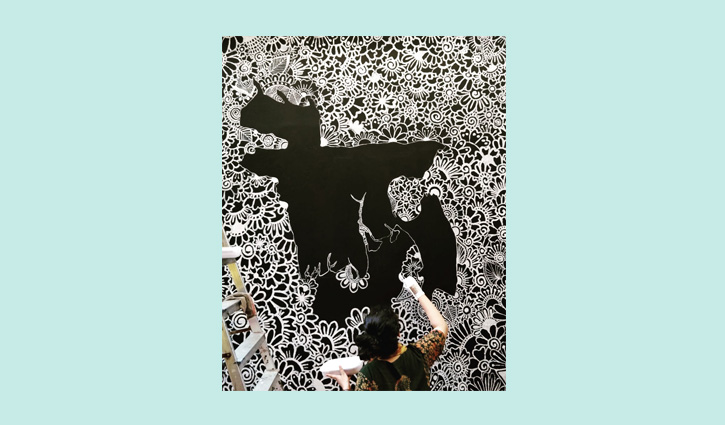 Tarin is painting on the wall
I see, you are an artist. You do drawing like Doodles, Mandala, Acrylic paintings and so on. I must say that you are an amazing artist. So, when did you start to draw? And which thing inspires you the most till now to continue your work?
I held a brush at a very young age and didn't let go to this day. I used to draw silly little things as a kid and my abbu used to help me and inspire me, and my ammu always supported me. I guess it was always in me. In happy times and in depressing times, I just drew and played with paint. I never went to a drawing school or had an art teacher. I used to get in trouble in school for doodling on my books. I never participated in competitions cause I believe art is not a thing to judge or to compare. I just did it for myself. I did it cause I loved it. It makes me happy.
I also noticed that you do draw on paper, cover, wall, vase, canvas and even in leaf too! Which is really unique? So, how do you find those amazing ideas? Share with us!
Well, I like to be part of something bigger than myself. When I draw on leaves I feel like I'm a part of nature. When I paint vases I feel like a part of my home. When I drew the mural I felt like a part of me was in that restaurant. When I paint on a canvas I feel the blank canvas is just waiting for me to create a little part of myself.
When I draw I like to dive in, I don't plan much ahead and I don't worry about structures. I just try to express what I feel and play with colours.
Do you have any plans to make your art into a big thing in future? If yes, then what do you want to do with this?
I'm not sure. I guess we'll see. I just know I'll continue creating new things whether it becomes a big thing or not.
I created my page tARTin only six months ago. And It's almost close to hitting 5K!
I guess for now I'm happy with how things are running.
Hopefully, if I just create what I love to create, one day I'll reach 10K.
Besides art, what do you like to do the most?
Besides art I guess I like to explore. I don't like staying inside 4 walls. I often try to find new beautiful places where I can just relax and watch the sunset. I have spent so much time watching sunsets in my life.
However, I don't get much chance to explore, being a woman in our country we don't have much safety. But inshaallah one day we will be given the right opportunities I will get to do these more often.
I also work a bit on my garden. I like sewing, working in illustrator, binge watching Netflix A LOT, listening to music and riding my bicycle.
After 10 years where do you want to see yourself?
After 10 years I'll be 31. I'll be a graduate by then and hopefully will be doing a job in a field I truly care about and can make a difference. I want to be married by then and create a home for myself. I really want to travel the world, I wanna learn new cultures and see other people's lifestyles. I want to go to Iceland and see the Aurora with my own eyes. I want to visit art museums and attend many art exhibitions I can.
But mostly in 10 years I want a big enough art studio with a very large window, for myself.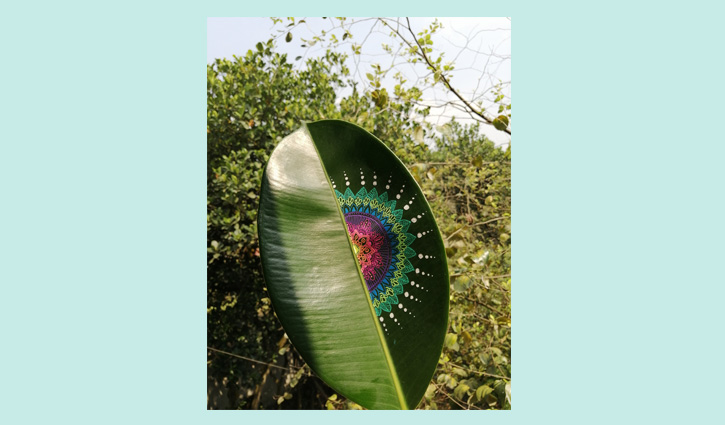 Tarin's work on a leaf
In your journey who were always beside you and whom you want to say thanks the most?
My ammu. She's not an artist and she doesn't really get "art". But despite that she supports her daughter's passion and was there every step of the way. Whenever, I stopped painting she was the one who always pushed me to pick up the brush once again. She never really compliments my work but that smile when she sees an artwork that I just finished, that's priceless!
Also in this journey, my brothers, my short bald best friend, my little cousin, my friends and many strangers on the internet were really supportive and showed their love. Those random little comments and messages mean the world to me and I'm thankful to all of them.
So, In series #30days30souls you are one of those 30 people. How do feel to take part in this?
I feel really honoured and happy to be a part of this project. I think #30days30souls is an amazing project and being a part of this has definitely inspired me to be even more productive during this lockdown. I am eagerly waiting to be inspired by the rest of the stories.
And also, there are 29 more people like you who are passionate about their work and doing great for the world. Do you want to give any message to them?
To my fellow 29 others, you guys are an inspiration. Thank you for making the world and the internet a colourful place. Thank you for doing whatever you are doing during this quarantine. Quarantine has been hard on all of us. Seeing creative and beautiful posts from people like you definitely makes this difficult time a bit easier. So, keep doing what you do the best. Eagerly waiting to read about your stories and becoming even more inspired.
read more :
*** 'Since childhood I was a very stylish kid'
*** 'I try to teach myself a new thing everyday'
*** 'Become a leader, not a boss'
*** 'I am in love with baking'
*** 'Work hard and consistency is the key'
*** 'I read about 50 books a year'
***'Exploring colours gives birth to a spark inside of me'
***'Every great dream begins with a dreamer'


Dhaka/Mukul
risingbd.com