Walton donates Tk 1 lakh to that night guard's family
Published: 17:43, 30 June 2020 Update: 15:18, 26 July 2020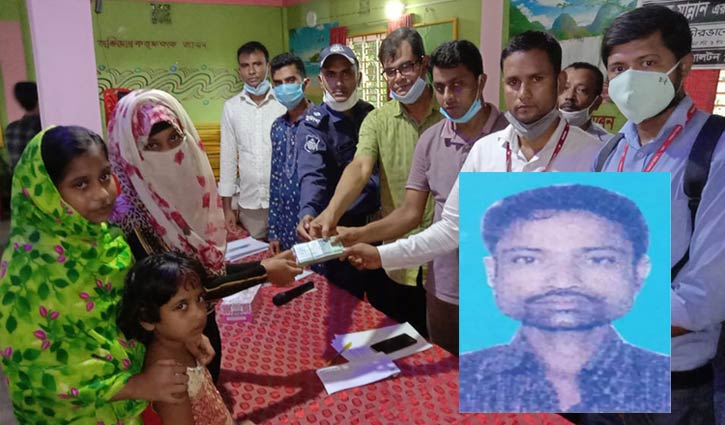 The country's electronics giant Walton Group has donated Tk 1 lakh to the family of Beker Bazar night guard Abdul Mannan alias Monu, 45, who was killed by robbers recently.
Sohel Rana, Walton's area sales manager (Feni Zone), officially handed over the donation money at a local community centre on Tuesday afternoon.
Deputy assistant director of Walton Plaza (Dhaganbhuiyan) Chandan Kumar Sheel, local UP Chairman Abdullah Al Mamun, Dhaganbhuiyan Police Station Sub-Inspector (OC-Investigation) Partha Protim Deb, OC (Operation) Sumon Barua and risingbd Feni Correspondent Sourav Patwari among others were present in the programme.
Nusrat Sultana Ria, elder daughter of slain Abdul Manan, expressed gratitude and thanked Walton Group after receiving the donation money.
Mentionable, robbers were loading goods on truck after breaking locks of Shariat and Brothers of Beker Bazar early of June 25. Sensing the incident, night guards Abdul Mannan Monu and Rafiq started screaming and opposed them. Locals also announced the incident on loud speakers of mosques.
Then the robbers, being outraged, strangulated Abdul Mannan with a towel and left him dead.
The incident triggered a shootout with police, leaving two robbers killed on the spot and another sustained bullet injury who also succumbed later while undergoing treatment.
A police personnel also received bullet injury during the incident.


Feni/Sourav Patwari/AKA
risingbd.com