HC stays construction work of IU residential halls
IU Correspondent || risingbd.com
Published: 10:22, 29 March 2021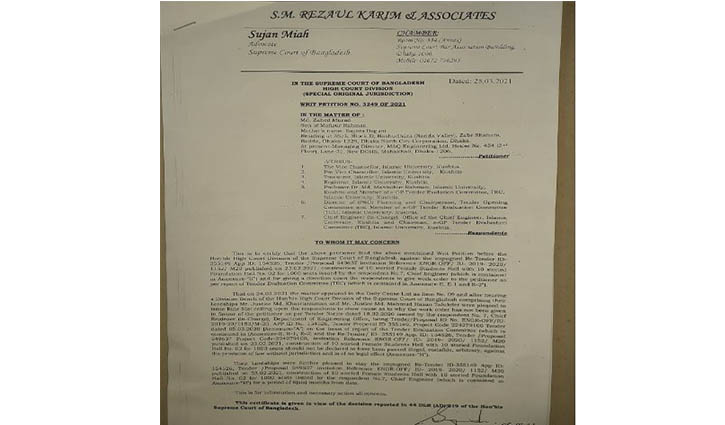 The High Court has stayed the construction work of two residential halls of Islamic University for six months under an ongoing mega project worth Tk 537 crore.
The court passed the order after hearing on a writ petition filed by Jahed Murad, managing director of Mac Engineering Limited.
Following the petition, the HC bench of Justice Khasruzzaman and Justice Mahmud Hasan Talukder issued a rule asking IU authorities to explain why Mack will not be given the work order as per the recommendation of the tender evaluation committee within four weeks.
HM Ali Hasan, chairman of IU tender opening committee and tender evaluation committee, confirmed the matter to journalists on Saturday night.
He said that the university authorities have also postponed the re-tender following the directive of the High Court.
IU vice-chancellor Professor Shaikh Abdus Salam said, 'Everyone has the right to seek legal redress.' I wanted to know the opinion of the lawyer and action will be taken after checking and sorting, he added.
The university authorities invited tenders for the construction of a ten-stored student hall on February 18, 2020 and a five-stored female student hall on March 5, 2020.
10 contractors including Mac Engineering Limited and M / S Rahman Traders applied for it.
M/S Rahman Traders had submitted tenders to work at the lowest price and Mac Engineering Limited had submitted tenders to work at the second lowest price.
M/S Rahman Traders, however, did not meet the required conditions and was considered to be the second lowest contractor to get the construction work.
IU VC instructed to call for tenders again on February 9 this year. Jahed Murad, managing director of Mac Engineering Limited, filed a writ petition against 11 people for not getting work even after fulfilling the conditions.

IU/H K Jibon/Mahfuz