Former NSTU student gets int'l research award
NSTU Correspondent || risingbd.com
Published: 10:54, 8 April 2021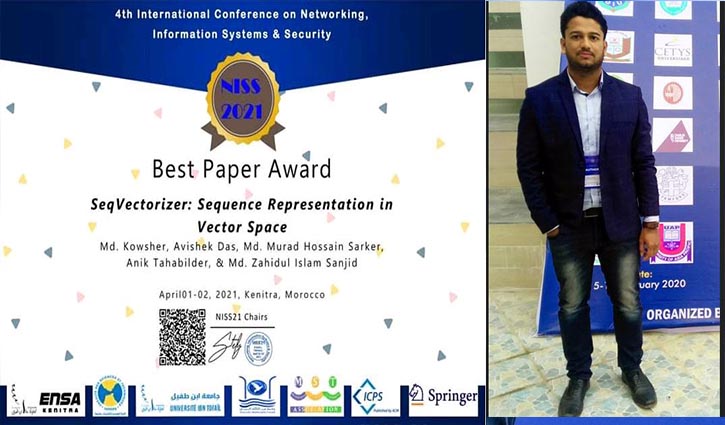 Ahmed Kowsher, young scientist and former student of Noakhali Science and Technology University (NSTU), has won the Best Research Award for developing new artificial intelligence algorithm 'SeqVectorizer'.
On April 6, Kowsher confirmed the matter and said, "By using this algorithm, the computer can do any sequencing and it is possible to sequence the human speeches, DNA, RNA sequencing".
He added, "I received the award at the International Conference on Networking, Information Systems and Virtual Conference on Security held in Morocco virtually on 1st and 2nd April."
Researchers from around the world took part in the conference and this was arranged by NISS Committee Morocco, ACM New York, Springer Germany.
Anik Tahbildar of America's Stevens Institute of Technology, Murad Hossain Sarkar of Comilla University and Zahidul Islam Sanjid of BRAC University were also involved in this work.
Kowsher received 6 best research awards from national and international organizations for his special contribution in artificial intelligence so far. He has also received the Provost Doctoral Fellowship Award from the Stevens Institute of Technology (SIT) for his PhD.
He is currently working as an Artificial Intelligence Scientist at Hishab Limited and is preparing for his PhD at the Stevens Institute of Technology in USA.
NSTU/Fahim/Mahfuz/Mukul