'I am a designer of social change'
Published: 05:29, 1 July 2020 Update: 15:18, 26 July 2020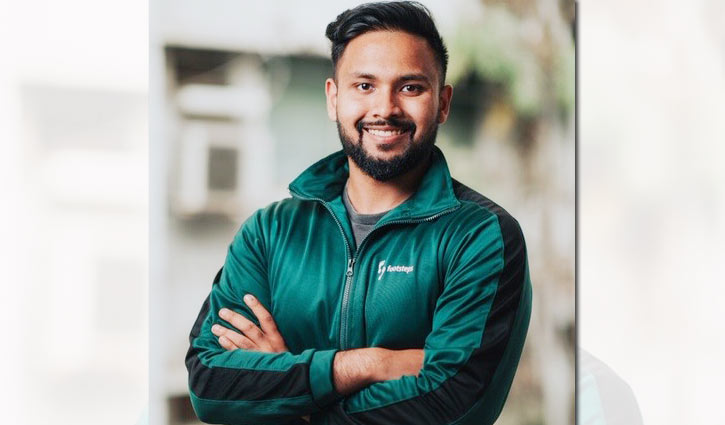 risingbd, country's leading and popular news portal, is publishing stories on persons who have made success in various fields. As part of its efforts, Nabila Nowshin is writing stories under the banner 'In series #30days30souls'. Recently, she interviewed Shah Rafayat Chowdhury who is the co-founder and president of Footsteps. Footsteps is a development-based social enterprise which designs ventures to resolve social challenges in the fields of environment. In the exclusive interview, Shah Rafayat talked about his childhood, education life, most challenging social problems around the globe, achievements, his future plans and more which are given below.
Hello, how are you?
Minus the pandemic, I'm doing great Alhamdulillah.
From where you completed your O'levels and A Levels exams?
Both from Scholastica.
How was your university life and which subject you were studying in?
I think my university life played an instrumental role in shaping the person I am today. I dearly cherish the memories I made and experiences I gained from those three and a half years. I studied Environmental Economics and Policy at The Pennsylvania State University in the United States.
Where did you use to live in your childhood? Tell us one memorable story from your childhood!
A bit of my childhood was in Kalabagan before my family moved to our house in Gulshan back in 2001. Most of my childhood memories are based on the times I used to spend at my grandparents' home. A fond memory would be of my Liton Mama, who used to tell me a bedtime story called 'Mama Bhaigna'. At that time, that story every night was similar to watching a show on Netflix today. It took me 10 years to realize that he used to make up each story every night before bedtime which I find hilarious now.
Do you want to give any advice to an 18-year old-self?
Don't let what others say devalue yourself. You know your own worth, and if you believe in yourself, you will achieve everything you want in life.
Is there anything that you wanted to achieve from your childhood and now you have got it? If yes, then what is this and how do you achieve this?
I think one of the things I wanted as a child was to get respect for whatever work I ended up doing in life. I'm glad that I was able to already achieve it at such a young age through my work with Footsteps.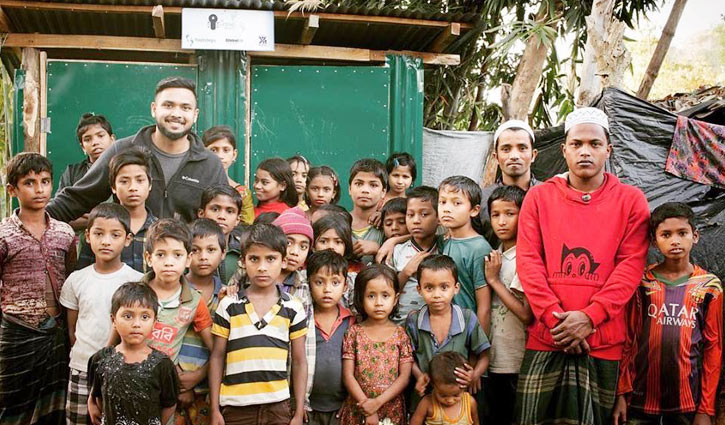 In this moment we all know we have got some precious free time. So, what are you doing with this time? Are you doing something productive? Then share it with us! We would love to know your activities.
I'm trying to utilize this time to do things that I couldn't do before due to my hectic work schedule. At first I went ballistic on watching shows and anime, but now I've dialed down a bit to maintaining fitness, cooking new stuff and learning a bit of Japanese. Also, this idle time is also a golden opportunity to get ahead on some work as well (inner spirit of a workaholic)!
What is your dream job?
Honestly, I think I'm extremely lucky that I can say without a doubt that I'm already working at my dream job with Footsteps, and that too at only the age of 24. I always wanted to solve social problems, especially anything related to the environment, and I am glad I am being able to do that through Footsteps.
So, you are the co-founder and president of Footsteps. Since when have you planned to build an organisation like that? Tell us the story behind starting it!
To be frank, there wasn't a concrete plan behind it. I was working with some school friends on a magazine which highlighted some of the brightest youth organizations during that time which kinda inspired us. But it was after I received my training on climate leadership from former US Vice President Al Gore that I finally got the guts to go forward with the idea. It was a conversation between 6 friends in the Scholastica Cafeteria that gave birth to Footsteps back in 2013.
What does Footsteps do?
Footsteps is a development based social enterprise which designs ventures to solve social challenges in the fields of environment, health and education. Our work revolves around the philosophy where we want to change the mentality of people from an aid dependent one to a more self-reliant one. Since 2013, we have designed over 13 ventures and campaigns which have impacted over 100,000 people across 12 districts in Bangladesh.
Why did you name it 'Footsteps'?
The name Footsteps was actually inspired from a quote I saw on the wall of the UNESCAP building in Bangkok during my time as the UN Youth Ambassador for Bangladesh. The quote was- "The Journey of a Thousand Miles Must Begin with a Single Step". The idea of Footsteps is to solve the most challenging social problems around the globe, one step at a time.
What are your upcoming plans with Footsteps
Footsteps is currently working on the COVID-19 and Cyclone Amphan Community Rehabilitation response, where we are supporting families with food support, farmers with hybrid seeds and fertilizers and rebuilding homes which were destroyed by the cyclone in southern Bangladesh. Footsteps is also working on modules where it will improve WASH standards in schools across Bangladesh, develop a cold chain vaccine module which will ensure last mile children receive vaccination, and explore avenues of harnessing water on a mass scale other than groundwater sources for mass consumption.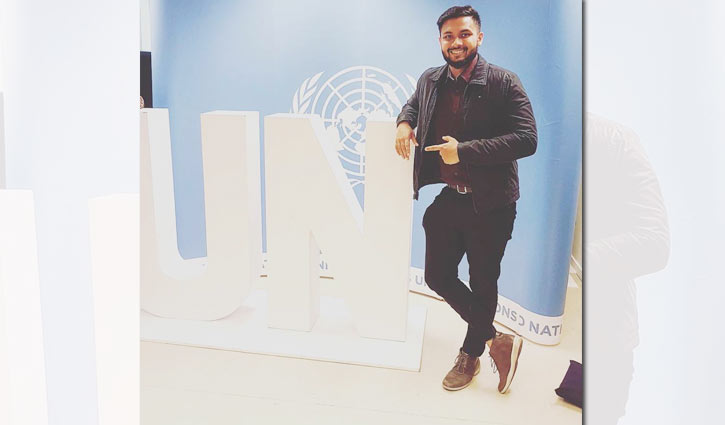 Besides this, what do you like to do in your pastime?
Back in university, I used to engage in various forms of physical activities, such as rock climbing, swimming, squash, boxing, etc. However, after coming back most of these opportunities are not here in Dhaka. So, I mostly spend time with friends after work, traveling to places outside Dhaka and collecting model airplanes which has been a hobby since I was kid.
After 10 years where you want to see yourself?
After 10 years, I want to see Footsteps as an established name in the development sector in the globe. We want to be pioneers in development innovation, and set an example for other countries to follow our modules. We eagerly hope that our work is able to reach people in the last mile, and through our ventures we will be successful in empowering communities and changing livelihoods.
In your journey who were always beside you and whom you want to say thanks the most?
First and foremost, my family, especially my mother. I do not know where I or even Footsteps would be without the support of this lady right here. Not only did she support my dream which caused her a lot of distress from relatives and friends, but she actively took part in running the organization while I was away in college for 3 and half years. Both Footsteps and I are indebted to her unconditional support. Another person I'd like to thank would be my Vice President Barrister Taqi Yasir; ever since 2012, he has been by my side, as a friend, colleague and mentor. Even when people left, he stood by, and together we are now working towards the dream of empowering communities through Footsteps.
So, In series #30days30souls you are one of those 30 people. How do feel to take part in this?
It feels great. I'd like to thank you for conducting this interview which let me share a bit of my story.
And also, there are 29 more people like you who are passionate about their work and doing great for the world. Do you want to give any message to them?
Keep doing the amazing work that you guys are doing, and one day together we can create a Bangladesh that everyone can be proud of.
*** Makeover feels like a piece of art in my face'
*** 'I am an open book and I love to share'
*** 'I envision, strategize and implement'
*** 'Since childhood I was a very stylish kid'
*** 'I try to teach myself a new thing everyday'
*** 'Become a leader, not a boss'
*** 'I am in love with baking'
*** 'Work hard and consistency is the key'
*** 'I read about 50 books a year'
***'Exploring colours gives birth to a spark inside of me'
***'Every great dream begins with a dreamer'


Dhaka/Mukul
risingbd.com