Find a talented Bangladeshi researcher, author
Risingbd Desk || risingbd.com
Published: 18:25, 26 November 2020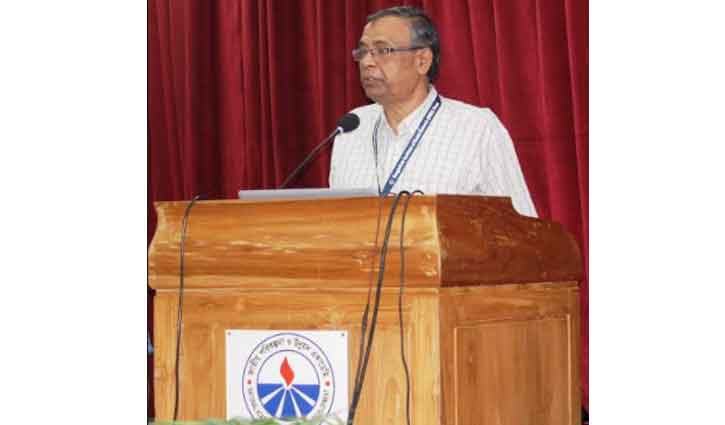 Dr. M. Khurshed Alam, an internationally acclaimed Bangladeshi author and researcher, has exerted all his efforts to take part in the development process of the country by rendering his intelligence and doing enriched research works on the development problems for over three decades.
Dr. Alam, also a truly multi-dimensional talented person, was born in Feni in 1954. He completed his graduation and post-graduation from the University of Dhaka respectively in 1978 and 1980.
He is a lead sociologist of South Asia and the founder Chairman of Bangladesh Institute of Social Research (BISR) Trust established in 2002 which is also, a lead think-tank of the country.
He holds a Ph.D. degree in Sociology from the University of Pune, India. His research areas of interest are on poverty reduction, community development, social change, people's participation in development, gender-inclusive development, climate change and disaster, institutional development, decentralization and local governance issues.
He was former faculty of Criminology and Police Science Department of the Mawlana Bhashani Science and Technology University, Bangladesh.
He has edited a journal titled "Bangladesh Sociological Studies" published by Bangladesh Institute of Social Research. He also acts as Ph.D. thesis examiner of Karachi University and Sindh University, Pakistan and IIT Guwahati, India.
He was engaged to prepare the national plan for the country called PRSP-II in 2008, several policies and strategies including coastal development policy 2005 and coastal development strategy for the country. Most of the time, he worked as a consultant to the World Bank and ADB.
He was Mission Member for DFID, GiZ and CIDA for evaluating development projects of those organizations. He also worked as an international expert in Nepal and Pakistan.
Alam also developed several theories and concepts in the field of social sciences which include: A New Theoretical Approach for Poverty Reduction; A New Theory of Bulge Hunger; A Theory of Muslim Social Stratification; A New Typology of Government; and People's Power in Democracy, and the concept of WaSH-Feminism.
Also developed several new ideas and models such as a concept of Techno-social Contingent (TSC) Model for WaSH, Canal Maintenance Group (CMG) using landless people for maintaining the canal round the year at a very low cost; IGA mapping for poverty reduction, the model of rehabilitation of river eroded people, institution for landless poor for Bangladesh Rural Development Board (BRDB) which has been established later on in all Upazilas of Bangladesh, and developed a new method of people's participation in planning and implementation of infrastructure collecting 10% cost from the local people.
His outstanding research works have been published from almost all leading publishing houses in Europe and America such as Springer, Elsevier, Emerald, Routledge, World Scientific Publishers, NOVA Science, etc.
He is a member of the editorial board of one a leading journal of the Springer Nature as well as reviewer of 12 leading journals of the world including world development. He has 33 scientific peer-reviewed articles, 4 book Chapters, and 9 books as publication in his credit including one from NOVA Science Publisher of New York.
He is the author of many popular books like Methods in Social Research (7th ed.), Sociology of Development (4th ed.), Classical and Modern Sociological Theories (7th ed.), amongst others.
He was also associate editor and now editorial board member to BMC Women's Health Journal published from Biomed Central, Springer nature with Johns Hopkins University.
Risingbd/Mahfuz/Nasim