Hult Prize Foundation seeks a better world with entrepreneurs
Fabliha Enam || risingbd.com
Published: 10:50, 27 February 2021 Update: 10:53, 27 February 2021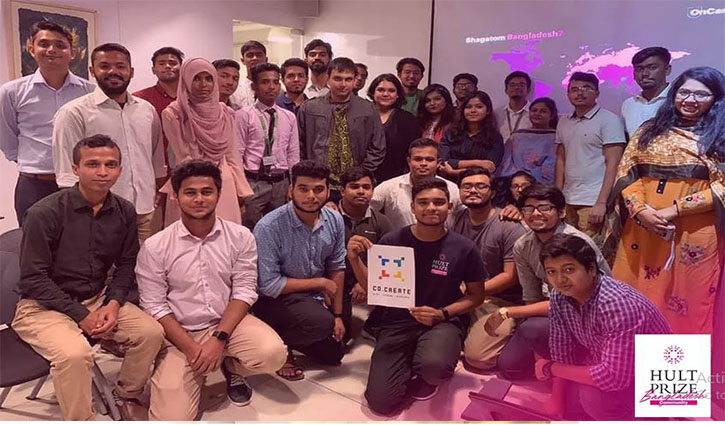 Could you ever comprehend the idea of 'solving the world's most pressing challenges' being good business? Well, believe it or not, Hult Prize Foundation is such an organization that solves the biggest crises that the world faces through a competitive program bringing young minds into a battlefield to generate ideas and make business propositions having not only the sole purpose of earning profit but also to help build a better community.
Thus Hult, which was merely a vision of Ahmad Ashkar about growing the economy while benefiting the community, is now the biggest learning platform in the world engaging more than three hundred thousand young minds from more than 2000 Colleges in 121 countries all over the world!
And with its unique purpose, Hult prize is now a community itself consisting of about 2.1M Alumni and individuals from Forbes 30 under 30 investing more than 65 million dollars on potential start-ups. It has now become a year-long and No-1 accelerator program with training from 30 thousand expert mentors and over 50 regional summits each year.
Hult Prize Bangladesh, being a part of this exquisite community is now prevailing as the Number-1 start-up program in the country engaging about 30 thousand people currently.
Starting its journey in 2015 at BUET and having 3 campus round events that year, it has advanced greatly with 19 campus round events in 2018, 51 in 2019 which has now reached 101 on-campus round events this year!
Thus Hult Prize Bangladesh has built its own community of expert mentors, alumni and investors and has shown its worth in the global platform when it had more than 100 teams from Bangladesh in regional summits.
The Hult Prize Bangladesh community is getting bigger each year with respect to its reach of institutions, students, proper business approach and this surely there is a motivated workforce behind this! It is indeed the 'Bangladeshi team' who coordinates and manages the events within the country.
Fahim Shahriar currently works to represent Bangladesh on this global platform. He is the Asia Regional Associate and works in the Hult Prize Global Team. Then there's two Community Builders, namely, Ikrar Imtiaz, Fahim Hossain and they work on the ground to support, shape the On Campus programs in Bangladesh.
And last but not the least, in order to compliment, highlight and feature the On Campus program in Bangladesh, the 'National Team' consisting Rabea Ahmed as External Affairs, Fabliha Enam as Content Curator, Sakiba Tanha as Communication coordinator and Jubair Zidan as Graphic Designer works tirelessly.
Hult Prize Bangladesh is now preceding with its Regional Summit. Bangladesh University of Professionals (BUP), Dhaka, held the first Regional Summit last year and will be holding the same this year along with another in Chittagong University. Both summits are expected to have a sum total participation of 70 teams including many foreign ones.
Fabliha Enam is the content curator of the Hult Prize Bangladesh
Dhaka/Mahfuz