NSTU's 67.5pc students want govt job: Study
NSTU Correspondent || risingbd.com
Published: 15:47, 27 July 2021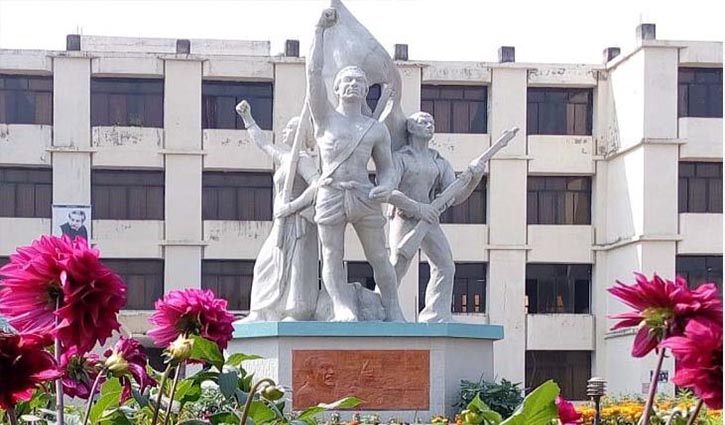 The 67.5 percent students of Noakhali Science and Technology University (NSTU) have given their first priority for getting government job in their career choices, a recent study finds.
The findings of the study were revealed on Tuesday. The research indicates the NSTU students' career choice and job preparedness strategies based on social environmental perspective.
The finding has already been published in International Journal of Evaluation and Research in Education (IJERE).
The research was conducted by Dr Roknuzzaman Siddiky, Chairman and Associate Professor of the Department of Sociology, and Shahanaz Akter, Assistant Professor of the same department.
According to the research, 120 students from 14 departments of the university participated in the study while 65.8 percent (79 students) in fourth year and 34.2 percent (41 students) in master's. Among them, 57.5 percent (69 students) were male and 42.5 percent (51students) were female.
Among the participants, 67.5 percent (81 students) voted for the govt job and 32.5 percent (39 students) for private sectors.
According to the numerical distribution of job sectors, 31.7 percent (38 students) voted for BCS, 10 percent (12 students) for government banks, 5.8 percent (7 students) for private banks, 10.8 percent (13 students) for private/multinational companies, 16.7 percent (20 students) for public research/scientific organizations, 9.2 percent (11 students) for private research/scientific organizations and rest 15.8 percent(19 students) for teaching professions in universities, IT and power-related jobs.
The researchers also mentioned the socio-economic status of the participants where 9.2 percent (11 students) are lower middle class, 75.8 percent (91 students) are middle class and the rest 15 percent (18 students) are upper-middle class.
The researchers find some factors that affect students career choice which is family preferences, family hardship, job conditions, teachers' advice, job prestige or dignity, job security, the remuneration, the scope of promotion, the scope of pension, the scope of professional development, students' personal interests, academic majors, educational attainments, and career development training.
The researchers mentioned that the majority of the respondents don't have professional development training to prepare themselves for jobs.
The researchers emphasized the students to prepare for their jobs and career besides academic studies and so that the students to develop their skills throughout professional development training and co-curricular activities.
NSTU/Fahim/Mahfuz