Mahbubul Khalid's Boishakhi songs represent Bengali culture
News Desk || risingbd.com
Published: 11:44, 14 April 2021 Update: 11:47, 14 April 2021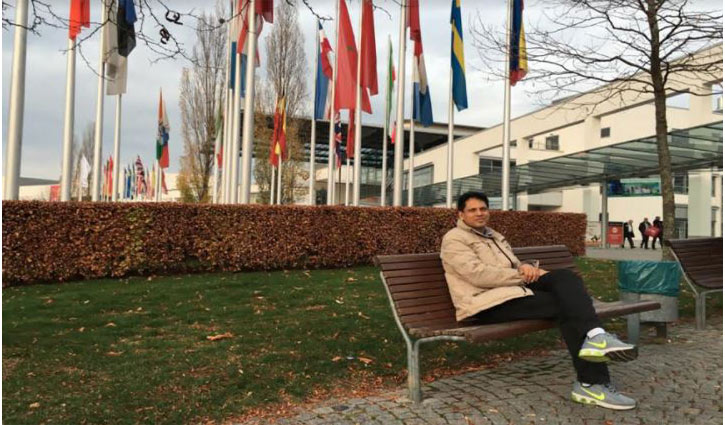 Pohela Boishakh or Bengali New Year is being celebrated on April 14 across the country amid Corona pandemic. As of last year, this year the nation also celebrating the day inside homes as a seven-day countrywide lockdown started today to prevent the corona virus outbreak.
Renowned poet, lyricist and composer Mahbubul Khalid has penned various songs on the occasion which represent the Boishakhi culture of Bengali people. Among them 'Ayre Ay Boishakh Ay', 'Dhol Bajao Re' and 'Noboborsho' are most noteworthy.
The audios and videos of those songs have been published on the website of www.khalidsangeet.com. Besides, music videos are also available on Mahbubul Khalid's YouTube channel 'Khalid Sangeet'.
The song 'Ayre Ay Boishakh Ay' has three versions in which prominent singer late Subir Nandi and young singer Tina Mostary rendered their voices under the music of late composer Ahmed Imtiaz Bulbul.
The music of another Pohela Boishak song 'Dhol Bajao Re' has been composed by Roman Rahman which has been sung by young singer Shoshi.
Meanwhile, the other song 'Noboborsho' has two versions in which Kona and Moutushi rendered their voices under music of Ahmed Imtiaz Bulbul.
About the songs, lyricist Mahbubul Khalid said, Pohela Boishakh or Bangla Noboborsho is the major traditional festival to Bengali nation. This celebration is deep-rooted in the nation's cultural identity; it is a common symbol against all odds and communalism. Various aspects and themes of the occasion have been portrayed on the songs. Hope listeners will love these songs and get the real flavor of Pohela Boishakh.
Mentionable, the poems and songs written by Mahbubul Khalid contain religious and social festivals of different religions. He writes and composes songs for all humankind irrespective of race, religion and caste. To him, music is not for any race or religion, music is for everyone. His songs and poems are rich with the message of love and humanity.
His recent song on Covid-19 pandemic has been widely appreciated and created awareness on the deadly virus. All his songs and poems are published on his website 'khalidsangeet.com'. Besides, music videos of his songs are also released on YouTube channel 'Khalid Sangeet'.
YouTube link of the song 'Dhol Bajao Re': https://youtu.be/uDPDsC7Q41A
Dhaka/Augustin Sujan/AI