Migratory birds finding homes at JU!
Sk Tajul Islam Taj || risingbd.com
Published: 16:07, 31 October 2020 Update: 20:38, 31 October 2020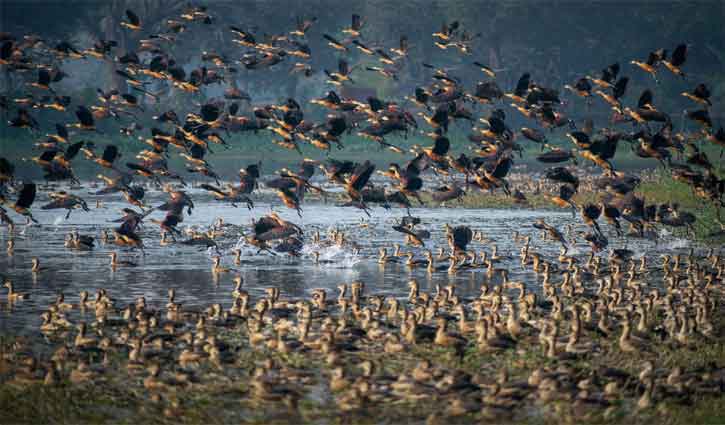 Photo: Ekhtiar Ahmed Bappy
Winter hasn't yet arrived but it's almost difficult to go out wearing only a t-shirt at midnight here because of the dense fog. Yes, I am going to talk about Jahangirnagar University. In the last week of October, thousands of migratory birds flew in and put an end to that absence. They are also informing their presence twittering in the lakes here.
It's amazing to listen to the birds' twittering and watch them flying from one lake to another freely. It seems like they are celebrating some special occasion. Some are swimming, some are standing still on a freshly bloomed lily, and some are busy in searching for foods when some birds remain busy flirting with others.
They are wandering here as if it were their own kingdom as the university is closed since March this year. A huge number of birds are being seen in the lakes of Wildlife Rescue Centre, Monpura and Botanical Garden. Moreover, their plethora can also be noticeable in the lake beside Transport or the lake behind Register Building of the university.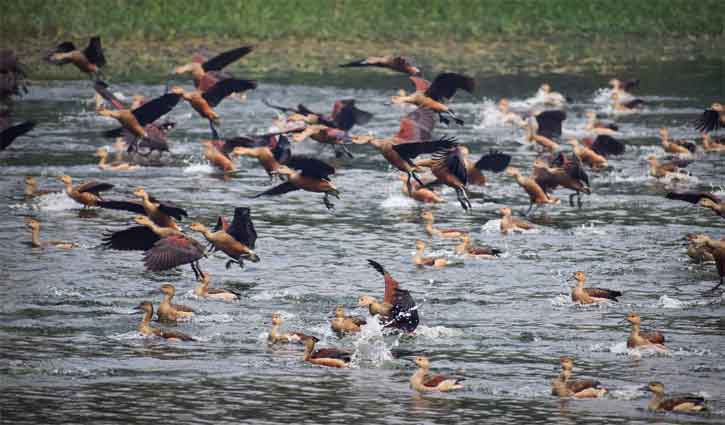 These migratory birds start coming to our country from the very beginning of winter. They come from the mountainous regions in the northern parts of this subcontinent, namely from the Himalayas, Cyberia, China, Mongolia, Nepal and beyond.
The first migratory birds came to Jahangirnagar in 1986. Most of these migratory birds may look like a duck to the visitors though they belong to a special species. Main birds which are seen in the beautiful campus of Jahangirnagar University are 'Pati Sarli', 'Pantamukhi', 'Patari', 'Gargeny', 'Flyfatcher', Manikjor' and so on. There are more than 150 species of birds take shelter in this campus in the winter season.
Some of the students are seen here sitting beside a lake or wandering in their own campus. Expressing her feelings Moutusi Rahman, student of the Department of English, said, 'The migratory birds are like an asset. We don't treat them as migratory birds. We treat them as a part of our campus. We try to make them feel safe here. Migratory birds give our campus a unique identity.'
Students, however, keep themselves abstain from doing such things which frighten the birds. Jennifer Ehsan, a student of the university's 43rd batch said, 'Visitors who come to see the birds sometimes park the cars beside the lakes and make noises loudly that frighten the birds. The authority should take necessary steps to solve this problem. A special area can be made and used as a parking area. They should make the lakes clean.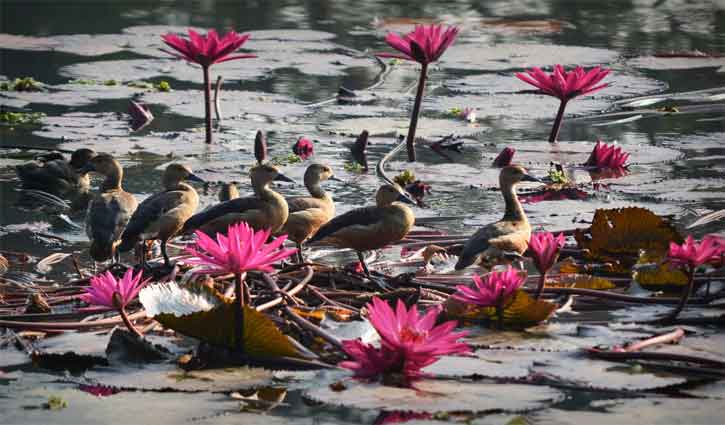 Experts concerned are assuming that the number of migratory birds will increase this year than it's before as the campus is having few people during the long vacation due to the ongoing pandemic. They are assuming that more birds can be seen from the very beginning of December to the end of January.
(Sk Tajul Islam Taj is currently studying English at the Jahangirnagar University)
JU/Mahfuz/Nasim